Many consumers often wonder if King sheets will fit on a California King bed. The answer to this question is unfortunately not as cut and dry as one might hope, since bedding sizes can differ depending on the country or region where you purchase them, or even between different manufacturers.
In this article, we'll explore this topic in more depth so that you can make an informed decision about what size sheets to buy for your own bed.
What is the difference between a King and California king bed?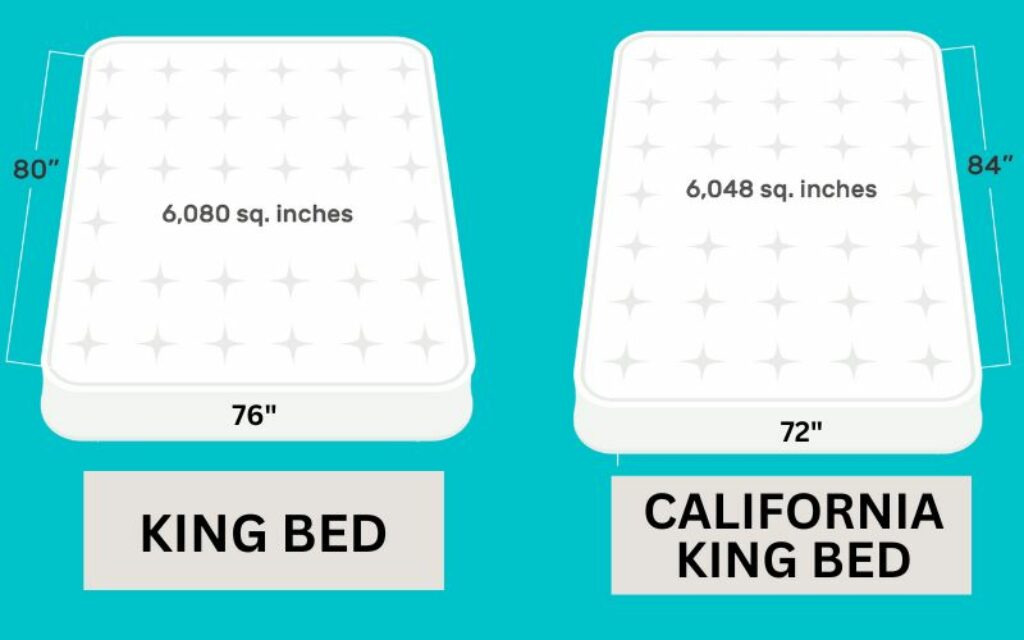 A king-size bed is usually 76 inches wide by 80 inches long, while a California king-size bed is 72 inches wide by 84 inches long. As you can see, the main difference between the two is in width, with the California king being four inches narrower than the standard king size mattress.
This makes it a good choice for taller people who want a little extra length, or for couples who want more space to spread out. However, keep in mind that a California king-size bed might not fit in your bedroom if you have limited space. So before you make your decision, be sure to measure your room and compare the dimensions of the bed to make sure it will fit comfortably.
How do you know if you have a california king bed based on your bed frame?
If you're unsure if your bed is a California king, one way to check is by measuring the frame. A regular king bed frame should be 76×80 inches, while a California kings will be 72×84.
Please note: Most frames are around half an inch to two inches bigger than the mattress on all sides.
Another way, you can also look at the label on your mattress to see if it is labeled as a California king. If you're still unsure, you can always measure your bed to be sure.
Will regular king sheets fit on a california king bed?
Quick Answer: Yes and No.
Fitted sheets are made to fit snugly around a mattress, with elastic edges that help keep the sheet in place. A california king bed is slightly larger than a standard king bed, so regular king-fitted sheets will not fit properly.
The same is true for comforters; a california king comforter will be too large for a regular king bed. So if you're outfitting a california king bed, be sure to buy the right size sheets and comforters. Otherwise, you'll end up with a sloppy fit that's sure to be frustrating.
Other Considerations:
The Mattress Depth Guide from thebedingauthority.com tells us that mattress depths vary, so whether or not regular king sheets will fit on a california king bed is tough to say for certain. The california king mattress is slightly longer and narrower than a regular king mattress, so the sheets may not be long enough to tuck under the mattress.
The california king mattress is also typically about 4 inches deeper than a regular king mattress, so the sheets may not be deep enough to stay on the mattress. If you're unsure, it's best to measure your mattress before you buy sheets. That way, you can be sure to get the right size.
Keep in mind that mattresses, as well as the size of mattress allowing for different brands vary. If you are unsure about this purchase, double check your mattress size before doing so.
How to make sure your sheets fit your bed properly
If you've ever woken up in the middle of the night with sheets that have come undone and are now tangled around your feet, you know how important it is to make sure your sheets fit your bed properly. There are a few things you can do to ensure a comfortable night's sleep:
Measure your bed to determine what size sheets you need. This includes both the width and length of the mattress, as well as the depth of the mattress if you have a pillow top.
Once you know what size sheets you need, take a look at the different types of sheet sets available. There are fitted sheet sets that include a flat sheet and two pillowcases, as well as sets that include just a fitted sheet. If you have a pillow top mattress, you may want to consider investing in a set that includes an extra-deep fitted sheet.
When it comes to material, there are several different options available. Cotton is a popular choice because it's soft and breathable, but if you're looking for something more luxurious, silk or satin may be a better option. You'll also want to consider thread count; higher thread counts mean softer sheets.
By following these simple tips, you can make sure your sheets fit your bed properly and stay in place all night long. Sweet dreams!
Also Read: How Big Is Shaqs Bed? (Update 2022)
Final Words
If you're in the market for a new bed, knowing the difference between a king and california king can help you make an informed decision. Regular king sheets will not fit on a california king bed, so be sure to purchase the correct size sheets.
Using properly fitted sheets has many benefits, including keeping your mattress clean and prolonging its lifespan. Do you have any other tips for making sure your sheets fit your bed perfectly? Share them with us in the comments!