The terrace best captures the French L'Art de Vivre, the art of living, the capacity to savor every weather and day of the week, as well as the ability to enjoy both work and pleasure. There is a poorly furnished deck, not horrible days.
How to make this part of the house the most cozy, we will tell below. Let's dive in!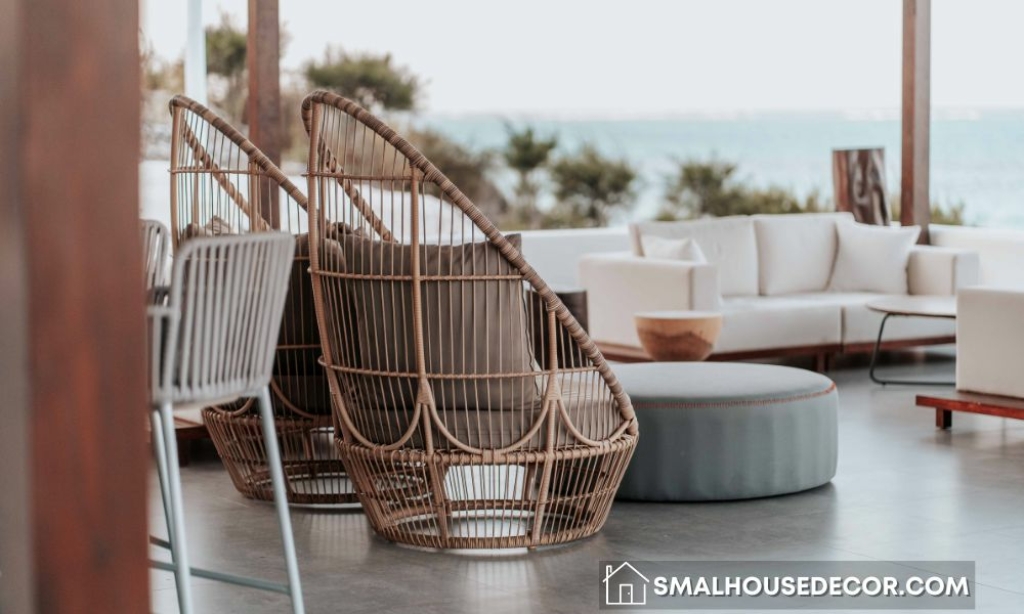 Set up wicker furniture
Or rattan furniture. Order an outdoor table set – a set of the same color and material looks the most stylish. This practical material is easy to wash, it will not deteriorate from moisture and direct sunlight. Moreover, wicker or rattan outdoor furniture is versatile and will suit almost any style of home.
Complete the outdoor furniture with soft pillows and try experimenting with prints. Floral patterns, geometric patterns, birds – don't be afraid of bright solutions.
Add hanging chairs for airy style
Stylish, compact and cozy hanging chairs will turn the country terrace into a comfortable place to relax. They will fit even on the smallest terrace. A more budget-friendly idea is to hang a hammock.
Make a mini greenhouse
All you need is flowers and garden decorations. For a country terrace, it's not necessary to select flower pots of the same color and shape. Variety creates the right atmosphere.
Hang a mesh canopy or sunscreen
Part of the canopy can be arranged in the form of a pergola. A pergola is a trellis canopy made of beams that don't block the passage of the sun, but restrains its intensity. In such a place it will be nice to sunbathe without fear of sunburns. Climbing plants can be placed along the canopy beams, which will create additional shade.
Hang curtains
Open spaces require a lot of sunlight. If there is glazing, light fabrics that save from direct sunlight are suitable. And when there is no glazing, the ideal option would be special curtains with a dirt and water-repellent coating, which are not afraid of strong humidity and are very easy to care for. These fabrics are not afraid of rain and strong winds, so you don't have to worry about the condition of the furniture, even if it remains there during rainfall and strong winds.
Add lanterns or garlands
This option of light in the open area of ​​the house looks unusual and ultra cozy. Garlands for outdoor use must be protected from dust and moisture.
Install an outdoor fireplace
In gatherings and long conversations around the evening fire there is a special atmosphere and romance. At the same time, installing a fireplace or hearth solves several problems at once:
Decorates the space;
Heats up the area
Is an additional source of light;
Used for cooking.
The hearth becomes the center of attraction for households and often takes on the role of the main accent design element. A terrace with an open fireplace doesn't require extra decor. The space becomes warm, habitable and cozy by default.
Also Read: Amazing Benefits of Wood-Burning Stove
Wrap up
It is not so difficult to make a stylish and comfortable terrace area at the same time, if you put the idea of comfort and rationality in the first place. If each decorative element is also functional, it will turn out to create a truly cozy place for a family to relax.