Everybody wants to live in a chic and trendy place, right? Yet the main thing keeping us from achieving it is the budget. However, home decor doesn't have to be expensive. You can easily transform your place and give it a new look without spending a fortune. 
So, if your house needs a makeover but has limited time and money, you're in the right place. With our help, you will have the ability to enhance the look of your house in different ways. 
So, are you ready for the job? If you are, here are some amazing decor ideas that will give you a new look in no time and money too!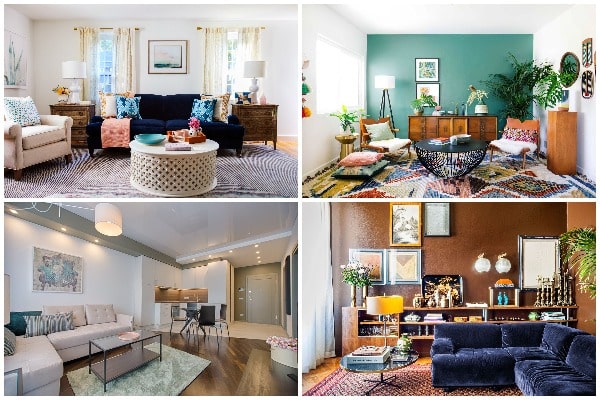 Get Creative
Your entrance is the first thing people notice about your house. Therefore, if you want to awe the guests entering your place, your entrance should be spot on. And creating one isn't that difficult either. Start by giving your entrance walls a warmer tone, making everything seem more welcoming. Similarly, you can spruce things by hanging some cool artwork. Finally, take advantage of overhead lighting and a long runner to make your hallway seem longer.
A Little Nature is Always Good
We like the outdoors because it's green and fresh. However, you can also create the same environment inside your house if you use indoor plants. There are plenty of indoor plants that you can choose from. Moreover, putting them in a marble planter will give your place an overall chic and classy appeal. If you want one, you can easily buy it from https://marblising.com/product-category/marble-planter/. 
Similarly, you can also add artificial or natural plants and flowers to make your living area fresher. Likewise, it would be best if you also opened your curtains more often to let the sunlight come in and brighten up your space. By letting natural light in, your home will feel much fresher. Nature is always peaceful and positive for the mind. Therefore, adding plants to your place will improve your mental health and well-being.
Determine Your Goals When Decorating
Coming home after a long day is the best feeling in the world. However, your mood will suffer if you cannot decorate your house the way you want. Colors affect mood differently, so you should choose a lighter tone for the walls. Also, you should know what else keeps your mind fresh so you can choose those colors accordingly.
Simplicity is Key
You must have heard that simplicity is the best policy. Well, it is, especially in today's world where minimalism is the new trend. Therefore, if you want to transform your home into a trendy one, start by decluttering your place. An excellent way to avoid this problem is to choose too many items as your home will not look good if crowded with too many items.
Doing this will create a lot of space in your space because a less crowded space will look clean. A house should have a lot of space so it doesn't feel too packed. Therefore, place only the essential things in the room to create a feeling of space.
Create a Quaint Reading Area
Creating a reading space is one of the best decisions you can make when decorating your home. If you lack space, you can set up a corner in your living room with rugs, a bean bag, a table, and a shelf to hold all your books.
By creating this space, you can relax when you study and have a safe place to store your books. Additionally, you can add vases and sculptures to make it look more attractive.
Also Read: These 20 Clever Under Stairs Ideas Will Make You Want to Rethink Your Home Design!
Your Bathroom Needs a Stole
By adding a stole, not only will you have more space for things in your bathroom, but it will also look more luxurious. You need to ensure that your bathrooms are clean and have proper fresheners. You will also need a shelf to organize your skincare and other essentials in your bathroom.
Lighting Matters
It would help to focus on your lights when you feel like you have entered a cave after coming home. There are different types of lights: ambient, which provides light for illumination so we can see clearly. A ceiling fixture is often hung in a kitchen or study corner.
It is used for decorative purposes only. If you have lightning in your home, it will affect the decoration. It is easier to have a clean, luxurious and spacious house if you have good lighting.
Also Read: The 10 Best Small Lamps for Nightstands : Get A Good Night's Sleep
Decorate Using Artwork
You will feel so empty without artwork in your house. If you already have it, great. If not, it's a plus to decorate your home. Add three different frames of the same type to make it more appealing and aesthetic. Additionally, you can add a few pictures of your family and friends to your bedroom to freshen your mind.
Use Mirrors for Natural Light
Another handy way to give your place a fresh look, especially if your home lacks space. Try placing large mirrors in your place to reflect outside light and make your place look more spacious. It's one of the best things to enhance your house's look and make it look more aesthetic and luxurious. 
Furthermore, adding colorful light bulbs will make the house look fresher and work the same as neon lights without taking up much wall space. Try hanging it at the entrance or wherever you have limited space to enter since these spaces will seem brighter.
Use Your Fireplace
If your fireplace is empty and not in use, now is the perfect time to use it. It can be given an overall new look by using different styles. Even your fireplace can be turned into a miniature art display to add some texture to your place. You can display your collection of artifacts on your fireplace. Display your pottery and art on the fireplace mantle.
Final Words
It's a great idea to start decorating your house because it will positively impact your well-being, and you'll love it. As you decorate your home, you'll feel calm and relaxed. Set a budget today and get started creating your house a home. We hope these ideas will help you. Happy decorating!