A home library may seem the epitome of self-indulgence, but in years gone by they were standard in most homes. We've read about them in classic novels or seen them in old movies and longed for our little slice of bibliophile heaven. You can realize that dream, with the help of these 5 home library design ideas. 
Be Bold With a Dining Room/Library Combo
If you think that dining tables have no place outside a formal dining room, think again. While most people shudder at the thought of eating in a room dedicated to their prized book collection, it's a great idea if you're short on space.
But if you aren't short of space, you may still want to include one of the space-saving Extendable Dining Sets that are trending right now. Here's why. It allows you an ideal space to sit and read, take notes, write in your journal, or for the kids to do homework.
And if you've ever hosted a book club meeting, you'll no doubt have wished that you could just have your coffee and cake amongst your favorite reads. Here's your chance to do just that. An extendable table has the added benefit of expanding for group interactions or folding down for solo pursuits.
Create a Cozy Library Nook
Not enough space for a home library? That may not be true, once you've looked at all the angles. If you have a bit of unused space in your living room this is the perfect location for your treasure trove of books.
Position this near a bay window, if you have one. It's one of the most popular glass windows for the home, and ideal for creating a window seat to curl up with a good book. But it's not the only location to consider. An unused area of a master bedroom works just as well.
Do you have the luxury of a large walk-in closet or dressing room, even though all your clothes fit on a tiny rail?  Move your clothes to a standing closet in your bedroom, and repurpose this unloved space into a home library. It probably already has lights installed, and even a few shelves.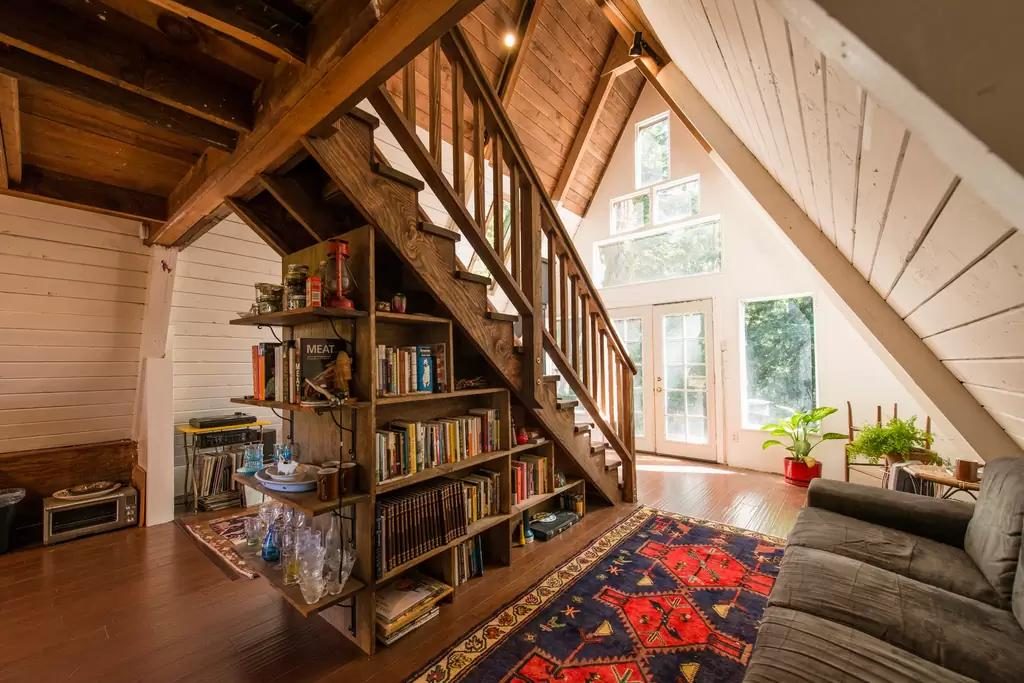 You Don't Have to Use Conventional Bookshelves!
Sure, it's easier to just head out and buy some bookshelves. But it's not always easy to get the dimensions right. Conventional bookshelves are not always suitable for taller books, and they can be bulky and difficult to move into position.
Of course, there are always those kits that you build at home. But they're rarely strong enough to stand the test of time and lack the old-world appeal of traditional bookshelves. Your home library deserves better than that. So, what do you do? You build it yourself, from scratch.
Admittedly, this requires some skill and patience. But by doing so, you can tailor-make your bookshelves to accommodate your needs. Shelves can be as high or as deep as you need them to be. And, best of all, you can fit them into otherwise difficult-to-furnish spaces, like underneath a staircase.
Make it Fun – Incorporate a Theme
Libraries were always serious places. You had to be quiet, and you were not allowed to eat or drink while on the premises. If your mobile phone rang, the librarian glared at you with disdain. None of this applies to your home library. This is your space, with your rules. So lighten it up a little, and have some fun with it.
The easiest way to inject some fun is with a theme. Are you a proud owner of a Harry Potter book collection? Go for a wizard theme, with starry wallpaper and velvety drapes to echo the genre. Are your bookshelves lined with gardening manuals? Framed botanical prints and a potted plant will do the trick.
There are no rules with a home library theme, you are limited only by your imagination. But as an avid reader, we're sure you have heaps of imaginative ideas looking for an outlet. Now's the time to unleash that creativity, with your wall, floor, or window treatments, or even an innovative bookcase chair.
Make It a Total Sensory Experience
Are you a fan of listening to audiobooks? Or perhaps you just have to watch any movie that is based on one of your favorite novels. That's okay, you're still in the right place because if either of those sounds like you, this next idea is perfect for you.
Your home library can be a place of quiet solitude and contemplation. But it doesn't have to be. It can be a multi-sensory experience, by introducing a home theater into the space with a projector, a screen, and discreetly mounted speakers.
Now you can choose – read the book while relaxing in a comfortable armchair, listen to it being read to you, or watch the movie. Don't stress about your audiovisual equipment ruining the vibe. Place these items in such a way that they don't detract from the overall look, and you'll enjoy the magic of literature on your terms.