Your home office is where you spend most of the hours of your day. Some people prefer to work at night when it is quiet. Regardless of what time you choose to work, it would be best to make your home office as comfortable and functional as possible. You deserve more than just a tiny work desk and a rickety chair at the corner of your home. Here are some vital home office design tips to help you become more productive.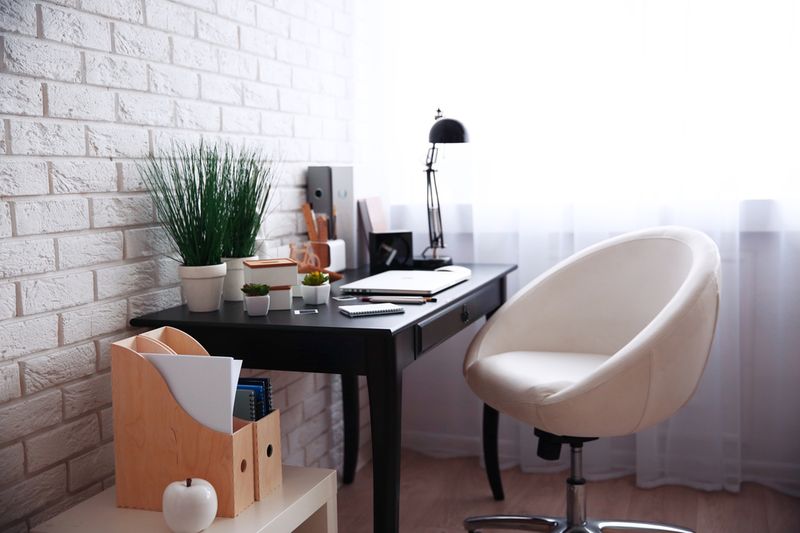 Choose the right chair and desk
It would be best if you had a wide enough desk to accommodate your computer and any documents you will use as you work. The ideal width of a work table should be at least 48″ wide and at least 70 cm high. You should also invest in a comfortable chair to support your lower back and neck. If you use your home office to host your clients for a meeting, ensure you get some additional seats.
Also Read: Save Your Money With The Standing Desk
Select a convenient location
Consider the kind of work you do and your ability to withstand distractions as you choose a suitable location to set up your home office. For a busy stay-at-home mum, the kitchen would be one of the best places to set up a home office. If you are a professional who hosts clients from time to time, consider setting up your home office in a private room away from any distractions.
Let the light in
Good lighting can make your home office look bigger than it is and help you become more productive. Ensure you select a location with access to plenty of natural light. You could also supplement the overhead lighting with a good table lamp or a floor lamp. Change the position of your desk to face the window where your computer screen will not be affected.
Also Read: LED Strip Lighting: Choosing The Right Product For The Job
Block out the noise
Noise can reduce your productivity and distract you from your work. Your home office might be located in an area with lots of noise, making it hard to work. According to an expert in soundproof windows nyc, you could reduce the noise levels in your home office by installing noise reduction windows. They will help set the ambiance in your office especially if you are in a noisy neighborhood.
Ensure there is enough storage space
It can be quite frustrating when you cannot find the documents you need to complete your work. Please don't overlook storage space when you are designing your home office. Ensure there are enough cabinets and shelves to store important files and documents. Keep the inbox tray within your reach and preferably on your work desk.
Also Read: 10 Ideas To Brings Office Into Your Closets 2021
Tame all the loose wires
Tangled wires can make your home office look untidy. An effective way of reducing the number of cables in your home office would be to get a wireless router. Secure any visible wires along the leg of your desk or on the underside. You could also invest in a few zip ties and neatly tie all the cables together to make your home office look neater.
Wrap up
Let your home office be a reflection of your unique personality and style. In addition to good lighting and neatly arranged wires, you could include some colorful yet functional accessories to make the office livelier.