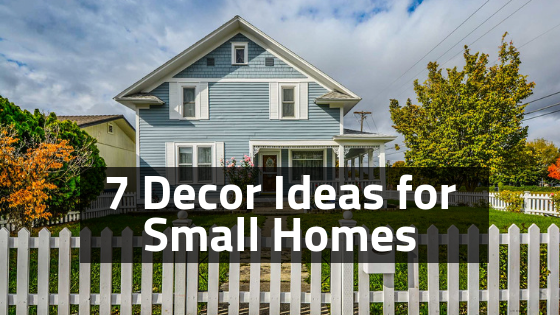 Small homes are cute and cozy and really make you feel like you're in a warm and comforting place. But, even though you love your small home, you probably yearn for a few extra square feet to make certain rooms a little bit more spacious. While you could spend thousands on an addiction to your home, you can save money by using these décor tips to make your small home feel and look a little bigger.
Here are 7 decor ideas for small homes that you're sure to love.
1. Design Vertically
When decorating tight quarters, the first step is to design up, not out. Using shelving, bookcases, and other vertical items, you can increase the storage in your home while also increasing the height of a room. This can make an otherwise small space feel much larger.
Designing up versus out also means embracing the floor. Stick to floating pieces like floating shelves and wall sconces versus traditional tables and lighting fixtures. These pieces can create obstacles and can quickly make a small room feel even smaller.
2. Try Folding Decor
As another way of ensuring you have as much open space as possible, consider using folding pieces. While you may need to have a desk or a table in a certain room, chances are you don't need it every hour of the day. By choosing furnishings that fold up when they aren't in use, you can effortlessly free up floor space and avoid the piles of mail that inevitably stack up on tables.
By using folding décor you can prevent clutter, which is a small home's biggest enemy.
3. Upgrade the Front Door
The exterior of your home is just as important as the interior. One way to make your small home pop is to replace your front door. By replacing the front door with one that isn't a boring neutral color or one that includes windows to let in natural light, you can change the look of your home on the outside as well as inside.
By choosing a door with windows, your home can be filled with more natural light. The more natural light that fills a home, the bigger and more spacious it will feel. A front door with a bright new color also livens up the exterior of your home. Red, teal, and yellow are all great colors to paint the front door if you're looking to stand out from the rest of the homes in your community.
4. Embrace Light
Just as you can let in more light with a new front door, you'll also want to focus on other ways to introduce more light into your home. With more light your small spaces won't feel as dark and will instead look and feel much more spacious.
Great ways to introduce more light into a small home include:
– Using sheer curtains
– Table lamps
– Sconces
Another way to embrace light is to use mirrors. By increasing the light sources in your home, it will feel brighter, airier, and even a little bit bigger.
5. Use Paint Properly
Accent walls and bold paint colors add a nice touch to any home, but in a small house, these paint options aren't ideal. To avoid making your small home feel even smaller, stick to neutral tones throughout. Grays, light beiges, and even cream-colored paint all work nicely in a small home. By using the same paint color throughout the home, you don't impact the flow of colors. Using too many paint colors in a small area can make a home feel choppy, which can make it feel even smaller.
6. Stick to a Limited Color Palette
The cohesiveness of the rooms within your home can make or break how spacious it feels. By sticking to a limited color palette, you're able to avoid clutter and visual confusion. Find a way to make all of the rooms within your home flow and look connected. Otherwise your home will look and feel quite disjointed.
For pops of color, find bold accessories like shelving, bookends, candles, and throw pillows to liven up the space.
7. Choose a Large Rug
Rugs in small spaces work well if they're the right size. Choose a big rug that doesn't cause a visual break when looking at the floor. The rug you choose can be a bold color or design, but sizing is key. A rug that's too small will visually shrink the size of the space.
Conclusion
By incorporating these 7 décor ideas, you can transform the look and feel of your small home. From increasing lighting to reducing clutter, if you want easy ways to make your home feel more spacious, be sure to use these tips during your next home project.