The house entrance sets the mood of the remaining home features yet to be seen. It is something most homeowners are investing in to impress visitors as they knock on the door. Thus, it also demands so many things to consider when choosing a front door for every home. Here is an article to help you find the right door that meets your budget and needs.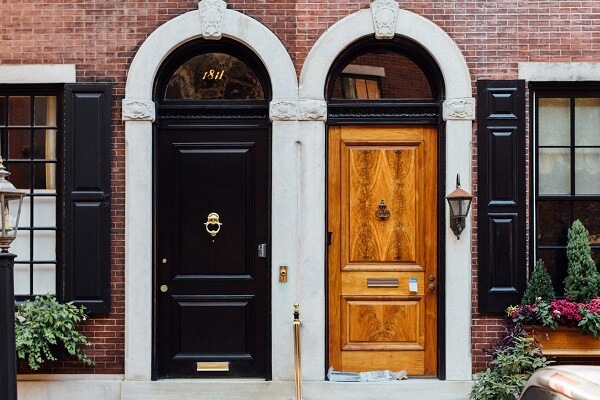 Different Types of Front Doors
An entrance door is made up of a variety of materials, such as wood, fiberglass, or combined materials. Each option can be suitable for a specific home style, as well as some other factors, like the climate. Read on to better understand the types of front doors you can pick from.
Wooden Front Doors 
Most traditional houses are built with a wooden front door because of their classic effect. It features an authentic finish on which other door types cannot beat. The material is a bit pricier compared to modern door types for it can achieve an aesthetic look effortlessly. It is likewise hardwearing and not prone to damage, unlike glass doors which can be fragile. 
However, wooden front doors will require proper maintenance, like painting. This shall sustain the beauty of the material and is very cost-efficient than buying another door set. 
Also Read: Ssst.. 14 Amazing Secret Passages Ideas
Fiberglass Front Doors 
This type of entrance door is an alternative to wooden doors. It is popular with most households due to its sturdy features against harsh climate. That being said, fiberglass doors are ideal for places experiencing a windy climate wherein the material won't easily break into pieces when smashed by strong winds. 
Moreover, the fiberglass material can be molded finish to realize an aesthetic appearance like that of wood doors. It also guarantees better security and is highly energy-efficient. Maintenance also works well with fiberglass entrance doors by wiping the glass every day with proper detergents and cleaning tools. 
Also Read: How to Choose the Right Residential Garage Door
Composite Front Doors
This door type has combined different materials to come up with a more secure doorway. It is best recommended for facilities that need extra protection because of its durability. 
Composite doors are also available in a wide range of designs, with or without glass or screen mesh. Additionally, the final look depends on the personal preferences of the homeowner. Though it is a high-end door type, it is still an affordable and great choice in safeguarding your home. 
Things to Consider When Selecting a Front Door
It is always the first impression that counts and lasts. This also applies to your home's entrance in the eyes of the visitors. It is alright to enhance the house interiors but do not neglect its exterior, including a pleasant entryway. 
Hence, below is a list of factors that would help you purchase the right entryway for your home facade. 
Design 
Nowadays, aesthetic doors are very popular, whether it is classic or modern type. The reason behind it is reasonable to make a good first impression. It consists of intricate designs but is not too overwhelming yet looks stunning. The overall look of the door must complement the entire home design. Manufacturers use advanced technology to achieve a great exterior for every home. 
Level of Security 
Household safety should be the priority in installing a front door. It considers the materials used that provide toughness that can withstand strong forces. 
The locking mechanism of the door plays an important role to sustain a high-security level for the family. Check out the latest technology, such as anti-intrusion locks to reassure you are getting the right amount of security. For instance, are the sliding doors made up of triple locks for added protection from thefts and burglars. 
Another option is a hinged door. It is less modern compared to sliding doors but remains aesthetic. To better boost your house security, look for high-quality locks or opt for double-entry doors. 
Energy-Efficient 
It is mentioned earlier that the changing weather also affects the door's quality. Therefore, select a front door that can sustain cold air indoors during summer and warm air in winter. It is possible with a range of doorways to choose from by inspecting their features and materials. 
As a result, it helps to reduce electric bills every month which could benefit the family greatly. It also prevents wasting energy in the long run that could add up to your expenses. 
Regular Maintenance
There are some questions you should ask before getting a front door. The most common concern pertains to the framing fixture whether the new door fits on it or will require resizing. Experts can help you decide which is best for the installation process. 
Furthermore, inspect the parts of the door from time to time to see if there is a need for repair. It could be the locks, painting, and many more features. 
Where to Buy High-Quality Front Doors?
St Albans doors have to offer the best entrance doors to complete your home. It will be installed professionally to ensure peace of mind among the households, plus a 10-year guarantee. The options include composite doors made of high-end materials in different styles and designs. Lots of homeowners had put their trust in the company and enjoyed the best possible outcome. 
Final Thoughts
To summarize, a good-looking front door is a worthy investment in building a home. Homeowners can pick between several door types and styles that best suit the property's exterior. Among the good choices are wood, fiberglass, and composite front doors. Also, keep in mind the important factors to end up with the right entrance door for you.