ALDI Stores for Investment: Crucial Tips to Note Before Purchasing an NNN Property
In the real estate market, NNN properties rank as one of the best investment forms. Most investors have revered it due to some factors: minimal risks, convenience, and high-profit margins. 
With NNNs, you don't have to worry about shouldering any responsibilities as a landlord. All that's required is purchasing the property and securing a tenant. When that's done, you can practically "cross your legs" and get positive dividends as long as the lease is active. 
However, it's important to note that while NNNs might seem positive all through, you'll have to make some considerations as an investor before keying into one. Why? Because while most NNNs might come off as profitable, not all might yield the dividends you seek. 
So, let's say you've been looking towards an NNN lease for good profits, and you're casting your sights on ALDI stores for investment. Before you make that purchase, you'll have to get some perspective on what business venture you're about to patronize. 
In this article, we'll be making the process easier for you. How? By running a background check on the company ALDI and considerations you must factor in before a purchase goes through.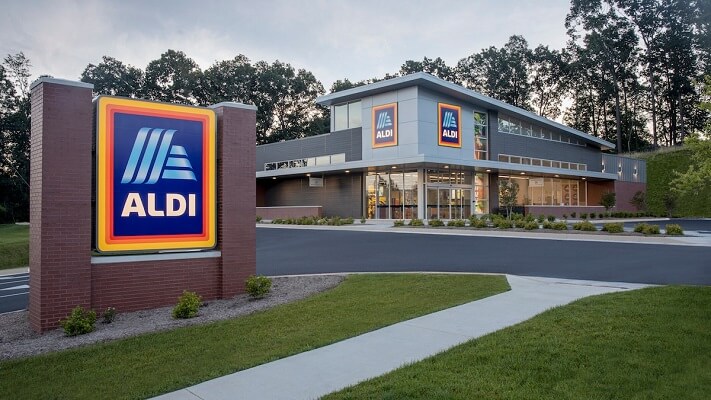 Who's ALDI?
Maybe you've heard that ALDI stores for an investment offer good profits on NNN leases. While that might be true, have you considered what this company does to see whether it's the right investment venture? If you haven't, let's take a quick peek.
For starters, ALDI is a supermarket chain that's concerned with offering customers a shopping experience that's not only cost-effective but laden with quality products to boot. 
Rooted in Germany, the first ALDI store opened its shopping doors to customers in 1961. Tagged as the first discounter in modern retail, ALDI spread its tentacles to the USA in 1976, opening its first store in Iowa. 
That said, they've amassed quite the reputation in the US, featuring over 1600 active stores in 35 states. With this number, it's possible to search for "ALDI stores near me" and immediately find the nearest store for your shopping needs.
However, it's important to note that this stellar rise isn't a coincidence. ALDI, since its inception, has lived up to its goal of offering a quality and inexpensive shopping experience. At their stores, over 90 percent of products on the shelves feature the ALDI branding. 
ALDI and the NNN Market: What You Should Know
Although ALDI is a privately-owned business, they've created an indelible imprint in the grocery store market. That said, it's pertinent to note that investors greatly prefer their stores for NNN leases. 
With ALDI stores for investment available at suitable locations, this retail merchant offers a long-term NNN lease term that comes up between 15 to 20 years. During this period, investors are free from any landlord responsibilities. 
Growing in reputation, it's easy to see why ALDI stores have become an NNN hotspot. Are you interested in the dividends attached, and you're ready to make that purchase? Before you do, let's take a look at some vital considerations to make before entering that NNN contract below.
Also Read: Investing In Real Estate: 5 Factors That Make It More Profitable
NNN Investments: Just Before You Go Through With That Purchase
Just like other NNN properties, you'll need to consider some factors before buying an ALDI NNN for sale. Notable mentions include:
Before you purchase an ALDI franchise for an NNN lease, you must consider the financial alternatives available to you. Investors willing to key into NNN properties usually have deep pockets. Thus, if you aren't financially buoyant enough, you might want to look towards a bank loan. 
While these loans might temporarily lift the brunt of making payments from your pocket, it's essential to consider the T&Cs attached. If they don't favor your real estate endeavors, you're advised to steer clear!
When you're purchasing an NNN property, considering your tenant's credit is a must. You're investing in an NNN to make income from rent attached to the lease agreement. Thus, you'll need a tenant with good credit to ensure that there's no "disconnect" in income flow.
If you'd like a good tenant, you'll be better off leasing the NNN to a firm or company with solid credit. However, one downside to this approach is that you really can't tell as unpredictable market conditions can result in a tenant not meeting up with rent payments and other miscellaneous expenses.
Building Location and Structure
If you're investing in an NNN property long-term, the building's location and structure are crucial determinants that gauge the success of this real estate venture. 
Location-wise, the building must be in a busy area and visible to those driving or walking by. That said, the building form shouldn't be overly specialized. 
For instance, if the building was formerly a brewery and an incoming tenant wants to open a convenience store, you'll have to modify that structure to conform with their needs. Nevertheless, this is an expensive endeavor to undertake. 
However, by purchasing a grocery store like ALDI, you'll have modification costs significantly reduced as most tenants prefer these structures due to their simplicity. Consequently, re-leasing should be much easier to accomplish.
Since you're buying an NNN property via Lentor Modern to boost your income, entering a short lease means you won't make income for an extended period. In a short-term lease, you're also faced with the hassle of re-leasing that property when the contract expires. 
To nip this issue in the bud, ensure to buy NNN properties with a lease term of at least ten years. That said if you don't have any choice but to buy into an NNN property featuring a short lease, reach a compromise with the seller to offset some expenses associated with a re-lease. 
That said, with ALDI stores for investment fielding an NNN lease term of over ten years, there's no reason to fret about restricted passive income.
Final Words
The NNN lease market in the US has appreciated over the last few years. Coming off as a low-risk investment and yielding good profit margins, everyone wants to stick their shovels into this "gold mine." 
However, before heading in "neck-deep," it's crucial to choose a viable investment option first. That said, you might as well look towards ALDI stores. Featuring a business venture that's quite popular and with decent lease terms, these NNN properties are selling out like never before.
While the positives might tickle your fancy, it's essential to make some considerations so that you aren't caught unawares in the long run.