When you need a new residential garage door, there's a lot to think about before coming to a final decision. There are many sizes and styles of garage doors available, so making a purchase isn't as easy as you might think.
However, there are some ways that you can determine which option is right for you. Do you need a little help? If so, we'll explain more in the information below about how to choose the right garage door.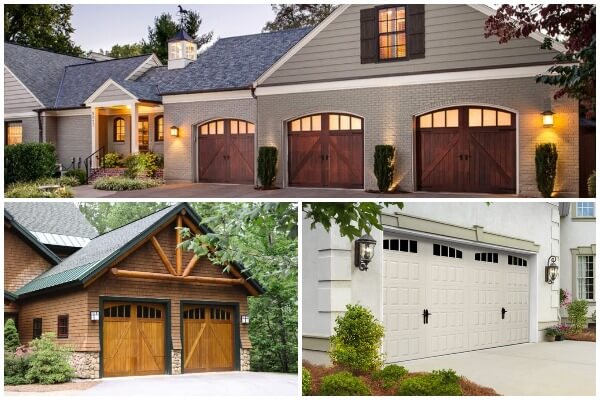 The Basis of Finding a New Garage Door
Before you begin looking at the style of garage that you want, it's best to start with the basics. How large is your garage door? How many cars does it fit?
This is the most important information you'll need. Here's a quick breakdown of how to measure your garage:
Measure the height and width of the door opening. This area is the closest measurement to the door size. It's known as the roof opening.

Next, measure the open space from the left to the right. This is known as the side room. Be sure to measure everything in inches.

Then, measure the distance between the top of the opening and the ceiling. This portion of the space is called the headroom. Most garage systems require at least 12 inches of headroom and the majority of openers require an extra 3 inches of clearance.

Lastly, measure the distance from the garage opening to the back wall. You'll need a back room that's equal to the door height plus an extra 18 inches. This measurement area is referred to as the backroom.
Once you have your measurements, you're good to go and you can start shopping for a new residential garage door.
Also Read: 3 Stunning Garage Door Design Trends
Common Garage Door Sizes
Now that you have all of your measurements, your next choice is to select the garage door size that you want. However, unless you decide to expand your garage, you don't have a choice in the door size that you get.
The number of cars that your garage fits determines the residential garage door size you should go for. Here are the most common sizes:
Single Garages
This residential garage size is pretty self-explanatory. Only one vehicle can fit in at a time.
Usually, this garage size measures about 7 or 8 feet in height and 8 to 10 feet in width. Single car garages generally accommodate one standard-sized car, truck, SUV, or van.
Double Garages
Most homes include a double-car garage. A double door often measures about 7 or 8 ft feet in height and 16 to 18 feet in width. You should have no issues with finding a double garage door.
Combination Garages
Some homes include a combination of multiple single doors or a double door and single door. These types of garage door designs provide lots of space and flexibility.
For instance, you could use the double garage for your cars, and the single garage space for a workshop or fitness room. But of course, homes with combination garages require multiple doors and separate garage door openers.
RV Garages
If you have an RV, there are specialty garage doors that you can find that accommodate parking an RV. Most oversized garage doors are between 10 to 14 feet in height and width. You also have the option to park multiple vehicles in an RV garage.
Custom Garage Door
If the standard garage sizes don't fit your needs or you have a different design in mind, you can always get a custom door. There are garage door suppliers out there that can create what you want. You'll have to search in your local area to find a company that will accommodate your needs.
Also Read: 5 Key Ways to Make Your Garage Door Stand Out
Residential Garage Door Styles
In addition to the various sizes of garage doors, there's also a choice of styles. Below are some of the most common options:
Sectional Garage Door
This style of garage door is designed with steel panel sections that are connected. There are vertical tracks on each side and horizontal tracks on the ceiling. You can find sectional panels in a variety of widths and profiles.
Plus, you can choose the design you want because there are a variety of architectural styles. Since there are multiple components to a sectional garage door, it usually costs more.
Rolling Garage Door
Rolling garage doors consist of a metal curtain that creates a ribbed pattern. When the door opens, the curtain rolls up.
Rolling doors are pretty basic, and they have a limited amount of design options. Also, they're not suited for windows.
Also Read: Garage Turned into Modern Rustic Tiny House
Designer Garage Door
If you want to take things to the next level, you have that option. Designer garage doors work much like sectional garage doors. However, the panels are created from the element that you choose.
Furthermore, there are many glazing options to choose from. You can coat your garage door with patterned, clear, or colored glass. Plus, there are several acrylic options to choose from if you want a window.
No matter if your garage door won't open or you desire a new look, you'll require the help of a garage door specialist. If you're ready to move forward, reach out to the garage companies in your area.
Choosing a Residential Garage Door
As you can see, selecting a residential garage door takes a bit of time. But the fun part about shopping for a new one is that there are so many styles to choose from. Hopefully, this article helps you to narrow things down a bit.
If you enjoyed reading this content, you'll like the other articles on our website. Keep browsing to find more real estate and home-related topics
In case you have finally found the right residential garage door then the next step is to take a good insurance for the same. https://www.insurancenavy.com/auto-insurance/high-risk-auto-insurance/ is the right place for you that have got the most affordable insurance plans.