How To Make Your Cabinets More Organized
Organizing your kitchen can make your time there more enjoyable and efficient. Plus, getting organized makes it easier to keep your kitchen clean. If your kitchen is easier and more enjoyable to use and clean, you'll cook more, and you can save yourself money. It's a win, win, win situation.
However, if you are like many people, the problem isn't organizing your kitchen. The problem is keeping it that way. If you want to organize your kitchen like a pro and make sure it stays organized, some simple kitchen upgrades can help.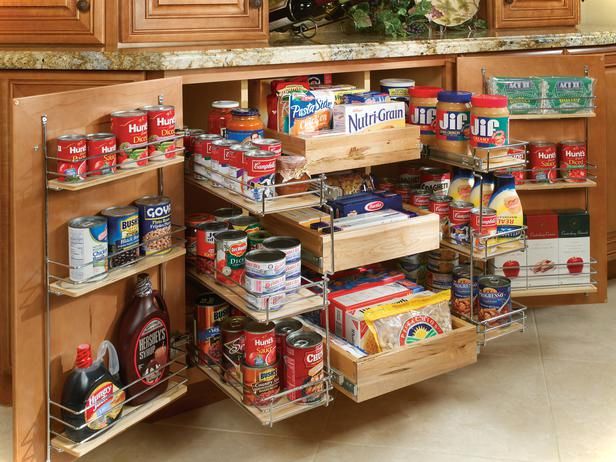 An Organized Kitchen Is Within Your Reach
You know that corner of your kitchen cabinets that is like a black hole, where rarely used pots and pans go and may never be heard from again? Adding a pull-out sliding shelf can make those hard-to-reach parts of your kitchen usable again.
It doesn't matter how hard you try, those hard-to-reach areas aren't going to be easy to keep organized. But, only one solution will make them usable: to add pull-out shelves. Adding cabinet pull-out shelves can make you and your rarely used pots and pans friends again.
Adding pull-out shelves allows you to access what you need whenever you need it easily. No more digging into the dark recesses of your kitchen cabinets to find what you need. It's easy to schedule a session with custom cabinet professionals to add more functionality to your kitchen so you can do what you love without the hassle.
There are pull-out shelves available for every type of kitchen cabinet, too. Corner cabinet solutions might be the most sought-after, but you'll get a lot out of adding pull-out shelves to all of your cabinets.
Divide and Conquer
Cabinet dividers can make organizing your kitchen much easier to do, especially if you have limited storage space. For example, your pots and pans can be stored separate from your cookie sheets, and your cutting boards can be stored upright instead of stacked, making them easier to pull out and use.
Under the sink is a great place to add a pull-out divider.  Food storage is another area that can benefit from divider shelves. And if your kitchen cabinet drawers are a mess, you can also use dividers in those.
Some people make DIY dividers for their drawers. Drawer divider kits are also available, so you can custom design them to meet your needs. Even deep drawers used for pots and pans can be improved upon with dividers.
Some pull-out shelves also have built-in dividers, making them even easier to use. There is really no part of your kitchen that can't benefit from some type of cabinet divider, especially those hard-to-reach areas of your kitchen.
Spice Up Your Kitchen
There are many tried and true ways to organize your spices. How you do it will depend on a few factors, like how much cooking you do and how big your kitchen is. You might just need a small rack on the wall or countertop. You could choose a spice drawer organizer. If you have a lot of spices, you will want to tackle this problem with something bigger by purchasing a large wall mount spice rack.
You might also need more than one spice rack solution for your kitchen. The most often used spices can go on your countertop or a handy spice caddy. You can add a larger spice rack to a wall in your pantry or behind a closet door to keep the bulk of your spices. You might also consider keeping your baking spices, like cinnamon and nutmeg, close to where you do your baking.
Wherever you keep your spices, remember that they stay fresh longer if they aren't exposed to light. And if you don't use them a lot, consider buying smaller quantities, so they stay fresh longer and don't take up as much space.
Also Read: 7 Awesome Mini Kitchenette for Small Kitchen (Update 2022)
A Plan for Your Pantry
Pantries are one of the areas of the kitchen that are the hardest to keep organized. And that's if you are lucky enough to have a pantry rather than a few cabinets designated as one. Whatever the size of your pantry, there are a few tried and true ways to keep it organized.
Before you start organizing your pantry, start fresh. Completely clean and empty your pantry space, then use these tips to help you organize it.
Use Containers and Storage Bins
Containers and storage bins will help keep your food safe. Clear containers can also make it much easier to know how much you have left. And storage bins for items like gravy packets and ramen noodles can make it easier to keep some items organized.
Create Zones
Heavy and rarely used items should go down below. You can stow lighter items on top shelves that are infrequently used. Anything you should reserve the middle of your pantry to about shoulder height for the items that you use most often.
You can further divide items in your pantry according to the type of food. You might have a zone for baking items, for example.
Can Organizers
Canned food organizers make it easier to find the cans you are looking for. You can make a DIY canned storage space or purchase a can organizer. They are commonly available and come in many different sizes.