Congratulations, you're finally building your dream home! This is an exciting, long-awaited, and well-deserved life milestone.
Unfortunately, the high cost of materials can often put a damper on your excitement about building a home. Building material costs are at an all-time high right now due to COVID-19, and labor is scarce. 
These challenges are tough, but they shouldn't get in the way of building your dream home. We're going to look at ways to save money on building materials so that you can charge ahead with your construction plans.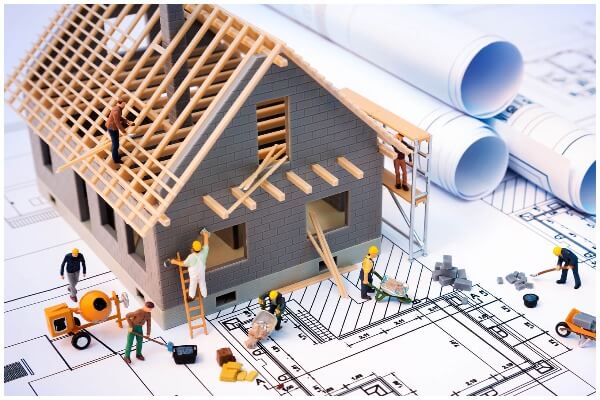 1. Plan and Buy Building Materials in Bulk
Bulk shopping saves money in just about every area of life, from groceries to toilet paper to, you guessed it, building materials. 
For bulk buying to work, you need to have your design and budget squared away first. Make your budget non-negotiable, and try to predict exactly how much of each material you need as closely as possible. 
Once the design plans are set, don't let anyone make any major changes. When you plan, you avoid buying too much or not enough, which can cost you in the end. It also allows you to pre-order materials, which you can save a little bit of cash on the building costs.
Also Read: How Much Does It Cost To Remodel Your Kitchen?
2. Do Your Research and Shop Around
Your contractor may want you to go with the materials supplier they always use; however, a bit of research could save you money in the long run.
First, do a quick internet search to find out the average cost of each material you need. Then, call around to different suppliers to find the best price. You can even ask for trade prices and free delivery to get a better deal.
3. Use Residential Steel Beams
Not only are residential steel beams more cost-effective, but they're also efficient, durable, and eco-friendly. Plus, they allow for design flexibility and make a solid home foundation that will stand up against intense weather. 
4. Ask About Recycled and Reclaimed Lumber
Another way to save money on building material costs is to prioritize reusing pre-existing materials. Your contractor probably knows where and how to source recycled lumber and reclaimed wood. 
Along with being budget-friendly, reusing materials adds character to your home. If you are renovating an older home, try to save as much from the demolition as possible to incorporate into your new design.
Also Read: How to Build A Custom Home For You And Your Family
5. Find Cost-Effective Alternatives
These days, there are tons of ways to cut costs by simply choosing a cheaper type of material. But don't worry, cheaper does not equal low-quality. For example, faux-hardwood floors are more durable and easier to clean than real wood floors, not to mention a fraction of the price.
Don't Let Building Material Costs Get in the Way of Your Dream Home Project.
At the end of the day, building a home is expensive. However, there are plenty of ways to save on building material costs so that the price doesn't stop you from getting the home you've been dreaming about.
For more home-building tips, check out our other blogs.