When it comes to home renovations, the kitchen is usually at the top of the list. After all, who can live without a kitchen? In many cases, a smaller or outdated kitchen is a perfect opportunity for an upgrade.
Whether you're looking to expand your space or simply freshen things up with new cabinetry and countertops, a kitchen remodel offers homeowners the chance to completely reimagine this key space. Read on for tips on how to make sure your next kitchen remodel is a success. If you're in the West Chester area and considering a kitchen renovation, you can also reach out to kitchen remodeling West Chester experts for professional guidance and services to turn your kitchen vision into a reality.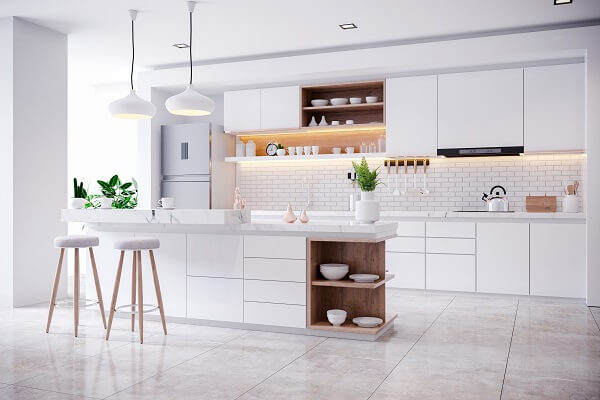 Make smart decisions from the get-go
There are all kinds of options when it comes to updating a kitchen, but if you don't know what you want, you might end up with something you don't really like. Before you start shopping for new appliances, cabinets and countertops, make a list of what you'd like to have in your dream kitchen.
That way, you'll know what to look for and how to prioritize your options. It can also help to get an idea of your style preference. Do you prefer a more traditional or modern aesthetic? You may also want to consider resale value. While you can't predict the future, it's a good idea to factor in things like the latest design trends and what will be valuable in the future. For example, while stainless steel appliances are durable and useful, they might not be as desirable in a decade when people are looking for more classic appliances.
Know your budget before you begin
When you're planning a kitchen remodel, it's easy to get carried away with ideas and add things to your wish list that are outside your initial budget. Before you start shopping for appliances, cabinets, and other products, set a budget for the project.
This will help you stay focused on the important parts of your remodel and avoid costly overspending. It's also a good idea to factor in the cost of the build out. This includes things like demolition and the construction of flooring, countertops, and cabinets. These expenses are often overlooked but are critical to your overall budget.
Plan for the unexpected
No matter how careful you are with your budget, there's always a chance something unexpected will come up during a kitchen remodel. From broken pipes to unanticipated permitting issues, there are countless things that can go wrong. While it's impossible to predict every issue that might arise, taking steps to minimize the risk of issues during your remodel can help you avoid costly problems.
For example, if you're planning to replace your cabinets, you may want to wait until the winter season when construction will cause less disruption in your home. Another good idea is to purchase a builder's insurance policy. This policy covers certain costs associated with your remodel and can help protect you in the event of unforeseeable issues.
Keep the kitchen functional throughout the process
During a remodel, you may have to navigate the tricky task of keeping your kitchen functional while removing old appliances and cabinets. To do this, plan to hire a contractor who offers a design-build service. This type of contractor will work with you to design the new layout and then build the plan in your kitchen.
This can help you keep costs down and avoid demolition fees. It's also worth noting that you might be able to take advantage of tax deductions for remodels. Another option is to hire a general contractor to help guide you through the design and planning process during your remodel. That way, you can build the new layout in phases. That way, you can "close" your kitchen for a shorter amount of time.
Find trustworthy professionals
Choosing the right contractor for your next remodel can be tricky. From estimating costs to taking care of your home and belongings, contractors work closely with homeowners throughout the process. That's why it's important to find a professional you trust. One way to find reputable contractors is to ask your friends and family for recommendations.
Another option is to search online for reputable contractors in your area. It's also a good idea to ask contractors for references. You can also ask to see their state contractor's license. When hiring contractors, make sure you set clear expectations and include that in your contract. This way, both you and the contractor know what is expected and what penalties or fees may be applied if expectations aren't met.
Also Read: 7 Awesome Mini Kitchenette for Small Kitchen (Update 2022)
Don't forget about lighting
There's a lot to consider when renovating a kitchen, but don't forget about lighting. This doesn't just mean adding new lights to the ceiling. Consider adding lighting under cabinets and on countertops to provide focused lighting for cooking. You can also add pendants, track lighting, and other options that offer more flexibility for adjusting the lighting in your kitchen.
Taking these steps can help you ensure that your next kitchen remodel is a success. From finding the right contractors to setting smart goals, there are many things you can do to make sure your remodel is everything you hoped it would be. Now that you know how to make smart decisions during your kitchen remodel, it's time to get started on planning your dream kitchen!ied, but don't forget to factor in the cost of labor as well. If your budget doesn't cover the build out, you may want to consider asking for help from a contractor.