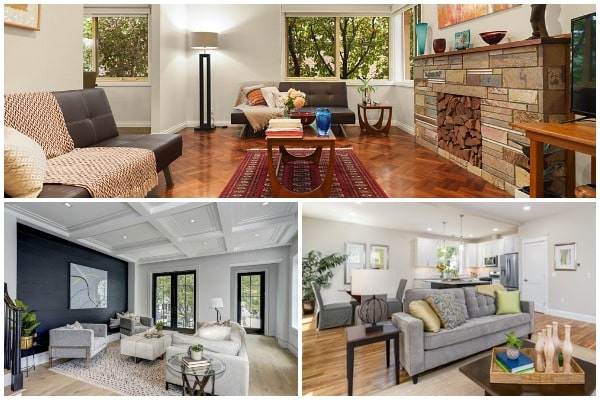 There are times when you may feel overwhelmed by the amount of clutter and mess in your current home. 
If you dread coming home after a long day at work, you may feel like you have outgrown your home and it is time to upgrade. When it comes to upgrading your home, there are some telltale signs that should be taken into account. Most of the time, people decide to upgrade their homes based on these signs. 
As a result, we will highlight these signs today, whether they indicate a larger space, more modern amenities, or just a change of scenery.
Overview: The Real-Estate Market for Bigger Homes
The real estate market in the United States is constantly changing and evolving. According to the National Association of Realtors (NAR), the median size of newly built single-family homes was 2,277 square feet in 2010. This has increased to 2,467 square feet in 2018.
This means that more and more people are looking for bigger homes. This trend has also been reflected in existing home sales. The median size of existing homes sold rose to 1,970 square feet in 2018, up from 1,800 square feet in 2010. These numbers indicate that more people are beginning to prioritize space and size when buying a home. 
Image source: New York Life Investment
Florida saw the largest annual increase in home prices, up 29.8%. Arizona is not far behind, with a 27.5% increase in home prices in one year. If we look over a longer period of time, the West has had the biggest growth in housing prices since 1991. The fastest growth, of 599.2%, was in Utah.
Large homes in private community is going out of reach. To give an instance, South Carolina's real estate market has been on the rise with home prices seeing a substantial increase of 22.7% (ranking #10). As a result, homes in a private communities like Port Royal have witnessed a significant jump in their home prices. In order to secure a home in such an exclusive residential community, you may need to spend millions of dollars.
So you shouldn't move to bigger house unless it is really a crying need for your family. Check the out the following facts before considering big shift.
8 Signs that Indicate the High Time to Upgrade Your Home
When you need to upgrade your home, you will feel it eventually. However, the following signs will confirm this feeling of upgrading your home, 
1) The Number of Family Members is Growing
One of the most common signs that you have outgrown your home is when your family size has grown. If your family has recently welcomed a new baby or if an elderly parent is coming to stay with you, then chances are you will no longer be comfortable living in your current home.
Having more people in the house can create overcrowding. Therefore, the chances of arguments may arise from overcrowding and lack of personal space. Hence, it will be difficult for everyone to move around and get some personal space. 
2) You Need More Personal Space
If you have the feeling that you are constantly running out of space and your current home does not provide you with any privacy, it is time to upgrade your home. Perhaps, you want a home office where you can work without distractions or a space where you can relax. No matter what you are looking for, having more personal space is important.
Even if you don't think you need extra rooms, it might still be beneficial to move into a larger space. Bigger houses tend to have a few extra rooms or storage areas that can be used for any purpose. Also, this may create a better sense of privacy and organization in your home.
3) The House is Getting Too Old
The age of your house is obviously a major factor when deciding whether or not you need to upgrade your home. It is common for old houses to show signs of wear and tear after a few years. At the same time, this can be a sign to upgrade the house.
Home upgrades always make it safer to live and increase property value. An old house may be filled with electrical hazards and an outdated plumbing system. It may even lack essential insulation. As such, you should consider upgrading to a newer home if your current house is too old.
4) You Shifted to Another Job
If you recently shifted to another job or your career demands that you travel more often, then this is a good sign that you have outgrown your home. A smaller house will not give you the space that you need to have a successful work-life balance.   
Larger and higher-paying jobs frequently come with more responsibilities. They may also require you to work extra hours or work from home on occasion. It is time to move up to a larger home if your job requires more solitude and space.
5) The Real-Estate Market is Right
When it comes to upgrading your home, timing is key. If you are trying to upgrade when the real estate market is sluggish, then you may not get the best deal. However, if you can find the right timing, then you could score a great deal on a bigger and better home.
There are certain times when the real estate market is more favorable for buyers. For instance, the market is often quite good during the spring and summer months when more houses are listed for sale. If you are considering upgrading your home, then you should research the current market conditions. Additionally, speak to local real estate agents to learn about available deals.
6) The Current Garage is Too Small
As your family grows, you may find that the space in your current garage is too small. If you are struggling to fit all of your cars and other belongings into your garage, then it may be time to upgrade to a bigger home with a larger garage. 
Eventually, you may need more space for tools and other items that you use regularly. Therefore, having an additional space can be beneficial. If your current garage is smaller than a typical garage in a modern home, upgrading may be the best option for you.
7) Your Kids Need Their Own Rooms
At one point, it will become essential to give your kids their own space. When your kids have their own rooms, they can decorate as they like, set up a work area, and even hang out with friends in privacy. Moreover, giving your children their own rooms can reduce the chances of squabbling between siblings.
With that said, having separate rooms for each child will give them a better chance of keeping their rooms neat and organized. Lastly, separate rooms can act as an incentive for your kids to do well in school. Your child will likely spend more time studying than goofing off if they have their own room.
8) The Outdoor Space is Small (or There isn't any)
If you have always wanted a spacious backyard or garden, but find that your current home is too small to accommodate one, then this could be another sign that you need to upgrade. You don't need to have a huge garden, but having enough room to host barbeques, entertain guests, or just relax outdoors is important for creating a homey atmosphere. If you find that your present home lacks or has little outdoor space, it could be time for an improvement.
If you take all of the above signs seriously, you can be confident that you need home improvements or that it is time to move to a larger home. A bigger home can always give your family a safe and comfortable place to live. Thus, it can be a great way to bring more peace and joy into your life.