Your house is your haven, so it should reflect your personality and style. If it's become dull and boring, it's time to give it a fresh, new look. There are many ways to transform the exterior of your home, and upgrade the look and feel of the interior. Whether you're moving into a new house or sprucing up your current one, this article provides the home improvement tips that you need.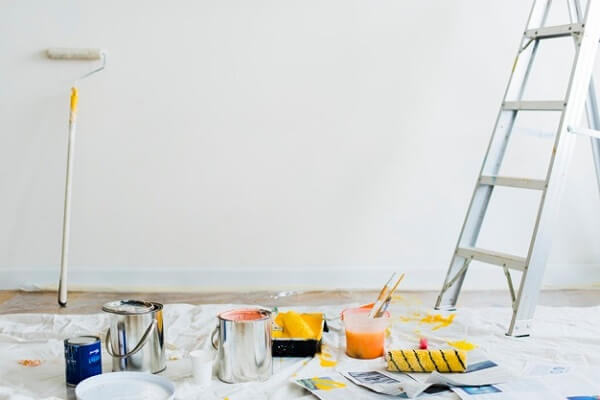 Create An Illusion Of Space And Depth
If you want to make your available space feel larger and more open, one approach is the use of mirrors. They reflect light and create the impression of greater depth. If you strategically place large mirrors on walls (opposite windows or doors) it'll maximize the amount of natural light in a room. If you paint or wallpaper the walls, use shades of white or pastel. They'll make the rooms appear brighter and roomier. In contrast, darker colors can shrink any room and make it feel gloomier.
Use furniture that's low-profile or has a small footprint, because bulky furniture takes up valuable floor space and makes rooms feel cramped. By opting for pieces with slender legs or minimalistic designs, you can keep your interior looking sleek.
At the same time, you'll be freeing up some precious square footage. It's also worth using multi-purpose furniture, such as Ottomans with built-in storage. If you buy a sofa bed, this one item will replace two separate ones. You'll have something to relax on during the day, and to sleep on at night.
Also Read: Top Practical and Stylish Ways to Spruce Up Your Home Indoor Design
Buy Some Quality Hardware
Whether you're updating your kitchen cabinets or revamping your bathroom, quality hardware can make all the difference. It can be aesthetically pleasing, whilst improving functionality. When choosing hardware, you need to consider both form and function. Select pieces that look great, and that are durable and easy to use. If you're updating your kitchen cabinets, opt for pulls and knobs that are comfortable to grip. Also, make sure they don't easily scratch or chip.
Upgrading your hardware can also increase the value of your home. When potential buyers attend a viewing, they'll see stylish, high-quality handles on doors. They'll also observe modern drawer pulls in bathrooms and kitchens.
An online search for residential hardware products will display brands such as Baldwin, Emtek and Schlage, and featured items like interior door knobs and exterior door hardware collections. You can buy handle sets, entry sets, door levers and crystal knobs, and choose from a range of popular finishes.
Transform Your Old Furniture
This is a great way to update your home without breaking the bank. An easy way to breathe new life into old pieces is by painting them. There are many colors and finishes to discover on the market. They'll help you easily customize the look of your furniture to match any decor style. Another option is reupholstering chairs or sofas with new fabric that complements your space. This can give a fresh look to old, outdated furniture. You can also supplement your handiwork by adding matching cushions and throws.
If painting or reupholstering isn't an option, repurpose your old furniture into something new. An old dresser can be turned into a stylish bathroom vanity, or a bookshelf can be converted into a bar cart. This would save you money on buying new furniture, and it's an eco-friendly solution that reduces waste.
Change Your Lighting
Lighting plays a crucial role in creating the mood and ambiance of a room. There are many ways to change it, such as:
adding new fixtures (e.g. chandeliers, desk lamps, table lamps, floor lamps, pendant lights, recessed lighting)
replacing traditional incandescent bulbs with brighter modern (energy-efficient) LED versions
adjusting their placement
Use task lighting for areas where you need more brightness, such as reading nooks or workspaces. Installing pendant lights over kitchen countertops can provide better illumination, while adding a decorative touch. 
Accent lighting can be harnessed to draw attention to specific features in a room, such as artwork or architectural details. You could also switch out traditional light fixtures with modern ones that are sleek and minimalist in design. Finally, consider adding sheer curtains or blinds to your rooms. They'll allow natural light to filter into your space, while still maintaining privacy when needed.
Elevate Your Backyard Or Balcony Space
You could install some outdoor lighting, such as string lights, lanterns, or solar-powered lamps. They can create a warm and inviting atmosphere for evening gatherings with friends and family. Additionally, installing motion sensor lights can add an extra level of security to your home.
It's also worth adding some greenery to your space, thanks to some potted plants or hanging baskets. They can provide fresh air and a calming ambiance, and a pop of color to an otherwise dull area. If you don't have much outdoor space, consider vertical gardening. One option would be attaching planters to walls or fences.
You could upgrade your outdoor seating arrangements with comfortable furniture (such as chairs, benches, and tables). Opt for weather-resistant materials like wicker or metal so they can withstand the elements year-round. Finally, adding plush cushions and throws in complementary colors will tie the entire look together.
Also Read: 37 Lovely And Cozy Small Balcony Ideas
Rearrange Your Rooms
Start by thinking about how you want to use each space, and then create a layout that supports that purpose. If you want your living room to be more inviting, place the furniture in a circle to encourage conversation. Also, switch up decor and accessories between rooms, to create an instant refresh. You can also play with color schemes by moving rugs, pillows, and curtains around.
By changing the placement of a sofa or bed, you may be able to increase the floor space of the room. You'll need to adapt these activities around the room shapes and other furniture items.
Decluttering is another way to make your rooms feel tidier and more spacious. Thanks to these simple tips, you'll soon be able to improve your home. Whether you spend a lot of money or a little, you'll reap the benefits for many years to come.