Garden, patio, door, porch – Christmas is here, and it's time to decorate the outside of your home. Whether you're a fan of traditional or modern Christmas decorations, there are plenty of ideas for outdoor spaces that can make your home look merry and bright. 
Setting the festive mood begins with the door. Here are some of our favorite Christmas door decor ideas for 2023: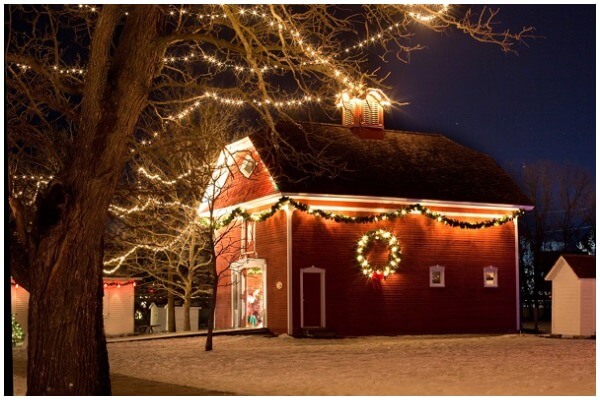 Classic Wreaths 
A classic wreath is a timeless statement piece that makes a cozy, festive atmosphere. Choose a natural wreath made from evergreen branches to give your home an all-natural look, or go for something sparkly and sequined for a flashy statement. 
Wreaths look great on any door and can be accessorized with ribbons or bells to make them even more festive. You can also check for the best wreaths that capture the holiday spirit without overdoing it. 
Some factors worth considering before hanging your wreaths are:
Choose a wreath size that's proportional to the dimensions of your door. 
Hang your wreaths as close to eye level as possible. 
Find an appropriate spot for an additional wreath near the windows or porch railings. 
Festive Bows 
Choose a big, festive bow to hang on your front door for a Christmas look that won't overpower the rest of your decor. This affordable way to incorporate some holiday cheer into the home can be personalized for any style. 
Try bows with different textures or colors to make them stand out even more. For instance, a bright red velvet bow with white trim could look beautiful against a natural wooden door. 
Consider the following when adding your festive bows:
Choose a bow that matches the size of your door. 
Check how well the materials hold up to weather, as rain or snow can quickly ruin fabric bows. 
Consider making your bow more unique, such as adding bells, ribbons, or pinecones. 
String Lights 
String lights are one of the best Christmas decorations out there. Not only do they add sparkle and brightness, but they also create an inviting atmosphere that draws people into your home. 
There are many types of string lights to choose from, including traditional Christmas lights, icicle lights, net lights, and globe lights. For a more eye-catching look, try pairing different kinds of string lights together to give your outdoor space a unique touch. 
When installing string lights on the exterior of your home: 
Ensure your lights are properly insulated, as certain types of Christmas lights can be a safety hazard. 
Decide how many strings of lights you want to use and where you want to install them. 
Secure the lights so they won't come loose or fall off in bad weather. 
Personalized Doormats And Signs
Nothing beats a customized doormat or sign to make your home stand out this holiday season. Personalized doormats and signs are perfect for adding a unique touch to the entrance of your home. 
For example, you could choose a festive design featuring reindeer, snowmen, Santa Claus, or Christmas trees. 
When selecting personalized doormats and signs for your home: 
Measure the area where your doormat or sign will be placed. 
Make sure to choose a material that can withstand wind and rain. 
Look for designs with bright, colorful accents to make them stand out more. 
Also Read: Get Inspired by These 15 Black Front Door Ideas
Festive Door Swags
Door swags are a great way to add color and texture to your front door. Choose festive, colorful swags with ribbons, pinecones, or bells to bring out the holiday spirit in your home. 
When selecting door swags:
Make sure the size of the swag is appropriate for your door. 
Select colors and materials that complement the overall look of your home. 
Find a swag with enough decorations so it won't look too plain or bare. 
Creative Ornament Displays
Create a one-of-a-kind Christmas display on your front door. Hang decorative ornaments from ribbons, twinkle lights, or mini wreaths to make it stand out. You can also add strings of tinsel and bows for an extra festive touch. 
Hang colorful decors from porch ceilings, ills, and railings to create a larger display that can be enjoyed from the outside. 
Whimsical Window Decorations
Don't forget to decorate your windows too. Hang garlands and wreaths around the window frames or suspend strings of lights for a magical Christmas look. 
You could also try wrapping the window frames with colorful tinsel, ribbons, or fabric to make them pop even more. For an extra dose of Christmas spirit, hang lifesize Santa Clauses and reindeer snowmen in the windows. 
Winter Wonderland Scenes
Make your home look like a winter wonderland with outdoor holiday decorations. Hang festive lights along the roof or install rustic lanterns around the front porch to create an inviting atmosphere. 
For a magical effect, you could also hang snowflakes, stars, and glittering icicles from trees and doorways. Add snowman figurines, inflatable characters, and stuffed animals to complete the look. 
Final Words
Christmas decorations don't have to be complicated or expensive. With some creativity and festive accents, you can spruce up your home's exterior this holiday season. 
Choose from these ideas to create an inviting outdoor space that will bring joy and cheer to all who visit.