A haphazard and incohesive lakefront condo decoration can strip away all the charms of a waterfront property and surrounding landscape. Instead of the generic decor of one color spectrum that washes out in the sun and a highly dark design that invites claustrophobia,  reimagine a setting that will work well with the lake as a backdrop. Optimizing the outdoor space and blending the latest interior trends will improve the condo's overall aesthetics.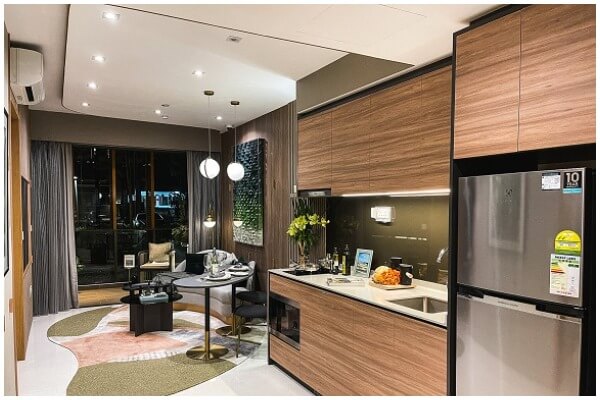 5 Decorating Ideas to Steal from Gorgeous Lakefront Condos
1. Make the Outdoors Shine
Having enough room in the patios and balconies might seem like a rarity, but there are plenty of Lakefront condos with generous outdoor spaces to create the ultimate lounging space. From maximizing the views with spacious day beds to adding portable firepits, sun awnings, and seating arrangements, there are many things to the outdoors. A first-floor deck or a second-floor balcony is perfect for adding hammocks, egg swings, and small Parisian coffee tables.
Photo from Lynne Knowlton
If you let the outdoors shine with cozy and multifunctional pieces, it will become the most lived-in portion of the area. You can have alfresco dining, morning coffee, or just stare at the stunning lakes and see the world go by. Moreover, pendant and fairy lights extend the external zone's usage and turn it into a place to enjoy a barbecue or turn off the lights and stargaze.
2. Embrace the Attic
Condo dwellers of second and third floors often have a petite attic – ideal as extra sleeping quarters featuring bunk beds and children's play zones. Kids gravitate towards attics more as the low ceilings give off a treehouse hideout vibe. A well-designed attic playroom keeps children occupied at night, preventing unsafe outside activities and a cluttered living room with toys.
Photo from Petit and Small
While decorating an attic for kids, use carpet and soft textures to avoid injuries. Since modern wallpapers are far from the gaudy Victorian ones, use them to liven up the space. Layering colors (bright and soothing) and textures will keep the kids interested, while the playing elements (tent, swing) will make them spend hours in the attic. Keep the attic furniture pieces to the minimum so that kids or guests can have a sleepover if they wish to.  
Also Read: How to Transform Your Attic into Livable Space
3. Keep the Open Space Minimal
A maximalist approach to arranging furniture, artwork, and rugs shifts the focus from the beautiful landscape and cramps a lakefront condo. A minimalist condo layout forms a more livable and accessible space- ready for spending family time or entertaining multiple guests. To take advantage of the open layout, make separate zones and nooks (reading, bar, kids, dining) and use multipurpose furniture.
Photo from Lake Geneva Realty
A clever open-plan layout with house plants and a dreamy blue rug accentuated the beautiful wooden flooring and bright light coming from the windows. Also, it makes the condo feel expansive and uncluttered simultaneously- leaving enough room for guests and future furniture upgrades. Try creating a minimal and moderate atmosphere like this condo rather than overwhelming the open spaces with heavy furniture, black-out curtains, and decorative pieces. You can check this condo out in person, as it's up for sale here.
4. Incorporate Natural Materials
Gone are the days of following one specific old-school style for interior decoration full of dark, processed materials. Modern lakefront homes use robust natural materials (jute, rattan, straw, bamboo, metal), which blend well with the traditional exposed wood ceilings and beams. Natural colors such as blue, green, brown, tan, and beiges create a seamless transition from outdoors to indoors by complementing the incredible view of the water.
Photo from Home Beautiful and GD
Organic textures of jute and rattan build a welcoming atmosphere while keeping the interior chic with a soft and airy color palette. Light wood furniture, golden jute carpet, and brass pendant lights reflect the sunlight and produce the illusion of a larger space. Another great natural option is rattan furniture (sofas and loungers) that sustain for years as they are waterproof and maintain shine. In case you want to create a small gallery wall, using bamboo mirrors, baskets, jute placements, and rattan wall art gives an exotic look.
5. Create a Window Seat
A window seat lets the residents enjoy an unobtrusive view of the Lake regardless of the weather while providing additional seating space for guests in a compact condo. The window walls in the living room, dining room, and any dead space that faces the water are perfect zones for a gorgeous window seat. It can also double as a reading nook and extra storage space.
Photo from One Kind Design and GD
Window seats don't have to be a built-in feature of the condo- you can create one with benches, storage units, and even stacking up wooden crates or floor pillows. Styling the seat with throw blankets and pillows creates extra coziness- perfect for soaking the sun in colder months. However, measuring the space to an inch before making the seat is vital as a prolonged or short window seat can be an eyesore that ruins the overall cohesion of a room.
Outro
If the owners get creative and take inspiration from the existing lakefront condos, even a moderately sized condo can provide maximum comfort. Breaching the gap between indoors and outdoors and using every inch of available space for introspective choices guarantees a home where you would like to live forever.