In the US, around 25% of households have gardens. Are you part of the lucky fourth of Americans who have this extra piece of greenery? Then you'll want to take full advantage of it!
Taking up gardening can seem daunting at first. But so long as you take it to step by step, you'll find your footing soon enough.
The first thing you need to do is to get the right tools for the job. Read on for some essentials for gardening so you have what it takes to see your garden flourish!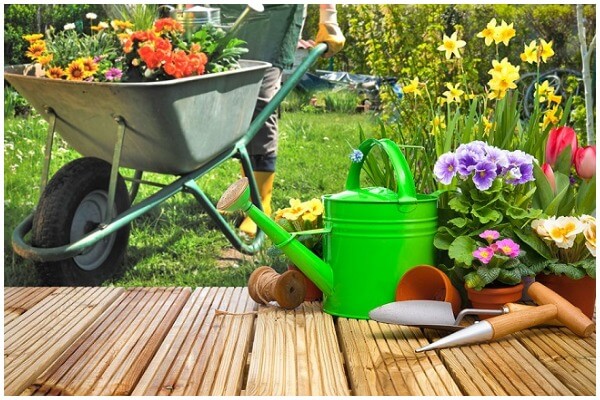 Gloves
There are many plants that are not only poisonous but also prickly and/or irritating to the skin. So make sure you get yourself a pair of nice gardening gloves that are thick but not too bulky.
Choose a water-resistant material as well. This will ensure that your hands stay dry but also cool and comfortable.
Pruning Shears
If you have to get any essential gardening tools, it should be this one! It's very handy since you can make cuts for pruning or to take clippings. They're also useful if you're doing some weeding and you're unable to get a stubborn bit out of the ground!
Hand Trowel
This is another of the gardening essentials you should start out with. It's a versatile tool that can help you scoop soil, dig up dead plants, and weeds, and handle rocky soil.
Rake
This might sound like an obvious one when it comes to gardening essentials for beginners, but it can be easy to forget the simplest things!
You'll want to buy a sturdy rake so when your trees start shedding their leaves and other debris gets in your yard, you can easily rake everything up, put it in a bag, and dispose of it.
Also Read: How to Design a Garden That You're Proud of 5 Inspiring Tips
Garden Hose
You might have a sprinkler system in your yard, but it won't be able to reach everything. For the out-of-reach areas, you'll want to use a garden hose to give your plants much-needed water.
We suggest getting a garden hose with an adjustable nozzle so you're able to control how strong the water's hitting your plants. That way, your more delicate ones won't get inundated!
Also Read: How to Budget for Landscaping Projects
Watering Can
In addition to a garden hose, you should get a watering can. This is useful for very delicate plants where you want to not only control the pressure, but also the amount of water you give them.
Garden Shed
Garden sheds are perfect for those who have the space for them. Not only can you store all your essential gardening tools for beginners in it, but you can also hide it all away so it looks less cluttered. Your things will also stay nice and dry!
Also Read: Types Of Garden Sheds That Will Bring Appeal To Your Backyard
Get These Essentials for Gardening
With these essentials for gardening in your arsenal, you'll be ready to tackle this new hobby.
Of course, this is just the basics. You'll also need to know what plants get in which season, how much to water them when to prune them, etc. However, if you gather this knowledge slowly but steadily, we're sure you'll be an expert gardener in no time!
To find out more about gardening for beginners at home, check out our other informative posts!