Located in Landskrona, Sweden.This small modern house design can look as luxury as a bigger home. Architects Elding Oscarson has completed the townhouse in five meters wide with a tiny area of only 75 square meters that in the middle of hoary neighboring buildings.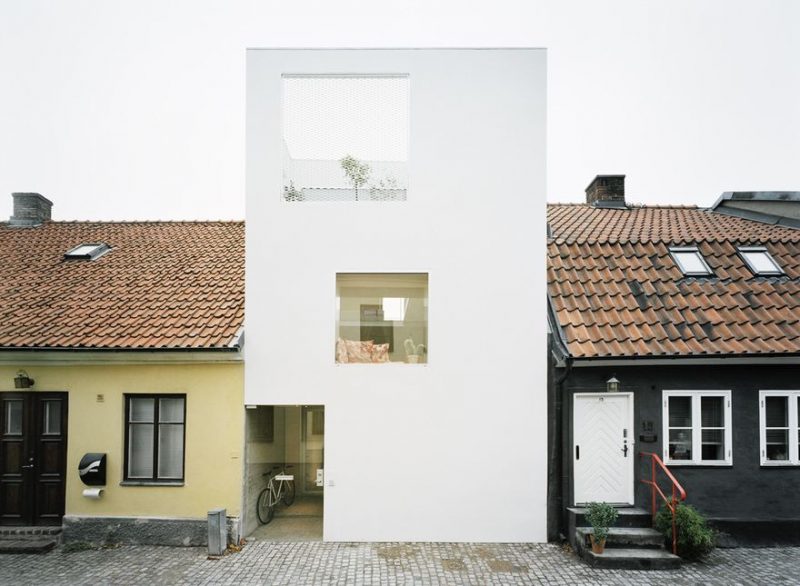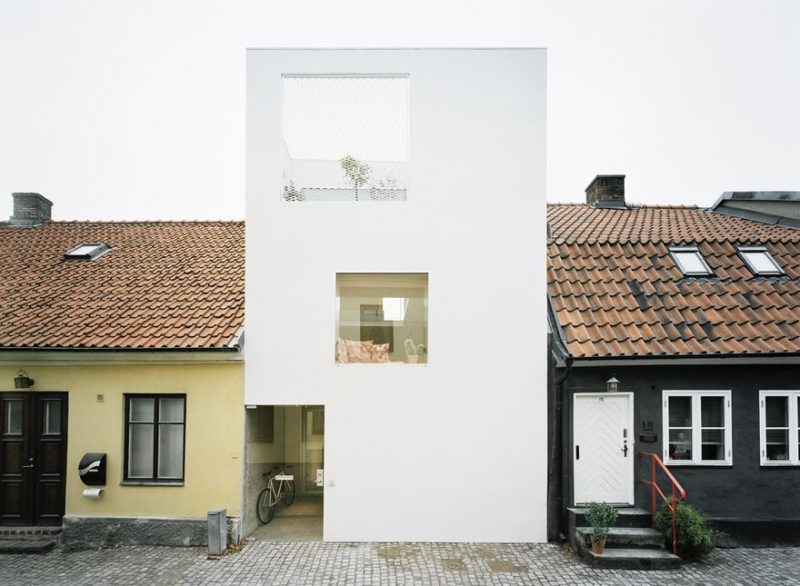 The building associated with the surroundings in scale, proportion and in the way it adds to the established rhythm of low and tall buildings along the street of traditional terraced cottages in Landskrona, Sweden. The designer aim is to create a bold contrast, to express inherent clarity, but more importantly to highlight the beauty of the surroundings.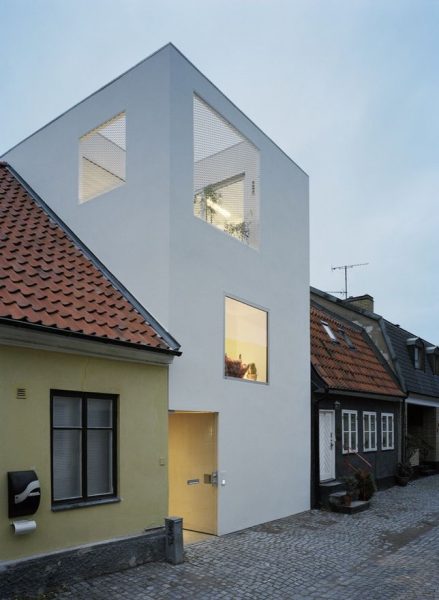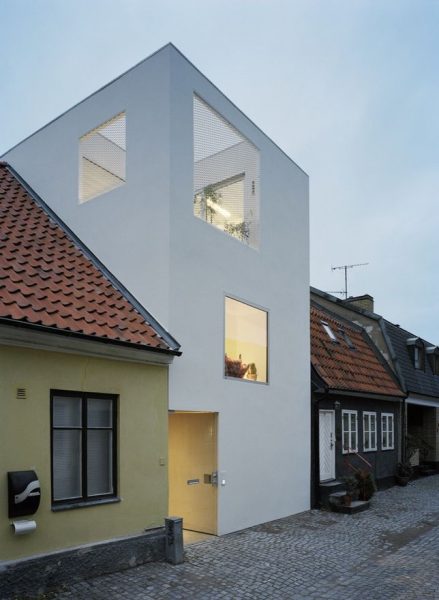 The continuous interior space is opening up to the street, to the middle of the block, and to the sky above.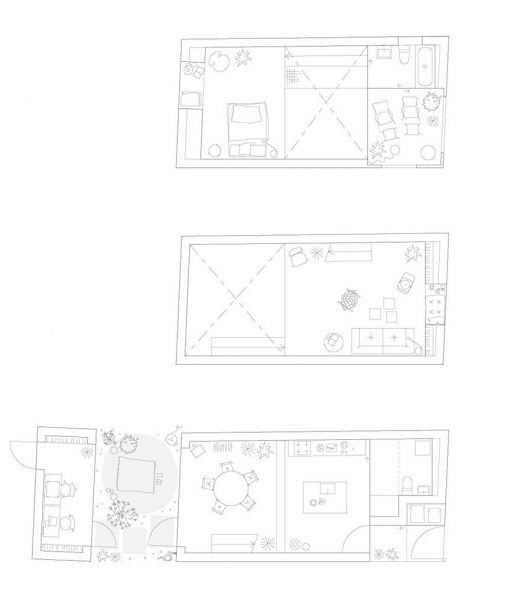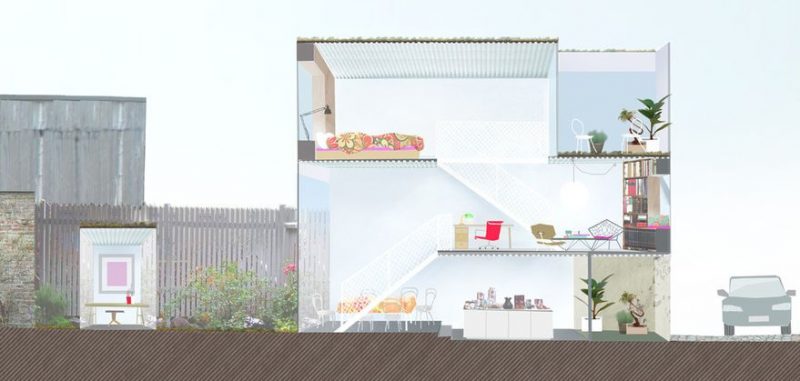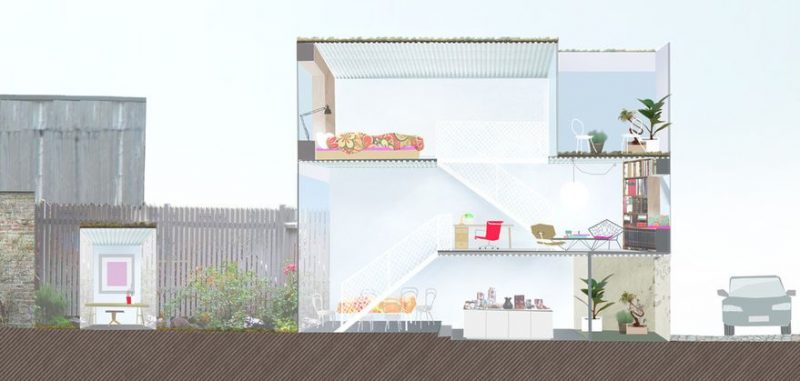 The modern interior design consists of a single space, softly partitioned by three exposed steel slabs. These span the entire width of the small modern house and divide its program – kitchen, dining, living, library, bed, bath, and a roof terrace.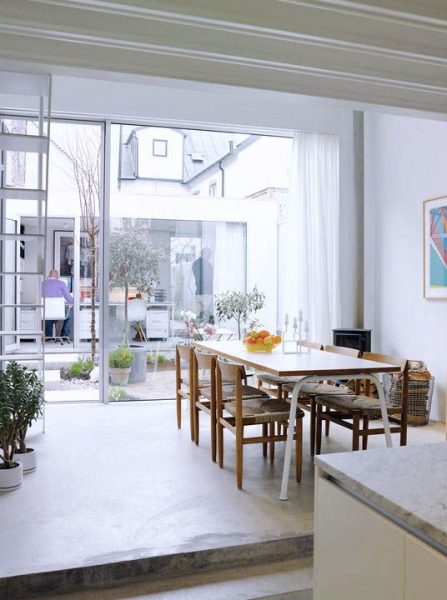 A tiny home office for a growing side business of art dealing is located in a separate building across a small garden in the back. Mechanical and service spaces are housed next to a glazed entrance from the street.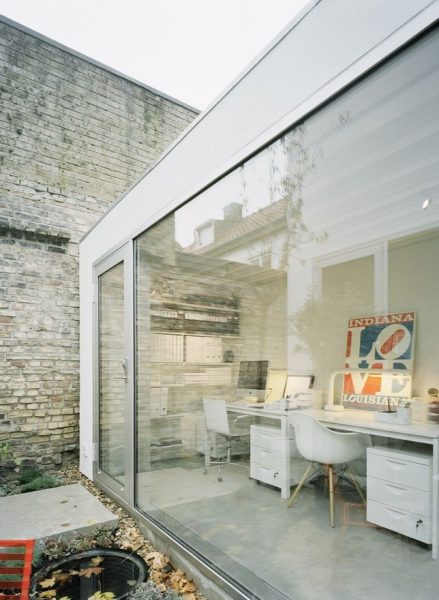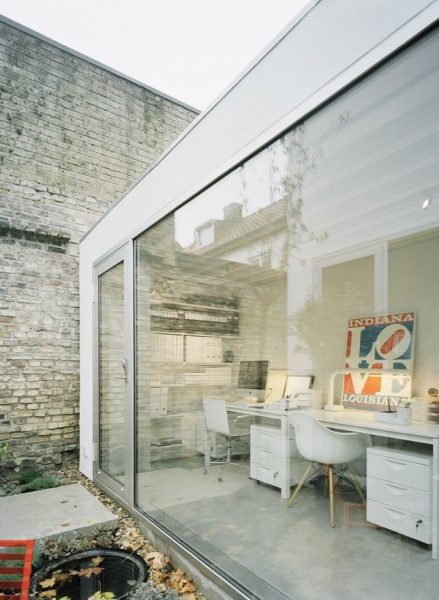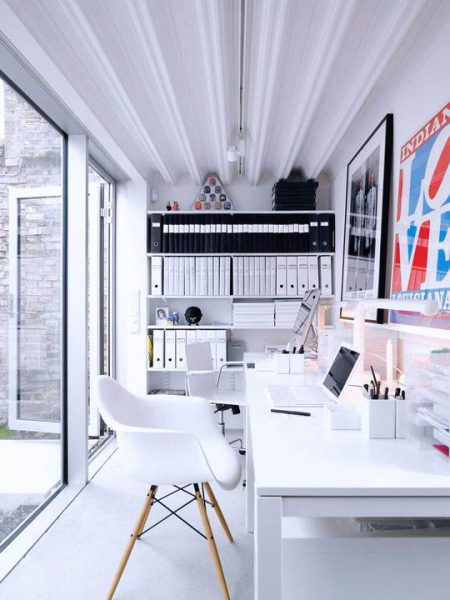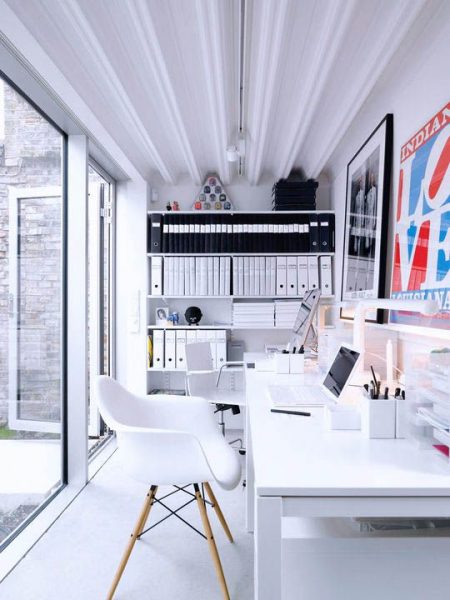 Beautiful container office with all-white paints and furniture. Visually make rooms looks bigger and cleans.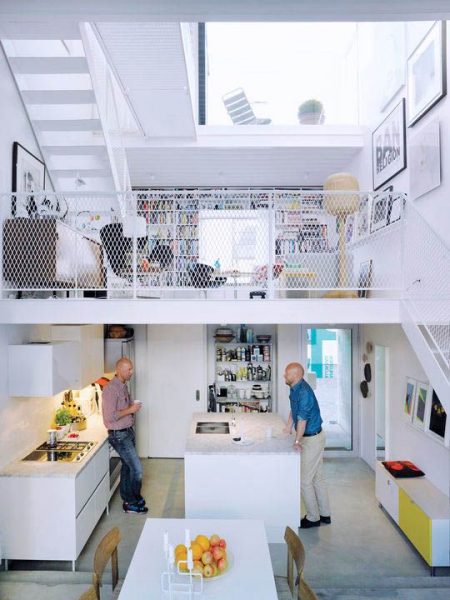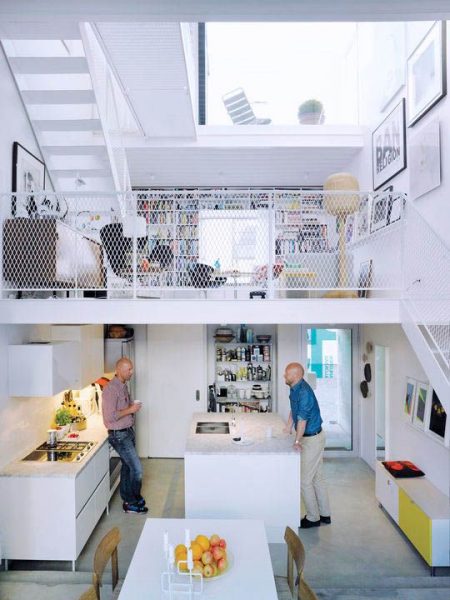 Back to the main buildings. The division of the single space point to a non-minimalistic and lively chain of limited and airy spaces, interiors and exteriors, horizontal and vertical also views as well as carefully framed views of the site.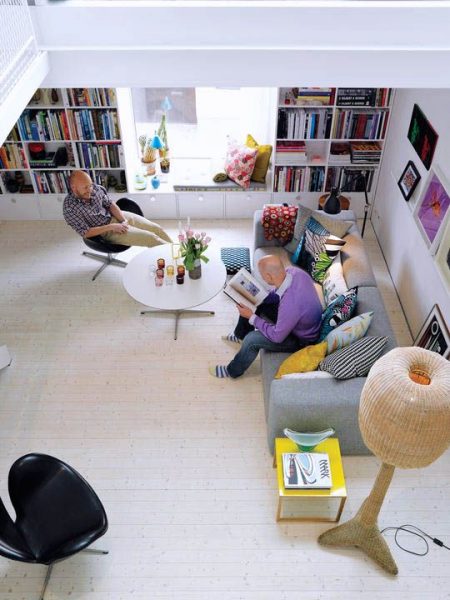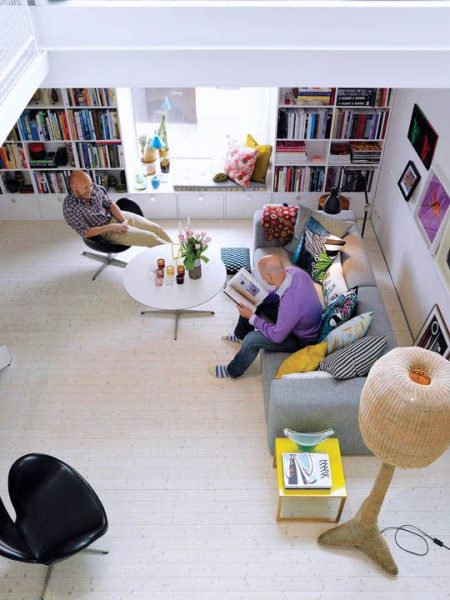 Living room as well as a library on second floors. Looks comfy and so inviting.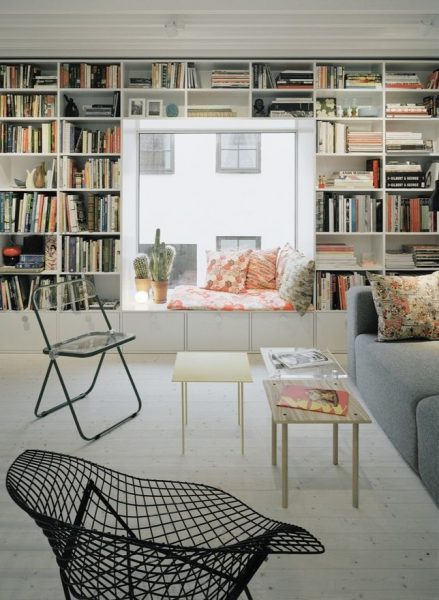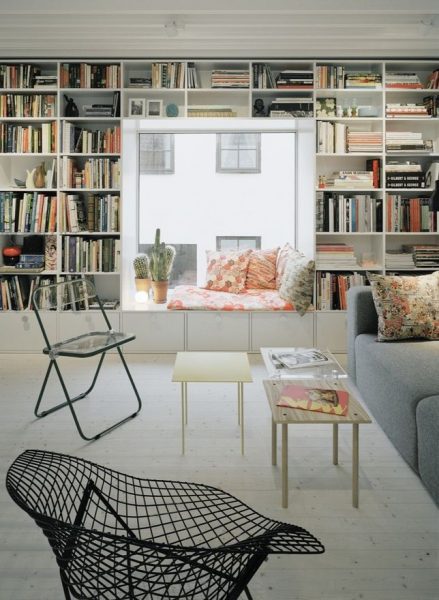 Strong Scandinavian styles rooms with the bookshelf that have plenty of storage and built-in reading nook.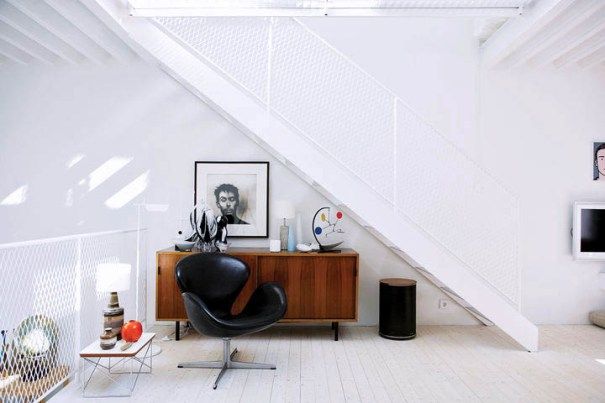 Efficient use of under stairs spaces. The retros cupboard collaborate well with the whole rooms.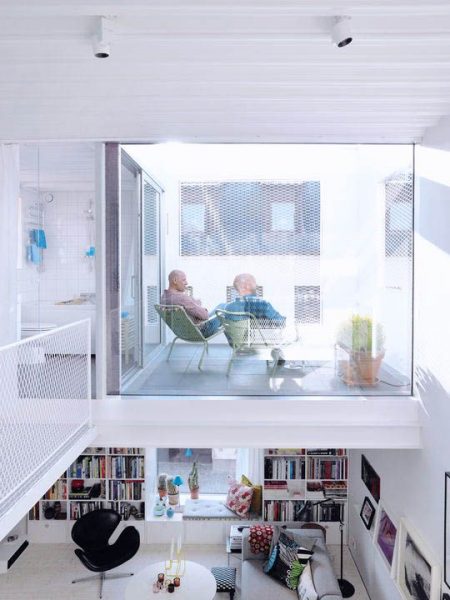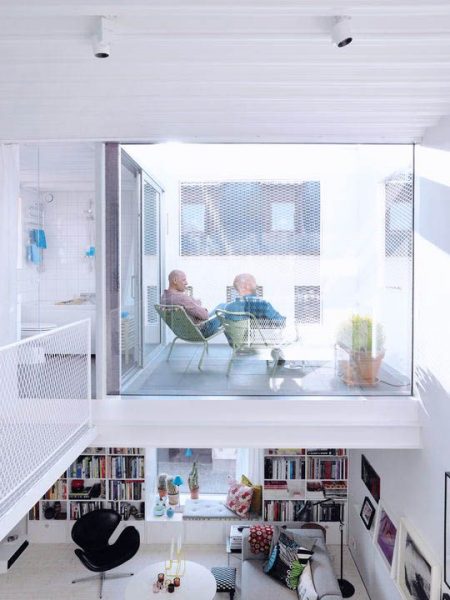 As you reached the third floors you will be welcomed with an inviting sunroom that can be accessed through the bathrooms. You can sunbathe after a bath.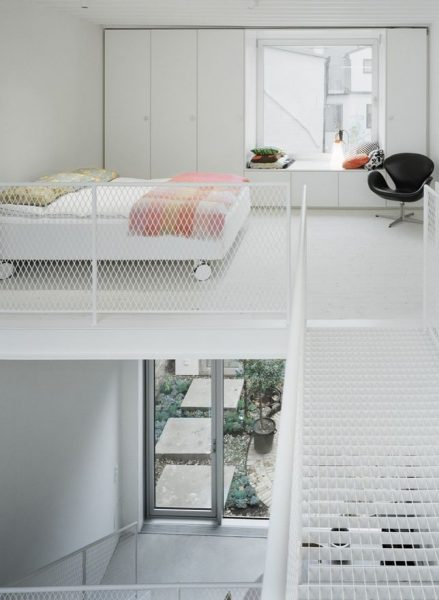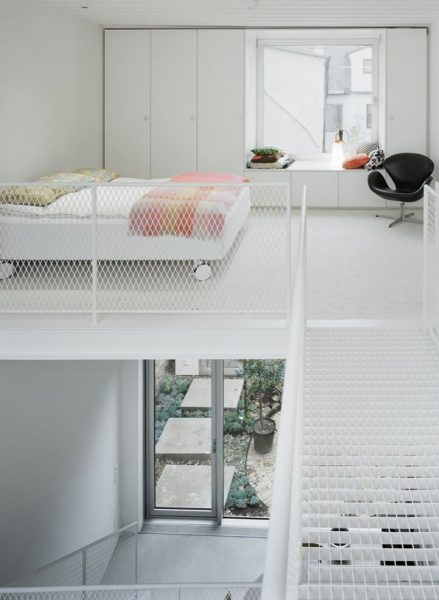 Clean and airy master bedroom. Perfect minimalist bedroom for perfect rest. Same as the living rooms. It's also had a bench next to the windows that integrated with closets. The white rooms create attractive backdrops for the black chairs.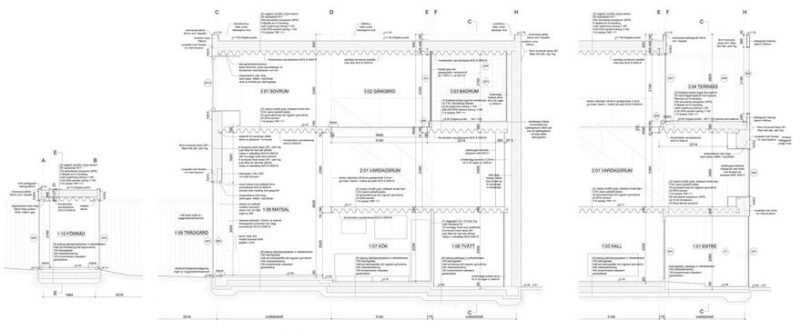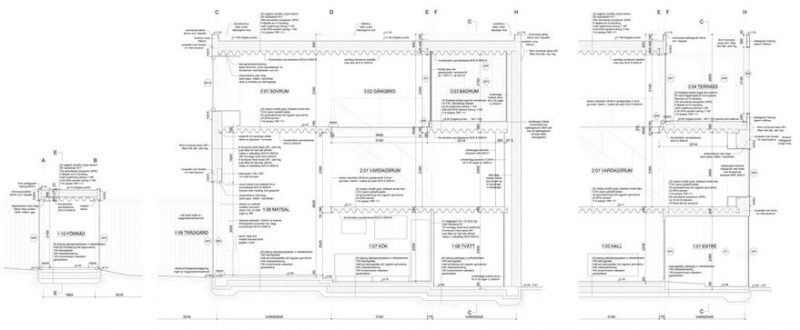 ---
Small Modern House Details: 
Architects: Elding Oscarson
Location: Landskrona, Sweden 
Architect: Elding Oscarson
Structural: Engineer Konkret
Builder: Skånebygg
Construction Cost: 280,000 Euro
Area: 125.0 sqm 
Photographs: Åke E:son Lindman
---
---