You are probably prefer to have your own business rather than working outside or one of people that tend to take home some of work whenever possible. Of course, Nowadays technology has allowed people to work from home.
Working from home is obviously rather different from working in your office cubicle and it tends to give you far more comfortable so that you can be more concentrated and at times allows you to get a lot more flexibility.
While many new home owners are planning for a dedicated home office room, there are others that are turning the available little corner or space into a work station.
Here are my list of small home office for those who are challenged for room and wish to have a decently organized work space. Of course, this idea will make your room look more spacious and comfortable that combines form with function. You will be surprised at the number of uncanny pots and multitasking décor that make this a possibility.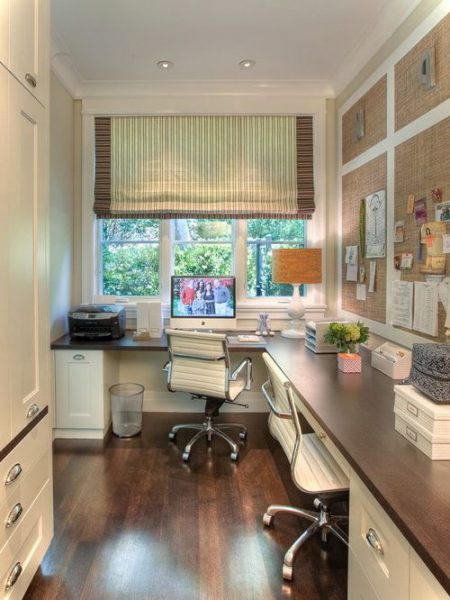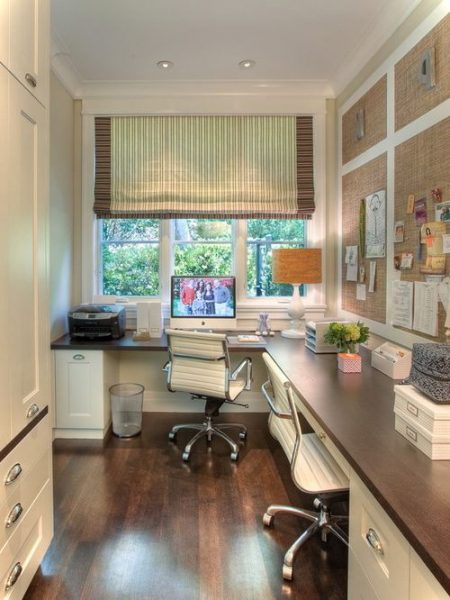 Brown wooden desk and cream cabinet blend together and create elegant but warm environment. Big window also provides this small office with better air flows. And sometimes when you got stuck at work, by looking the worlds from the windows may freshen up your mind.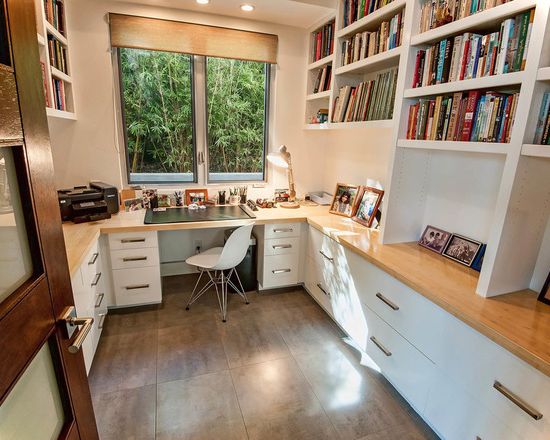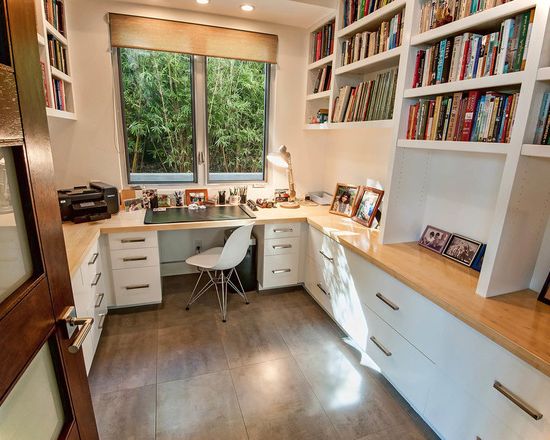 Encino contemporary small home office built with many shelves/cabinets, could really use space for books and filing. The Encino contemporary small home office is perfect for the Encino homeowner who wants to create a modern and stylish look in their home.
This beautiful small home office furniture piece is constructed with high quality MDF wood and is painted white.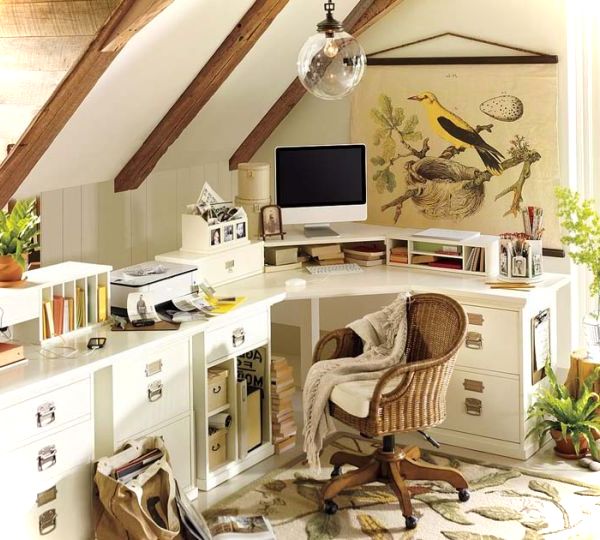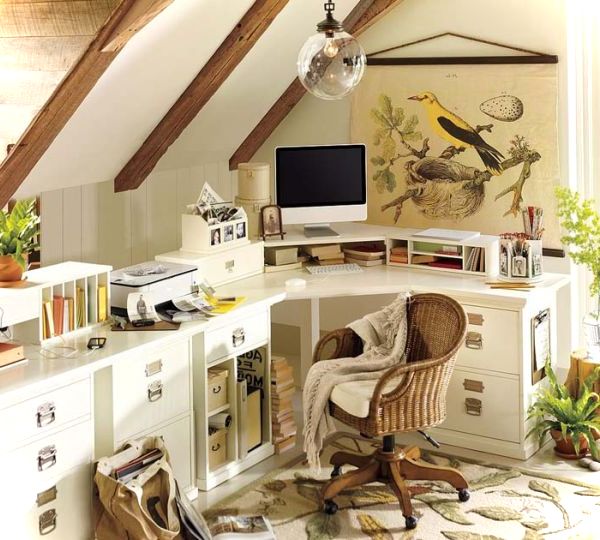 Visually appeal office under tilt roof or attic room. Has many storage that help you to organize documents and stationary with style. Put some herbs or flowers to liven the space.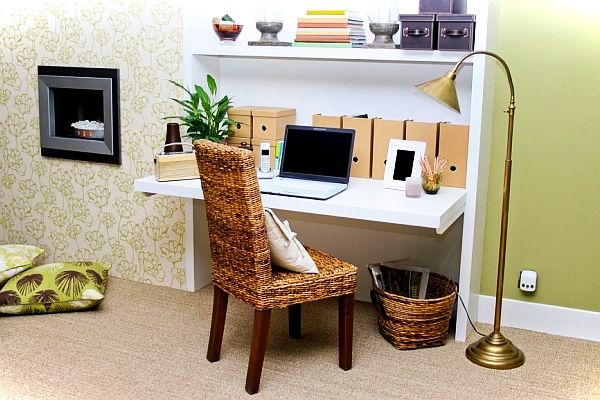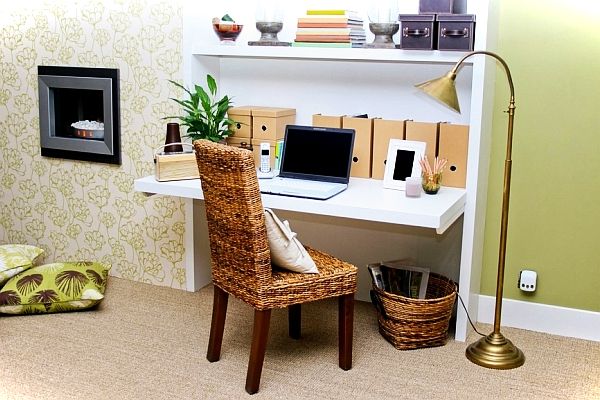 Simple but cute little office design. Golden standing lamp and the painting brings luxury with small efforts.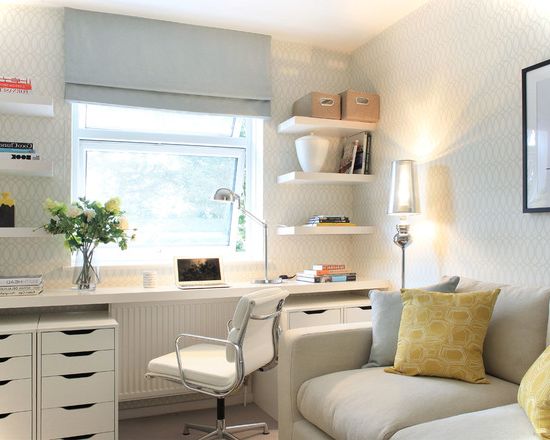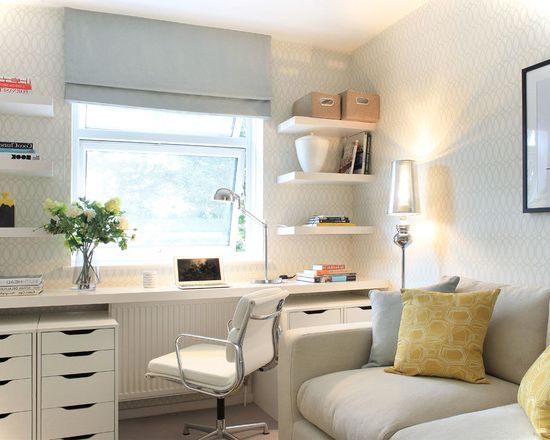 Another small home office placed next to window. Gives free air and sun light into the room. White theme color make spaces bigger visually. Vertical on each corner also give character to the design bring more functional.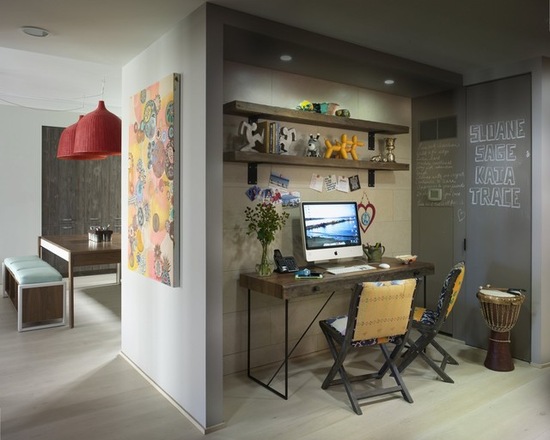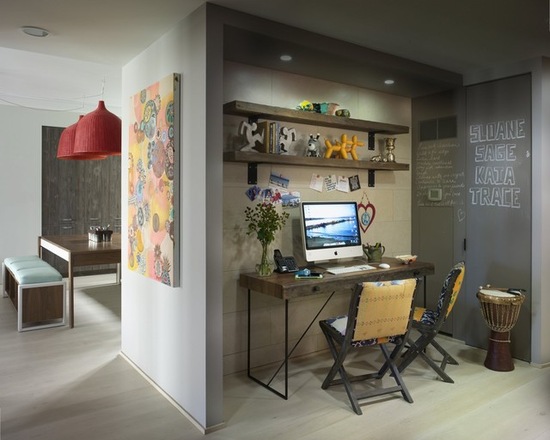 Eclectic small home office in New York with blackboard side and a freestanding desk.The Blackboard actually are door for the storage/closet.Not only its matched with office furniture but also corroborate the theme.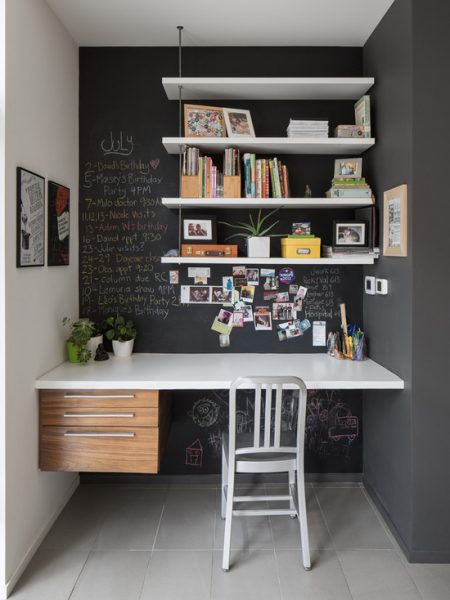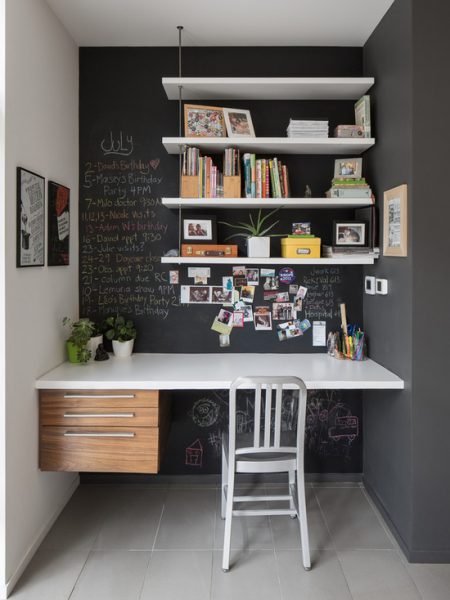 A small home office doesn't have to be cramped and uncomfortable. In fact, the right layout can make working from home a pleasure. One way to achieve this is to use a full blackboard on the front wall.
This provides a large surface for writing and drawing, making it easy to create mind maps and to-do lists. It also ensures that important information is always within easy reach. In addition, the blackboard can be used as a bulletin board, providing a space for reminders and notes.
Whether you're running a business from home or simply want a more efficient way to manage your work tasks, a small home office with a full blackboard can be the perfect solution.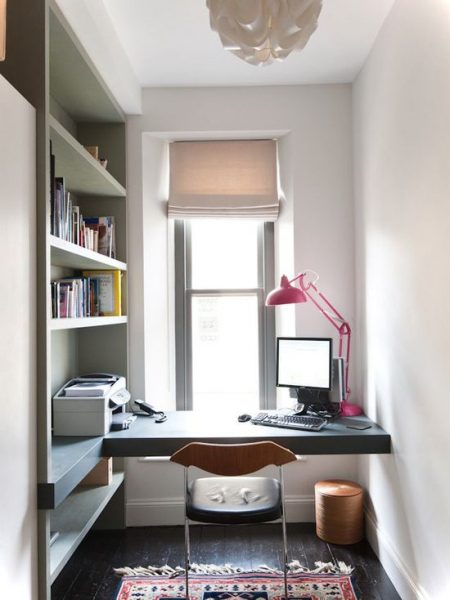 One word to describe this small home office. 'Beautiful!" White and green color theme, rug, unique table lamp and tree wall sticker create perfect combination.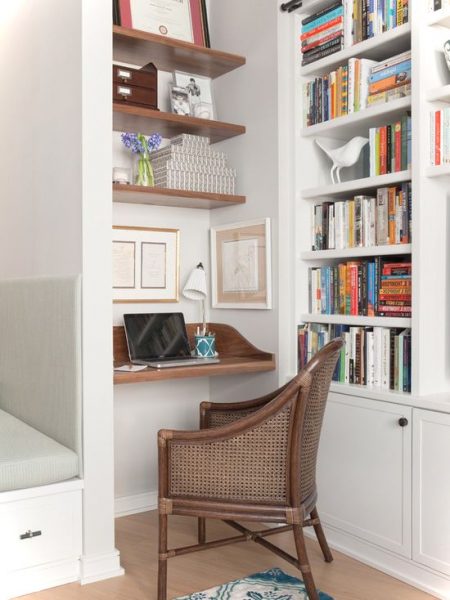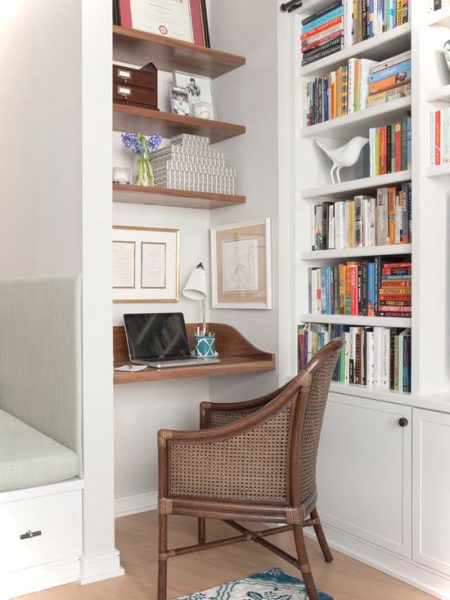 A tiny writing desk and full-height bookshelf punctuate this contemplative living room, where many things do multi-duty. The rattan chair works as a desk chair here and as extra seating in the living room.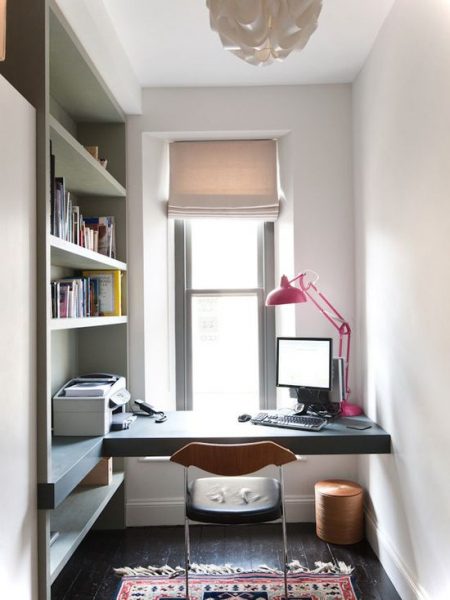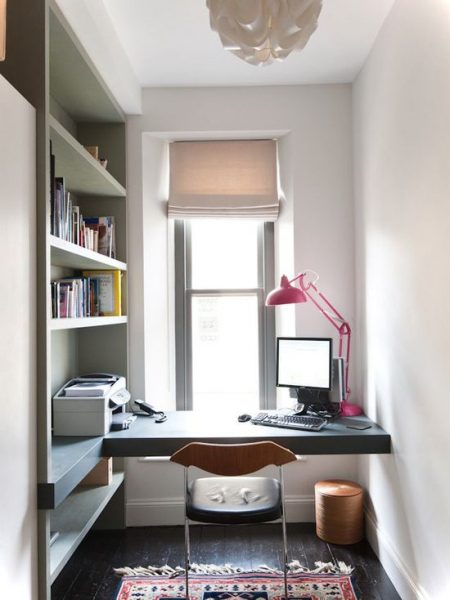 Clean workspace with lots of storage. It doesn't take much natural light to fill the work space and boost your moods. The cabinets provide enough storage space to keep. Working next to the windows you have, lets improve your productivity on small home offcie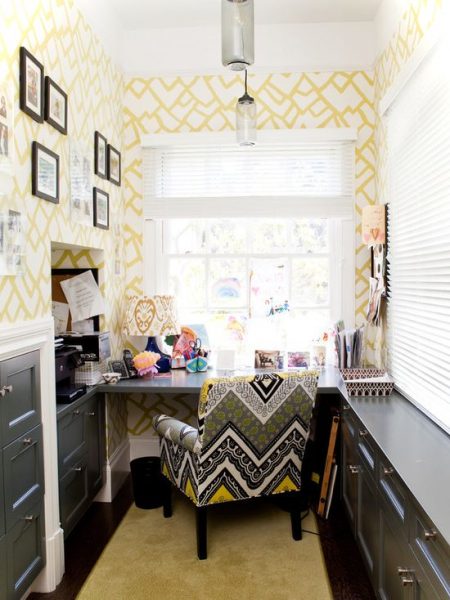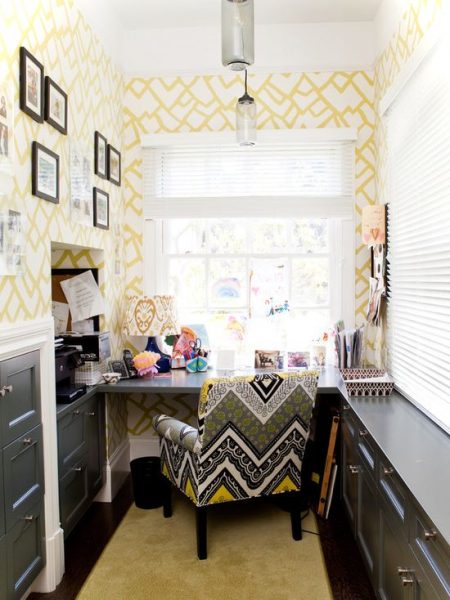 A small home office doesn't have to be cramped and cluttered. With some careful planning, you can design an efficient and comfortable workspace that makes the most of your available space.
Start by considering the essentials: a desk, a chair, storage for files and supplies, and good lighting. Once you have those basics in place, you can use furniture and storage solutions to maximize efficiency and create a stylish and functional small home office.
For example, a desk with built-in shelving or drawers provides plenty of storage for files and supplies, while a stylish filing cabinet can serve as both a storage solution and a focal point. By carefully choosing pieces that work together, you can create a small home office that is both organized and stylish.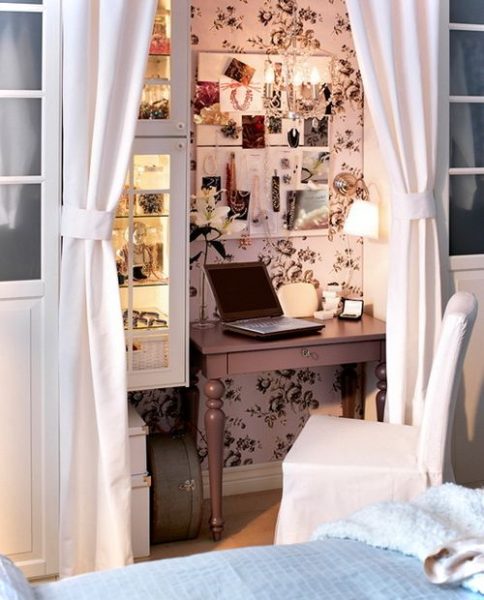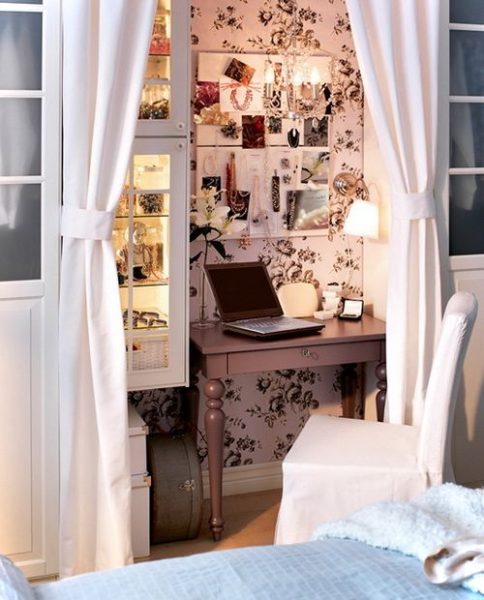 If you're looking for a way to make your office more noticeable, try perfectly light placement and bold wallpaper. This tiny office, located in a bedroom, is made more eye-catching with its strategic lighting and statement-making wallcovering.
The light fixtures are placed so that they illuminate the office without creating any glare on the computer screen, and the wallpaper is bold enough to carry the weight of the office's small footprint. As a result, this office is both functional and stylish.
Wallpaper for Workspace Tips:
Making your office more noticeable can be as simple as adding office wallpaper. Wallpaper is a great way to add color and interest to any office space. When choosing office wallpaper, consider both the placement of the wallpaper and the colors that you want to use.
For example, light colors will make a small office appear larger, while bold colors will make a large office seem more intimate. When it comes to placement, office wallpaper can be used to accentuate specific areas or to create visual interest. For example, placing office wallpaper behind a desk will help to draw the eye towards the desk, while using it on all four walls will create a more cohesive look.
No matter how you choose to use it, office wallpaper is an easy and effective way to add personality to your office space.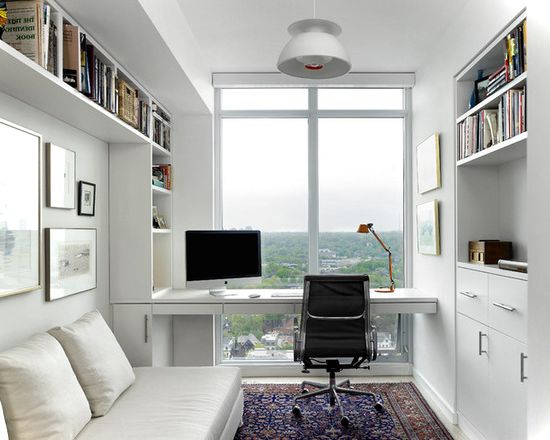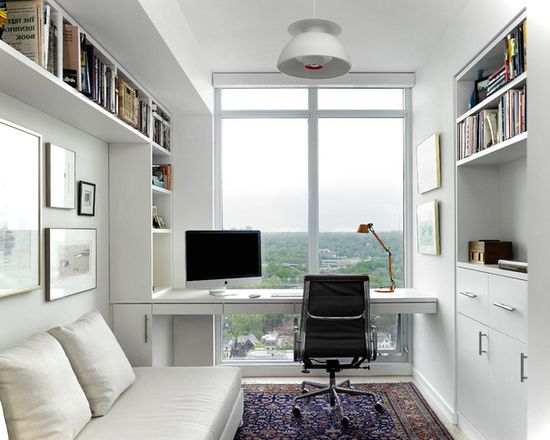 The office desk is directly placed facing the town through the full height windows. The bookshelf bring "unique" into the design. Its hard to be bored while working in this office. The office has an elegant small home office design.
The desk is directly placed facing the town through the full height windows. The bookshelf brings "unique" into the design. Its hard to be bored while working in this office.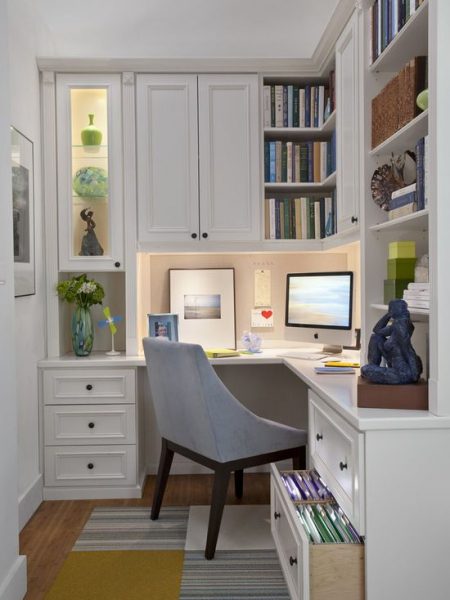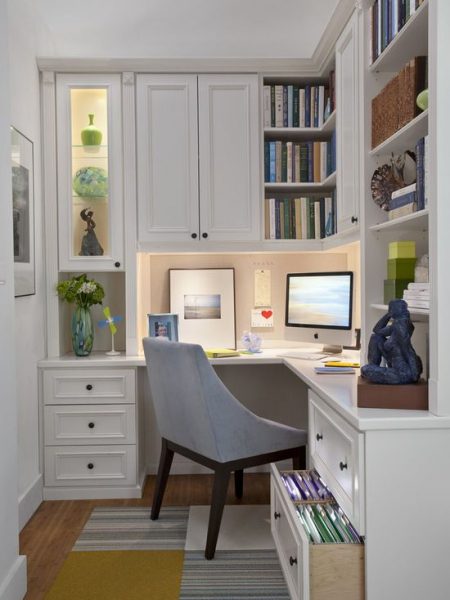 Place an office chair into the corner L-Shape desk takes advantage of space. The full height cabinets create enough storage space to keep the office cramped. Lighting and sculpture made this design small home office more likeable.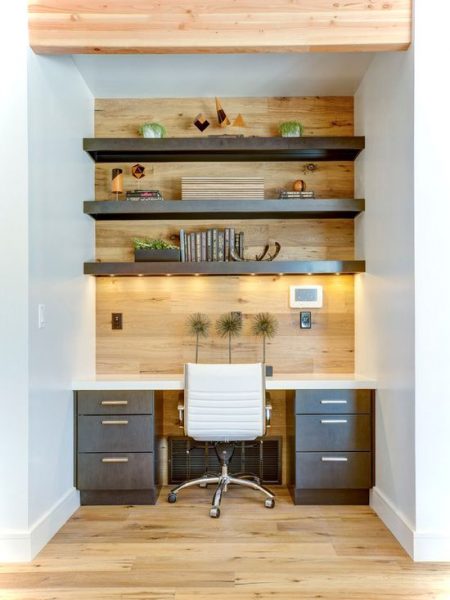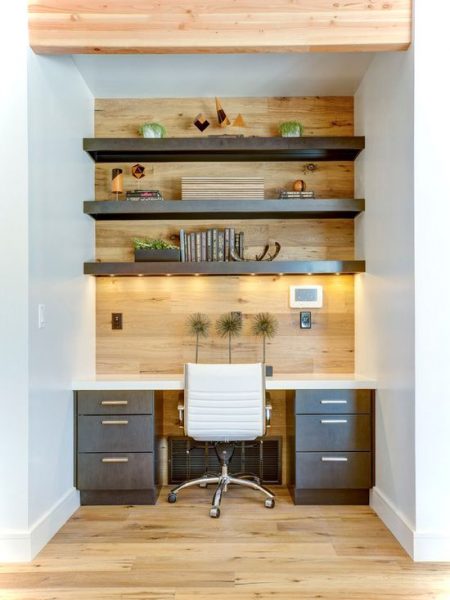 This stylish small home office design will catch the attentions from your guest. Vertical storage also create noticeable character into this design.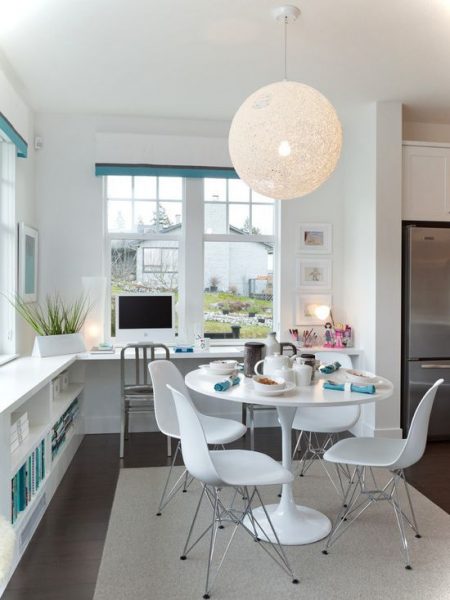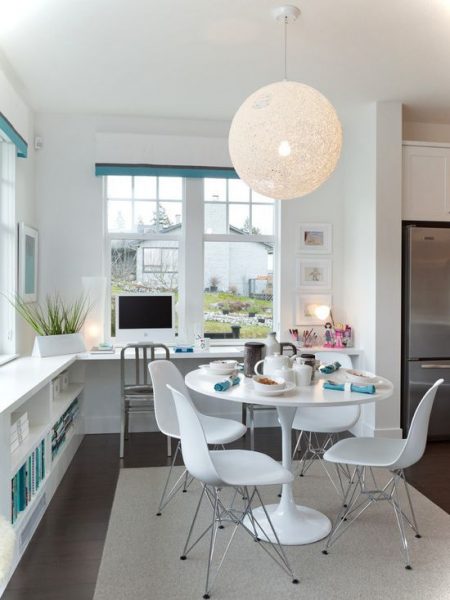 Floating table and desk chair is all you need to create office on your home. You might also put this office at "eat on kitchen" like picture above. All furniture and computer sets comes with one color themes.
If you live in a small home or apartment, you may not have the space for a dedicated home office. However, that doesn't mean you can't create a work-friendly environment in your kitchen. by simply adding a floating desk and chair.
This small setup takes up very little space, but it provides everything you need to get work done at home. Plus, it can be easily put away when not in use.
And if you want to take your work outside, you can simply move the desk and chair to your backyard or balcony. With this compact and versatile office solution, you can make the most of any small space.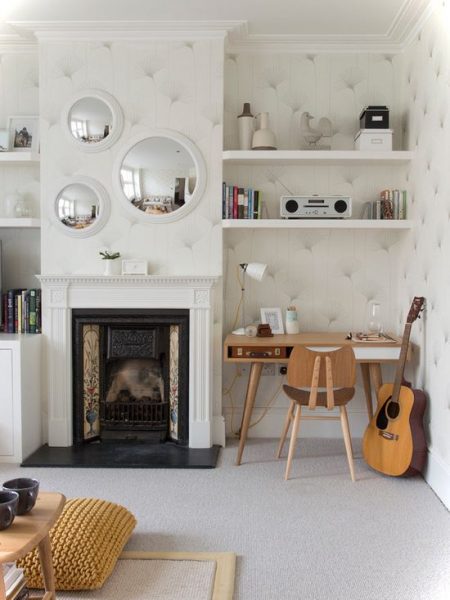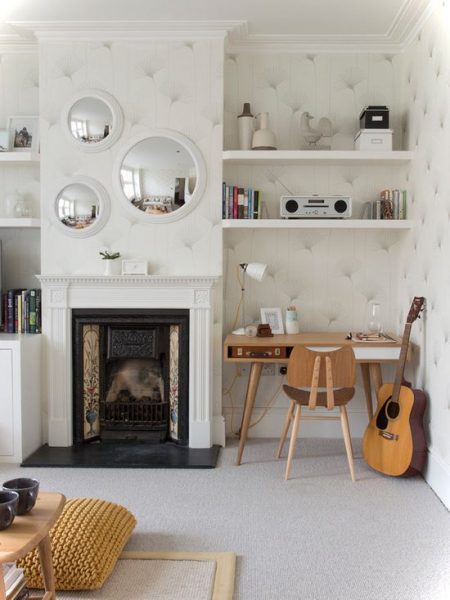 Another tiny office that pushed into the corner. The retro furniture used on this design are so awe-inspiring. All matched perfectly and unique. This space is efficient and perfect for a small business or home office.
Despite the tiny size, the office has everything you need and nothing you don't. From the beautiful desk to the comfortable chair, every element in this space is carefully chosen to maximize efficiency and style. This tiny office is a perfect example of how good design can make even the smallest space feel big.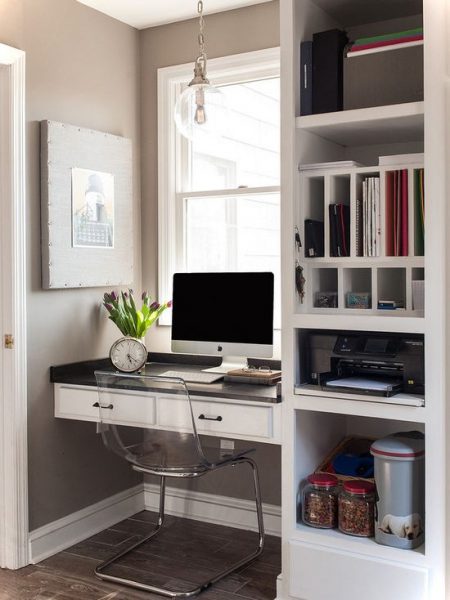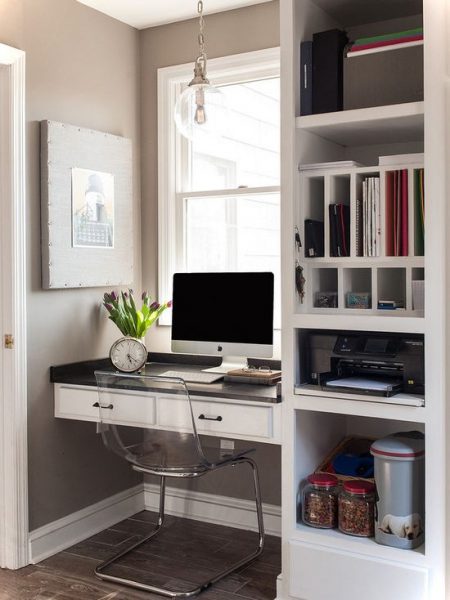 Last but not my favorite. It's simple and the most possible to be imitated into my house :)Like the other design above. This is also maximize every inch space efficiently. I love how this design makes use of every inch of space without feeling cramped or cluttered.
Final Words
Designing a small home office can be a challenge, but it's definitely worth the effort if you want to boost your work performance. In this article, we've shared 18 small home office design tips that will help you make the most of your space. We hope you find these ideas helpful and that they help you get more done in your home office. Thanks for reading!
Do you have any other tips for designing a small home office? Share them with us in the comments below! We'd love to hear from you.
If you found this article helpful, please share it with your friends and family members who are looking to design a small home office.
In addition to the furniture mentioned above, there are many other space-saving furniture options available. For example, Murphy beds can be a great way to save space in a small room.