Samsung Electronics announced the global launch of its ground-breaking Samsung AirDresser. 
Samsung's latest home innovation technology uses air and steam to kill dust and bacteria and cool and disinfect clothes, making cleaning easier and more convenient.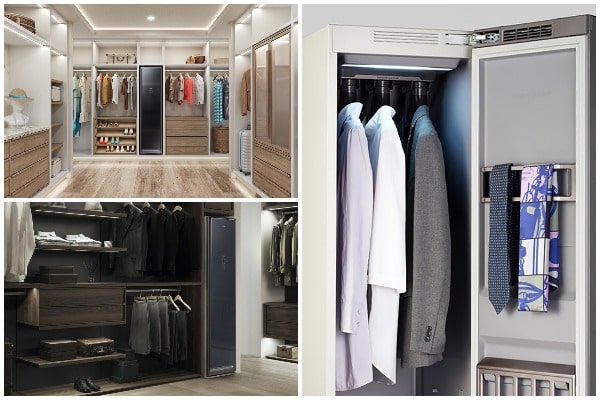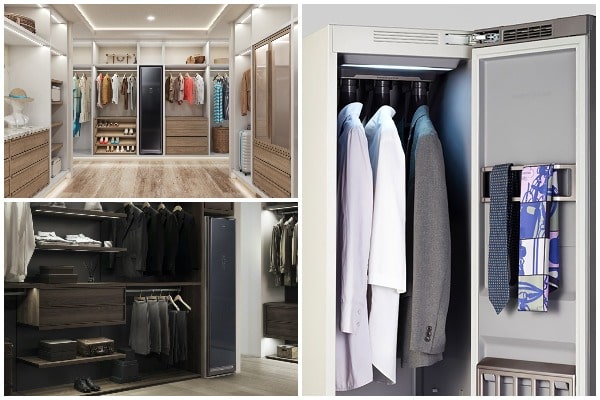 Jennifer Song, vice president of Samsung's digital equipment business, said: "Samsung is improving our modern life by changing our way of dressing and providing users with more time to spend their favorite time."
This product is Samsung's answer to consumers' needs for higher power performance (including basic equipment), and can effectively meet their needs for clean, fresh smell, sterile and tidy clothing.
The company has presented a wardrobe that refreshes and irons your clothes, a new appliance that promises to be the ultimate solution for those of us who hate ironing.
They have presented during their conference at IFA 2019. Together with Gadgetsfind we try to get how it works. 
Other manufacturers have explored this area in the past few years, such as Whirlpool Swash or LG Styler, etc. Now Samsung seems to have taken a step forward. This is not a new concept for Samsung.
In fact, IFA started last year and IFA showed the prototype, they officially announced this at the conference and mentioned that they will start selling in Europe. Of course, they didn't say the price at the time. 
This is a closet for cleaning and ironing clothes.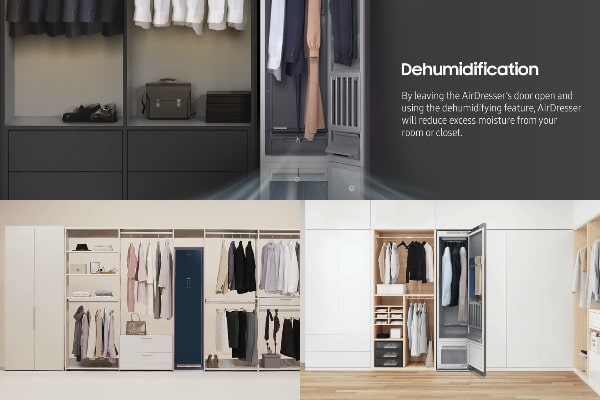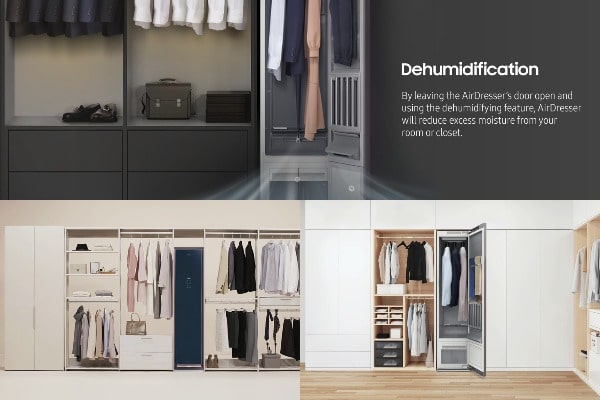 As Samsung explained during the conference, when you put your clothes in this closet-shaped appliance, you do so by placing them on a kind of hanger called Air Hangers. Air jets are then applied to these clothes first using their Jet Air. 
The design of hangers and nozzles creates a ventilation effect and freshens the clothes. Then it's the turn of the spray steam function, which is used to disinfect clothes to kill bacteria gently. Avoid damage to low-temperature clothing.
Samsung AirDresser also includes a deodorizing filter to remove odors from clothes and even dust filters. When air and steam jets remove dust from clothes, these filters clean the clothes hanging in the closet to no longer fall on the clothes.
This changed the design of the hanger and nozzle. Ironing is also required, although it is necessary to check the effect of the clothes or remove wrinkles.
Also Read: Laundry Room Decor Ideas For Small Spaces
Refresh your clothes
After hanging the clothes on the device, the user can start a cycle and wait for the system to work: Jet Air and the air hook release powerful air to disperse and remove dust with minimal noise and vibration. It is quite enough in any position.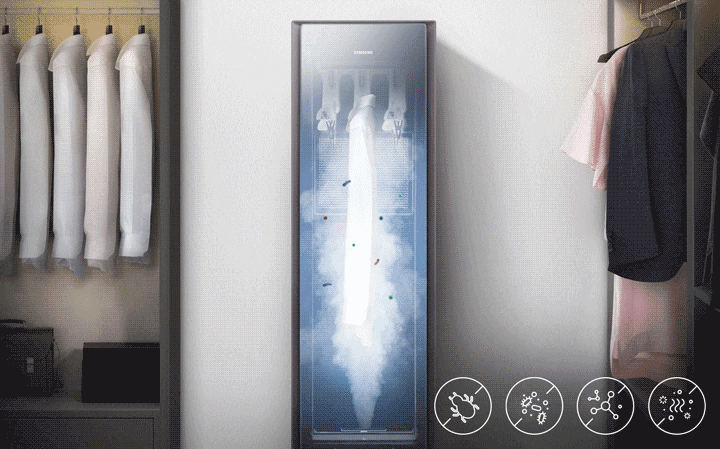 In the house, including bedrooms. Then, JetSteam disinfects the clothes to remove bacteria, viruses, and allergens. By injecting high-temperature steam into the fabric, JetSteam is an ideal tool for daily disinfection of clothes and many other items such as bedding and animals.
Samsung AirDresser also uses its deodorizing filter function to refresh clothes, breaking down odor-causing particles such as sweat, tobacco, and food, while preventing the build-up of unpleasant odors inside the appliance.
Meanwhile, Self Clean technology dehumidifies, disinfects, and deodorizes the interior of the Samsung AirDresser, without the need for harsh or expensive detergents, by cleaning them with a combination of heat, air, and steam. It even informs users to clean every 40 cycles.
Prepare your closet well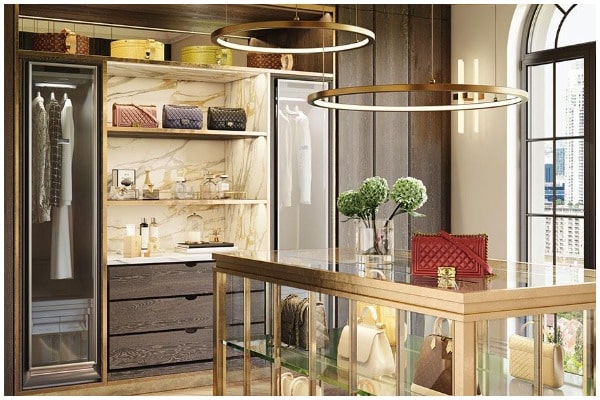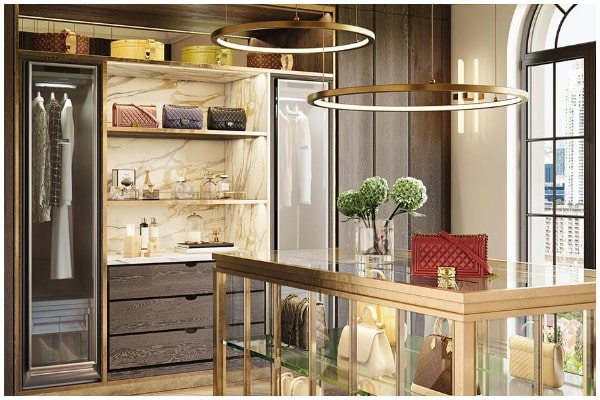 Samsung AirDresser also guarantees the care of the clothes, which increases their useful life since it avoids washing the clothes too often, avoiding the damage of the delicate fabric.
Heat pump drying operates at a low temperature, minimizing heat damage. With wrinkle care, AirDresser can eliminate wrinkles without ironing by mixing steam and air.
The wardrobe also cares for delicate clothing, which generally requires professional service, by dehumidifying 90% of the moisture, increasing its volume by 78%, and helping to maintain its original condition, thus extending its useful life.
Therefore, you can store all kinds of exquisite items, including coats, jackets, or scarves that look better and last longer.
On the other hand, the dehumidification function draws the air out of the room, drawing out the moisture while expelling the dry air.
Also Read: 10 Ideas To Brings Office Into Your Closets 2021
Save time and money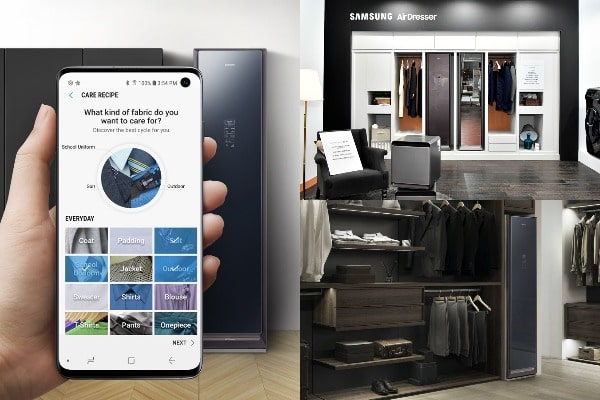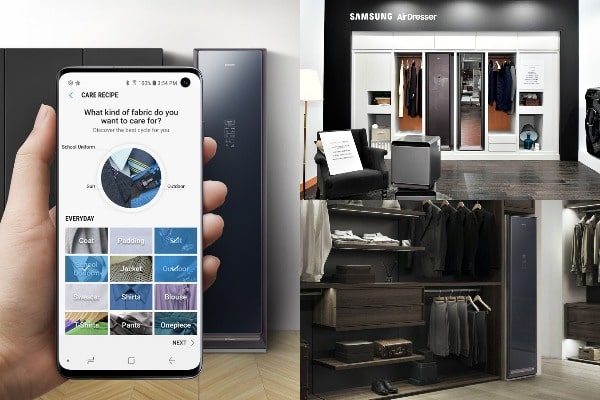 Samsung AirDresser also helps users save time and money by integrating it into their daily lives. For example, it is not cost-effective and time-consuming to perform a complete washing and dry-cleaning cycle or frequent dry-cleaning with only one or two pieces of clothing per wash.
Therefore, it makes sense to use JetSteam to disinfect and deodorize clothes quickly. With the help of jet air and air hangers, JetSteam can quickly remove dust on clothes.
You can safely reuse it without worrying about smell or hygiene. Due to the use of more effective heat transfer methods, heat pumps for drying can also reduce time.
In addition, thanks to the artificial intelligence provided by SmartThings, you can take better care of your clothes and keep them in good condition. 
Home care assistants can remotely detect problems and provide troubleshooting services, while My Closet can store your clothing information and provide the best care. 
With its modern design, AirDresser provides a slim frame that can be seamlessly integrated into any modern living space. In silent mode, AirDresser can run at night without affecting sleep.
For added convenience, it is equipped with a portable water tank for steam underneath, so there is no need for tap water or sewage. This also means that the device can be easily installed anywhere so that users can wash clothes comfortably at home every day.
The idea seems simple: have a closet to hang your used clothes and then take them down ready to use again. It is like combining the steam washes of some washing machines, which already remove odors and some wrinkles, and joining them with those steam irons sold all in the same product.
Price and availability of the Samsung AirDresser
Samsung has yet to reveal the final price of its product across Europe, but we know it will come in two different sizes and will be priced starting at £1999. They insist that they want to make it a standard for the care of clothes, especially delicate garments and that its design makes it a beautiful and decorative appliance.
The only price we have is in pounds, and we also know that it will arrive in the UK next month. However, there is still no information on more prices or when it will arrive in the rest of European countries and North America. In the video above you can get an idea of ​​what it looks like and how it has been presented in Korean lands.