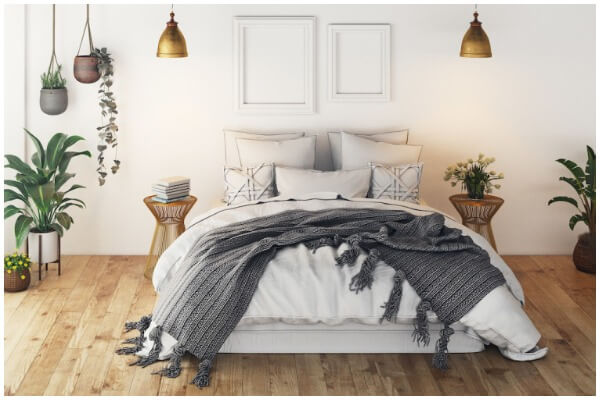 The bedroom is where you spend at least a third of your time. There is no reason your bedroom shouldn't match the luxury that the rest of your house boasts. However, most people shy off from the thought of recreating the luxurious bedrooms they see online because they think they will have to hire an interior designer.
Fortunately, there are a few simple changes you can make to get the bedroom you deserve. This article will discuss different ways you can make your bedroom look more luxurious.
Pick an aesthetically pleasing bed
A common mistake people make is to shy off from buying high-quality beds and channel their monies into price bedroom décor and accessories. A must-have item in your luxury bedroom is a beautiful bed that is also comfortable and supportive.
There are plenty of online stores where you can purchase your dream bed and have it customized to fit your desired aesthetic. When sourcing for a luxurious bed, you either go big or go home.
Also Read: Colorful Teenage Girls Room Decor
Stick to one consistent theme
A rule of thumb when designing your luxury bedroom is to select a general aesthetic and stick to it. Examples of themes you could incorporate in your luxury bedroom include the farmhouse style, boho, or a midcentury theme. After you have settled on a fitting theme, ensure you choose Luxury Furniture and accent pieces that will fit the general aesthetic and not look out of place.
Opt for linen beddings
Now that you have found a jaw-dropping bed, the next step would be to invest in high-quality beddings. Soft linen sheets are made of modal microfibers and are sure to help you sleep like royalty all night long. If your budget allows, you could purchase natural fibers that will give you value for your money.
Add a luxurious lamp
Accessories can turn any bedroom from drab to fab and add a touch of luxury. An excellent example of accessories you could add to your bedroom includes luxurious statement table lamps for your bedside stand. These lamps come in various shapes, designs, and sizes depending on your aesthetic and your budget.
If you're looking for the best small lamps to use as nightstand lights, check out our list! These are all very stylish and modern designs that will suit any home decor.
Steer clear of plain white walls
Plain white walls make your bedroom feel like a boring hospital ward, which is not luxurious at all. A better alternative would be to paint your bedroom walls in a bold color that you find soothing. If you prefer not to paint your walls, you could opt for textured wallpaper.
Don't be afraid to add pillows
An excellent way to add the icing to the cake that is your luxury bedroom would be to go all out with the pillows. It is high time you swapped out your old pillows for some plush memory foam pillows. It would also help to add some smaller throw pillows on your bed for added texture.
Also Read: Brilliant Space Saving Bed and Sofa ( Murphy Sofa Bed)
Wrapping up
If your bedroom is already as luxurious as you would like it to be, you could implement the tips discussed above to revamp the guest bedroom and wow your visitors.
As you strive to create your dream bedroom, remember to stay true to your style and incorporate elements that will help you relax and drift to sleep better. You shouldn't hesitate to change anything that has outlived its purpose.