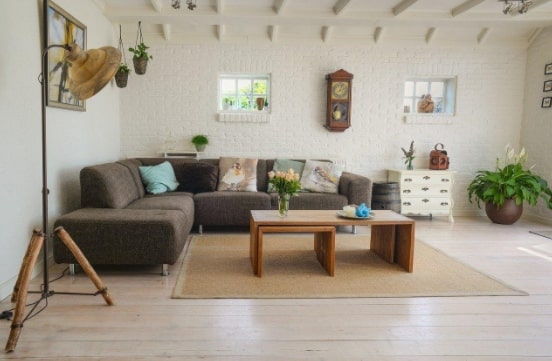 Summers bring about a burst of new life, vitality, and vibrance. This certainly makes us all want to leave behind the gloomy and heavy decor back in the colder months and undertake home redesigning to match our mood. If you're itching to make some changes in your home's layout, decor or facilities, this is perhaps the best time of the year to get started. 
With longer days, the paint dries quickly, adhesives cure well and the full effect of your new functionalities can shine through better. Revamping a small home space may put the assumption of not requiring much effort, but it is a false notion. All homes need time, love and effort to be beautified. This blog will help small property owners make their homes resonate with the style they prefer best, improving functionality.
Change the flooring: The first thing to pay attention to when you're living in a small-sized house is the flooring. While smaller tiles or woodwork with dark coloring can significantly shrink the room visuals, it is something to avoid. So if you think your house looks tiny despite being a decent size, you need to choose larger and lighter color tiles or woodwork to create the effect of well-spaced rooms. Before changing the flooring from the ground up, make sure to collect a thorough building inspection report to understand if there are any structural repairs required. Sometimes, pipelines, insulation, and electrical wires pass right under and may get damaged if you choose to start working on flooring change immediately.
Add partitions: Smaller homes often struggle with the lack of space. One thing you can do to improve the functionality of your living room or other rooms is to add partitions for multiple uses. Adding rice paper curtains, wooden partitions, or other such rustic dividers to give aesthetic value while helping manage the space better. Interchangeably, you could double the other side as your office space for more privacy during the day. 
Modify the kitchen: A kitchen with limited space can cause a bit of an upset while preparing meals. If you think that the space in your kitchen is not adequate, switch to an L-shaped kitchen with a retractable slab to mitigate the challenge of limited space. With an additional slab, you can have more than one person work while having space to keep the utensils and electronics without causing a cluttering accident. Choose containers that sit flat against each other to maximize the use of space. Installing a shelf on the wall for storage cabinets instead of using the floor space will also aid in clearing up some of the issues faced in small kitchens.
Turn your bedrooms minimalist: Your bedrooms are a place of rest, but in a small home can be an ad hoc area to store cartons and whatnot. Keep the minimalist approach in mind when you add a folding bed if you need to use the space for other purposes during the day. These multi-use sofa beds are very useful, especially when used in the guest bedroom. Keep the electronics and inclusions to a minimum so that the room maintains its sanctity.
Use the extra storage space: Every home gets an extra storage space which we think can't be used ideally at all. However, you can learn how to leverage such awkward spots and redecorate them in order to reduce some of your home's clutter. While these spaces maybe just a pocket in the wall behind your door, you could turn it into a coat hanger by adding the necessary elements. Or, turn it into a bookshelf by adding slabs of wood to create the right installation.
Indoor plants: No matter what kind of house you live in, having indoor plants switches up the serenity and vibe up a few notches. If you live in an apartment that's short for space, choose hanging plants that can withstand your home's temperature. Succulents and other plant species don't need a lot of maintenance and hence are a great choice to jazz up your living space. If you're set on getting indoor plants, ensure to read about them well before buying.
Lighting gamechanger: The lighting in a house can create the illusion of space, or a lack thereof. Choose warm yet bright-looking lights that can tone down the shadows, bringing about a glow to the house. Choosing well-placed spotlights and a blend of white plus mellow lights will help you set the mood for different occasions. Two things to avoid are harsh, stark lights and dim lights as they both leave an unflattering effect on your home's appearance.
Vertical shelves: The best way to save up on space in your living room is to install vertical shelves. Not only do they save tonnes of space, but their wall mount can also free up so much of the floor area that your home looks well-sized. There are many colors, patterns, metals, and textures to choose from, making them highly customizable.
Appeal to the optics: Creating the right optics is a game that many are learning to play when it comes to home decor. By optics, we mean using patterns and colors that can make your home look larger. Read about the shapes, sizes, and textures that fit your home aesthetic best, and get to work!
 Get as much natural light: Natural light is the top priority of any home, but especially smaller homes. Nothing can light up your living area as well as natural light. Moreover, it also improves the Qi, promoting harmony and balance within the home-front.
Wrapping Up:
Your design choices dictate the aesthetic and layout of your home. It is entirely possible to make little changes at once so that you can space out the financial aspect of it if you're under a tight budget, or you can take up a total makeover project. 
Backed by the right experts, you'll be able to get an amazing job done in no time. However, if you love to take up DIY projects for home improvement, this blog can help you a step further by helping you focus on the top ten aspects. We wish you a happy home modification!