When it comes to maximizing the space in the living room, most homeowners often relate it to decluttering and overcrowding. However, maximizing space in a living room is not as easy as it may sound. The problem is that you have to organize your room to fit all the necessary household items.
Initially, you'll make a lot of mistakes. But, with a few simple tricks, you can make small living rooms look trendy. With that in mind, here we have rounded up some of the go-to upgrades to help you decide the best ways to expand your room space quickly.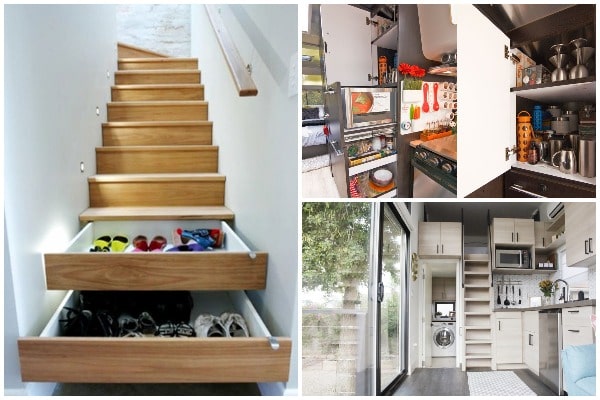 When decorating your paradise, consider painting your walls white. It is one of the best ways to make your room feel airy, spacious, and relaxing. What's even better is that the white color is perfect for hanging a dark-colored canvas. If you are using white walls, avoid using dark color frames because it might reduce the room's brightness.
Many experts say that pairing your walls with equally light furniture can give that elegant touch to your living room. However, if painting all the walls with white is not an option, you can always include lively plants, accent pillows, or even wicker furniture.
Invest In a Multi-Functional Furniture
Multi-functional furniture is a broad category of products, such as wall beds, compact seating, and other creative storage solutions.
Furniture is a significant investment and plays a crucial role in our homes. Most homeowners prefer to invest in furniture which makes them feel good and comfortable and fits their space. You can easily find dual-function furniture to fit your home and preference. All you need to do is make sure you understand the limits of your space and choose the furniture that serves multiple purposes.
For example, investing in solid wood tv stands can be your wise decision. It comes with storage spaces and drawers to put items, such as books, game consoles, DVDs, etc. The best part about this furniture piece is that it won't occupy much space and help create a focal point in your living room. 
You can also invest in furniture with storage solutions, like a sofa with storage under the seat.
It may sound impossible – a large area rug can make your small room look bigger. When you choose a large carpet and give an illusion of having a more spacious living room, it provides a real sense of extra length and width. Know that a rug is both functional and stylish. But more importantly, it provides a space for furnishings.
Besides maximizing the space, it can even warm up your living room during winters. They come in different types, designs, colors, and textures. Today, modern rugs come with creative prints, photos, and graphics to complement a room's furniture and overall look.
Use Light-Weight Curtains:
Believe it or not, curtains can do wonders to your living room. It plays a pivotal role in enhancing the overall look of your paradise. They can bring patterns and textures to give you a real sense of comfort and calmness.
Experts recommend avoiding darker shades curtains as they reduce the incoming of natural light and make the room darker. Instead, go for lightweight fabric curtains. By doing this, you can let more light come into your room.
Other go-to-go options for increasing the brightness of your room are considering white or pale colors. 
Are you wondering how light maximizes space in a living room? Well, this question is sure to trigger your mind. However, know that lighting can help set the room's atmosphere. You can easily set a mood and interest by layering the lights in your paradise. All you've to do is  choose how you want the eye to read the room.
When it comes to maximizing the space, you can combine different types of lighting and set them at different levels, such as the floor, chandeliers, and task lights. 
It is worth considering lighting as a secret weapon to make a tiny living room look bigger.
Are you looking for the best and creative ways to maximize storage in your room? Consider adding floating shelves that act as a storage zone and decorative zone. 
Are you thinking of how? Well, here, you need to be a little bit creative and find ways to add shelves in your room strategically.
Floating shelves are ideal for small living room extra storage as they can hold many things. With this, the space may look open, creating an illusion of a bigger room. Also, it is an effective way of storing books and other unique items.
Add Artwork Strategically:
Adding artwork strategically can do wonders for any room, regardless of its size. Art tends to trick the eye so that it looks like the room is more significant than it is. 
Although a gallery wall might be too much for a small space, it can feel more prominent if it extends to the ceiling.
Know that the shiny effect of paintings or art is also one of the most fantastic artwork ideas for a tiny space. Your guests won't wonder how small your living room is when all their attention will be on your beautiful wall.
When decorating your living room, always remember to keep things vertically. Whether you decide to put up family photos, paintings, frames, etc., vertically arrange them to make the room look bigger.
Experts say that vertical stripes can give your living room a unique personality. And, even better, it will make the low ceiling look higher than it actually is.
The Bottom Line
When it comes to revamping a small room, always try to keep it simple but stylish (here, 'simple' doesn't mean boring). Since this is the place where you spend most of your time, it's essential to decorate your space with elements that reflect your personality.
To sum it, the above-mentioned room decor ideas are affordable and contribute a lot to enhancing the overall appearance of your paradise.