Are you bored with your bedroom? Are the walls and furniture starting to feel a little stale? If so, it might be time for a change. 
Your bedroom should be a place of relaxation and comfort – a haven from the stresses of everyday life. A great way to achieve this is by redecorating your bedroom in a way that makes you feel comfortable and inspired. A new coat of paint or some new accessories can work wonders in giving your bedroom a fresh look.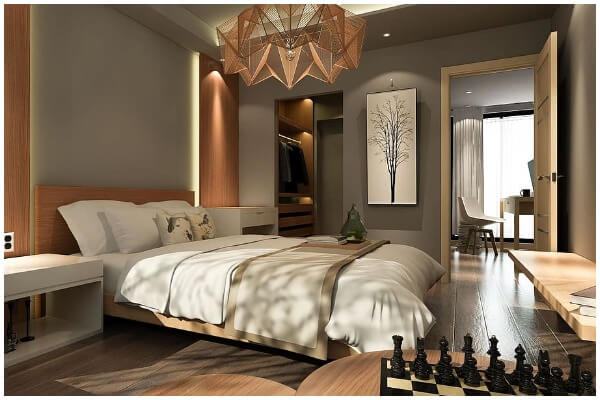 Here are nine simple ways to redecorate your bedroom:
Jazz Up Your Bedside Table
A bedside table can be your little sanctuary for when you start and end the day. Replace the clutter with scented candles, your favourite book, and your nighttime essentials instead. If you have a short, old bookshelf you're not using, why not give it a coat of paint and use it as a new piece of furniture? You could also shop bedside tables to create a focal point next to your bed.
Add Some New Artwork Or Photographs
A great way to add personality to your bedroom is by hanging up some new artwork or photographs. You could go for something abstract and colourful or choose photos of your family and friends. If you don't want to hang anything on the walls, you could try placing a large mirror in your bedroom and making a statement with the frame. New art or photos can instantly make any room feel more personal and homely.
Another great way to redecorate your bedroom is by changing the bedding. A new set of sheets, a duvet cover, and some pillows can completely revitalize the look of your bedroom. You could also try adding a throw blanket to your bed for extra comfort and style.
Painting The Walls A Different Color
If you're feeling daring, why not try painting the walls of your bedroom a different colour? A light blue or pink can create a calming and relaxing atmosphere, while a dark green or purple can add drama and intrigue. Just be sure to choose a paint colour that you'll be happy with for a long time – you don't want to have to repaint your bedroom every few months!
Also Read: 6 Qualities to Look for When Hiring a Painter
If you want to redecorate your bedroom in a way that will make it feel more modern, why not add some lighting? There are many different lighting fixtures available that can transform the look of any room. You could try installing pendant lights over your bedside tables or hanging up a chandelier above your bed. If you're looking for something a little more subtle, you could try adding some new lamps to your bedroom.
If you're feeling bored with the furniture in your bedroom, why not try changing it up? A new dresser can give your bedroom a whole new look. You could also try replacing the knobs and handles on your dresser drawers for a more modern appearance. 
Don't forget about the windows, either! You could try adding new curtains or shades to help block light when you want to sleep in late.
One of the best ways to make any room look alive is by adding some plants. Not only do they add a touch of greenery, but they also help to purify the air in your bedroom. You could try adding a few potted plants in your bedroom or hanging up some bamboo plants. If you have a lot of space, you could even try installing a garden window.
Also Read: Treat Yourself To A Green Delivery And A New Plant
One of the easiest ways to redecorate your bedroom is simply by rearranging the furniture. You could try moving your bed to a different wall or even swapping out pieces for others that are more suited to sleep.
For example, if you have an old dresser sitting in your bedroom, why not try replacing it with a chest of drawers? This will give you more storage space for clothes and other belongings. You could also try adding a chaise lounge to your bedroom to create a more luxurious feel.
A great way to add some personality to your bedroom is by adding a new rug. Not only does it help to keep your feet warm on those cold winter mornings, but it can also really brighten up the room. You could try choosing a rug in a bold pattern or colour or go for something with a soft and fluffy texture. Whatever you choose, make sure it's the right size for your bedroom; you don't want it to be too small or too large.
Conclusion
Redecorating your bedroom doesn't have to be expensive, time-consuming, or difficult. There are many ways you can redecorate your room without breaking the bank. With these ten tips, you'll have a new look that will make you feel like royalty every day of the year!