A backyard makeover might be just what you need to make your home more attractive. Whether you plan to sell your house or spice things up, you can revamp your backyard without spending a fortune. Here are some hacks and tips to help elevate your backyard space.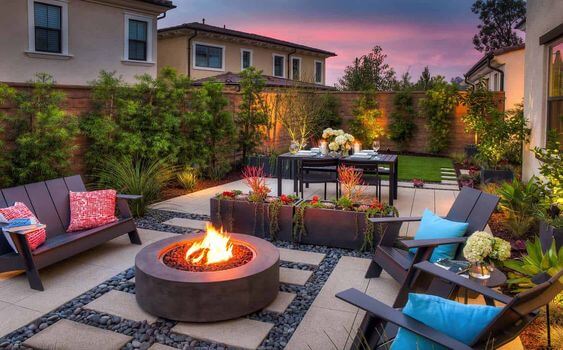 Air out your backyard
You can make the most out of your backyard by avoiding large overhead structures such as pergolas that will block the sun's rays from shining through. Keeping your backyard open and airy makes it feel brighter and more prominent than it is.
Include landscape lighting
Is your backyard dark at night? Well, some nice outdoor lighting can give your backyard a soft glow, setting a good mood. If you cannot afford expensive lights, you could line the deck with solar lights or use candles. One great thing about outdoor lights is that they do not take up much space, and you can hang them on the perimeter wall or tree branches.
Also Read: 4 Outdoor Deck Lighting Ideas to Make Your Deck Shine
Declutter your backyard
You can also spruce it up by getting rid of anything you no longer need in your backyard and repurposing old furniture that is still in good condition. Decluttering your backyard gives it a fresh new look and makes it look more spacious.
Also Read: How to Make Your New Home's Backyard More Family-Friendly
Add multi-functional furniture
Use furniture to maximize the space in your backyard and create a cozy space to enjoy quiet evenings. Arrange your furniture facing away from the house or against the fence to create privacy. Multi-functional furniture such as an L-shaped couch or garden stools creates extra seating space for large gatherings.
Also Read: Awe-Inspiring Murphy Bed Ideas That Blow Your Mind
Build a firepit
Create a space in your backyard where you can light a fire and hang out with friends over a hot cup of coffee or meal on a chilly evening. You can go for fancy wood burning fire pits to create a bespoke space that compliments your patio furniture. It will be a great haven for your family.
Create a home garden
Instead of using extra space as a dumping site, convert that small real estate into a backyard garden where you can grow healthy foods such as herbs, fruits, and vegetables. Not only will this tip help you save money, but you will also grow foods that are free of pesticides and chemicals.
Make use of vertical space
Do not be discouraged if you feel you have a small space to work with. Decorate your walls and fences with climbing plants such as honeysuckle and wisteria. Ensure you fasten them firmly with tension wires. You could also construct a vertical planting column with four faces.
Create a focal point
A focal point will capture the attention of your visitors and maximize the space in your backyard. You could install a water feature such as a small tabletop fountain or a sculpture at the center of your yard. Water features also provide a soothing, therapeutic effect.
Also Read: 12 Best Tips For People Who Are Interested In Beekeeping
Implement a landscaping design
If you do not have much space, add some evergreen plants in lightweight containers that you can quickly move around. Plant some sun-loving creepers to accentuate your pavement and attract pollinators to your backyard.
Wrapping up
No matter the size of your backyard, you can still make a few changes to maximize the space you have. You can execute most of these tips yourself with a little DIY, if you have the skill. Some upgrades though will need professional help to make your backyard cozy.