"Freshly cut Christmas trees smelling of stars and snow and pine resin- inhale deeply and fill your soul with a wintry night." -John J. Geddes. 
Christmas is just a few weeks away, and everyone has already begun to celebrate this alluring holiday spirit. But do you know what makes these celebrations even grander? It's adding a Christmassy vibe to your house that sets the mood. 
Whether you prefer traditional decorations or trendy ones, it is all about welcoming positive vibes and a feeling of togetherness. 
That being said, here are some simple yet stunning ideas to add the Christmas spirit to your house. So, without any further ado, let's get started!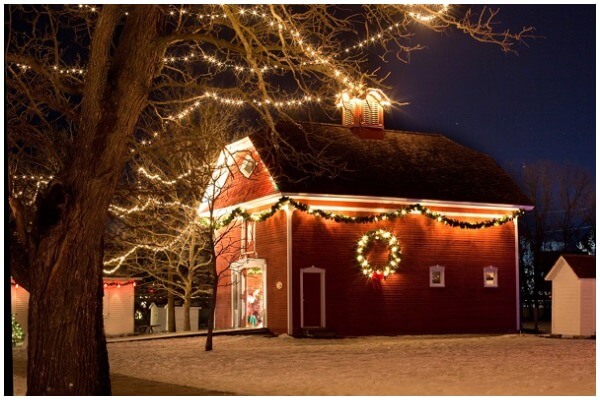 Mandatory Preparations
First of all, you need to prepare your house before adding any decorations. It includes doing necessary repairs and maintenance, cleaning the whole house, and improving the curb appeal. In fact, the spokesperson at Mississauga painting company suggests elevating the exteriors of your home. As the Christmas season is in winter, the harsh weather can damage the house exterior to a great extent, making it look unpleasant and uninvited. 
It goes without saying, this doesn't comply with the festive vibe. Therefore, you should protect your home exteriors by painting them. However, doing it on your own can increase your burden as you might already have a lot on your plate. Therefore, it is better to take help from professionals. They will ensure high-quality work, plus also take care of the after-work cleanup. So, you can stay worry-free and focus on the rest of the task at hand. 
Once you are done with all the necessary repairs and maintenance, you can begin with the decorations. 
You need to make your house look bright and cheerful. The best way to do that is using paper bells. However, instead of hanging paper bells in the living room or around the entrance, you can use them on banisters or stairways. 
They are generally tricky to decorate. Fortunately, paper bells are big; thus, they help in covering the banisters well. To add a festive vibe, you can use red and white bells and string them together using a fishing line. 
Go Odd With Blue And White
To make your house look appealing, you can try out a different color palette. For instance, if you always use red and white color combinations. This year, you can replace it with blue and white. In fact, you can also change the interior paint with blue and white stripes to make it aesthetically pleasing. 
It will look unique yet very inviting to the guests. Believe it or not, selecting a different color palette will surely make your place look stunning. 
Get different sizes and colors of decorations. Hang oversized decor pieces at different heights. Use wooden candlesticks on the dinner table and pair them with white lilies. Hang a handmade painting on the walls. You can also use lanterns at the corners or doors. 
If you have giant windows in your living area, you can use garland flowers instead of decorating them with fairy lights. It'll surely make your room look as pretty as a picture. 
Also Read: 18 Cozy And Adorable Breakfast Nook Ideas
If you own any collection, it is a perfect opportunity to flaunt it. For instance, if you have vinyl records, you can display them on wall shelves. Similarly, if you have an antique crockery set, you can show it over the dinner table. 
Your guests will surely get impressed with your display of collections. Nonetheless, to make sure they look aesthetically pleasing, add small indoor planters and tealight candles beside the collection. 
Decorating your house for Christmas and not including an advent calendar, that's a big NO. However, instead of purchasing the calendar from a nearby store, how about creating one yourself? 
There are numerous DIY advent calendar ideas that you can try which will elevate your decor. 
For example, you can use a ladder or Christmas tree and hang cardboard pieces. Paint the pieces in different colors, and add numbers 1 to 25 on each. You can also use sharpies or sparkles to make cardboard pieces look more appealing. 
Restock Your Personal Bar
If you love to host parties during the festive season, you must restock your personal bar. Get all the favorites of your family and friends. Make sure you have all the ingredients to prepare snacks that'll go with the drinks. 
Likewise, make sure you have the right gears and glasses for the beverages. If you have a personal collection, you can display it over a bar cart or open kitchen shelves. Make sure to decorate the cart with red socks to give it a festive feel. 
Also Read: 11 Space-Saving DIY Pallet Bar Ideas
What's around the tree is as important as what's on the tree. In simple terms, if you have decorated the tree with a lot of ornaments and lights, you need to ensure that the gifts under the tree are also well wrapped. Instead of wrapping them in white or red gift wrap, try different patterns and colors to cover them. 
You can also use paper bows, flowers, and even stamps to wrap the gifts. 
Light Up Every Room And Corner
Decorate every room with fairy lights, candles, and even small lanterns. You can even use a mix of different candlesticks such as tall, small, crystal, or mercury glass. 
If you have a fireplace, you can also make use of it. Either light up the fireplace to make the place warm and cozy. Or, you can put lanterns or candles under the fireplace to make it look beautiful. It'll take less than 5 minutes to make the whole place look awe-spiring. 
Note: To avoid any fire hazard, it is recommended to use candle lights instead of real ones. 
Wrapping it up!
The holiday season brings along positive vibes and happy memories. And your house will play a crucial part in creating these memories. Considering this, you should make necessary repairs and start decorating your place with the ideas mentioned above. Also, let your imagination go wild and try out other ideas that you might have in mind.