Did you know that 28% of adults spend more than 7 hours a week cleaning? That's like a whole extra shift on top of our already busy work weeks. Cleaning the floors is by far one of the most time-consuming tasks in housecleaning. Yet it's still done regularly.
That in-and-of-itself makes laminate floors worthy of consideration. Ease of cleaning is just one of the potential benefits of laminate flooring, though.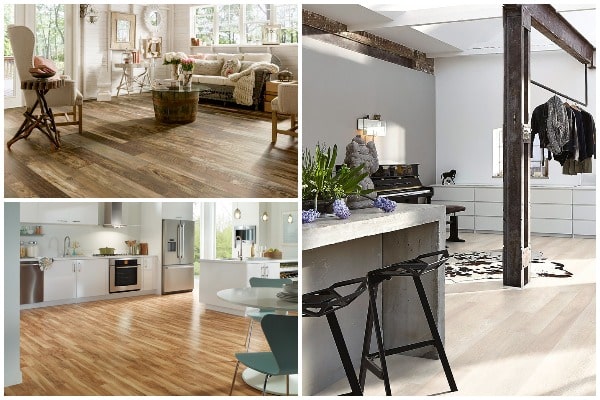 The Benefits of Laminate Flooring
Laminate flooring can make the rare claim that it's stylish and practical. Being easy to clean is just the beginning of the potential benefits of laminate flooring. 
Durability
Laminate flooring is one of the most robust flooring materials you can find. It's protected by a sturdy scratch-resistant top layer. This keeps your floor a lot nicer for a lot longer, especially if your floors get a lot of use. 
Laminate floors are twice as tough as other flooring materials but at a fraction of the price. You'd have to find the hardest hardwood floors, otherwise. And they'd still get scratched and nicked more easily, due to laminate flooring's scratch-resistant layer!
Ease of Installation
When you're redoing your floors, you've got to pay for the installer's time as well as materials. This can make some floor repairs unexpectedly expensive. 
With laminate floors, you can often "float" the floor. This means that you can lay down a thin layer of adhesive rather than having to do extensive work on damaged floors or foundations. 
It also makes the installer's life exponentially easier! 
Lots of Options
Sometimes certain flooring options can be unexpectedly costly. The options can also be slightly underwhelming, especially if you're working with a limited budget. Many of the most striking flooring materials are also the most expensive. 
Laminate flooring can be had in a wide array of colors, patterns, and textures. Many comparable materials would be the fanciest tile or richest hardwoods. Laminate flooring lets you get a similar result for a fraction of the cost.
Also Read: Carpet vs Hardwood Floor & What's Best for Your Home
Hypoallergenic
Carpets can soak up and store all sorts of stuff. Everything from dust to mold to pet dander can get trapped in rugs or carpets, only to be released when walked upon. This makes carpets a major health risk for those who suffer from allergies.
This makes laminate flooring a blessing if you have allergies. There's no place for dust or mold to hide. It's also easy and efficient to wipe your laminate floor down so it'll stay clean (and so will your sinuses.)
Now that you know about the benefits of laminate floors, visit www.buy-flooring-online.co.uk to find deals on a wide selection of world-class laminates! 
Looking for More Small House Inspiration?
Your home is your castle! It's where you can be most yourself. It's also where you can show the world who you truly are. 
If you're looking for more home tips, from the benefits of laminate flooring to what to look for in appliances, browse the rest of our site and get inspired!