When it comes to a successful kitchen remodel, choosing your countertop materials can be one of the hardest decisions you make. This is because a large amount of surface area is taken up by your countertop, meaning that it can set the tone and ambiance of your kitchen.
With this in mind, we're here to help make the process easier. Read on to learn how to choose the best kitchen countertop so that you can create the atmosphere and look that you've been envisioning!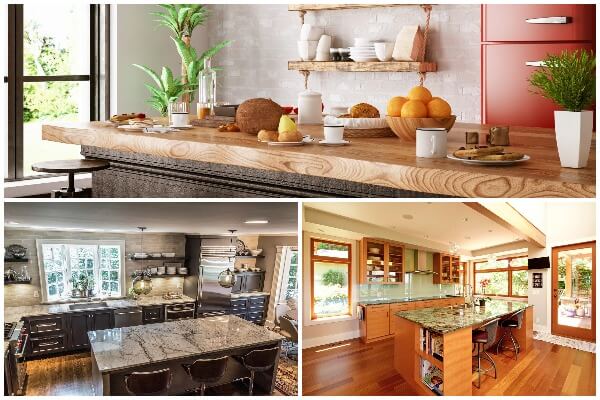 Know the Materials
You'll first want to learn about some of the most popular countertop materials in order to make the most informed choice. You'll find that these materials offer different levels of maintenance needs, color, and texture.
The layout of your kitchen as well as the size of your island and current kitchen cabinets may also limit your countertop replacement options.
Also Read: Installing Countertops: Tips for Choosing the Right Style
Granite
Granite, at one time, was one of the most popular kitchen countertops on the market. Recently, it's been on a three-year decline compared to the more popular quartz. However, granite can still be a good choice if you're looking for a natural material that has character. 
It's known for its darker coloring and intricate veins. It's also heat, scratch, and stain-resistant. However, since it's a porous material, it will need to be resealed every year to keep it looking new. We recommending learning how to clean granite countertops before you make your final decision. 
Laminate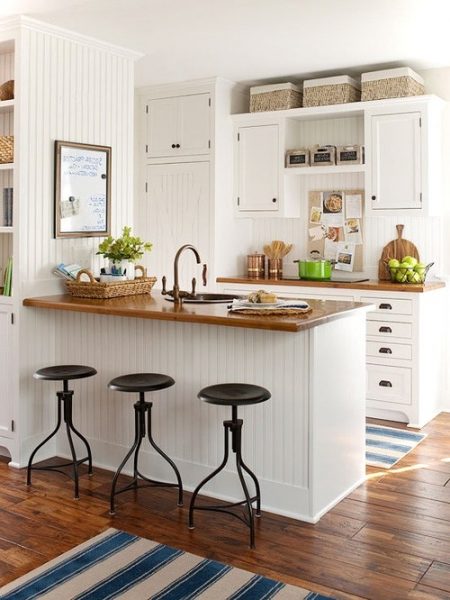 Laminate is a great choice if you're looking for an affordable option. Made out of plastic materials, laminate doesn't have to look artificial or old-fashioned–some can mimic the look of natural materials. If you want a multitude of brightly colored palette options, laminate is also one of your best bets.
However, it's important to keep in mind that laminate will probably not increase the resale value of your home, as buyers consider it to be the "cheap" option. It's also not as durable as other materials, meaning it's prone to chip or peels off. 
Quartz
Quartz for kitchen countertops is one of the most popular combinations today. Homeowners love its minimalistic, smooth aesthetic as well as its natural aesthetic.
Another benefit of quartz is its practicality–it's an engineered stone instead of a natural stone. This means that it's non-porous, meaning that you don't have to reseal it every year like granite. 
Although most quartz countertops are white, since it's engineered it comes in a wide variety of options–even a dramatic black. 
Marble
If you have the budget for it, marble is one of the most luxurious options you can choose for your kitchen countertops. It's also the perfect option for kitchen designs that want a bright and light atmosphere.
However, because of its texture and porousness, marble needs regular maintenance and is also prone to scratches.
You'll need to take care of it properly if you want your countertops to look brand new years later. 
Concrete
Homeowners that don't want the typical "light and bright" kitchen aesthetic may enjoy choosing concrete. Concrete is highly customizable, allowing you to choose the color, finish, and even the shape. It can also be a great choice for homeowners who want an industrial-style kitchen. 
However, concrete needs to be installed by companies that are expert concrete installers, as it takes time and the right technique. For this reason, you'll pay a premium. 
Making Your Choice
Now that you know some of the most common kitchen countertop materials, how do you make your choice? Here are a few guidelines to get you started: 
Maintenance
You'll first want to consider how much maintenance you're willing to do each year. Natural countertop materials such as marble and granite require more maintenance than other materials. You'll also need to be more careful with these materials, as they're prone to scratches. 
With this in mind, these may not be the best materials for busy kitchens or families with young children. 
Also Read: 6 Awesome Mini Kitchenette for Small Kitchen
Budget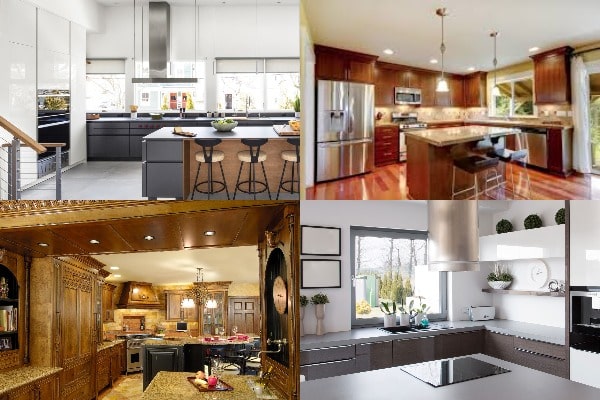 It's important to have a budget in place before you begin your kitchen remodel, not during or after. High-end options such as marble are well-regarded, but if you have a tight budget, this may mean that you may have to sacrifice appliance upgrades or new hardware.
On the other hand, materials like laminate give you more options and more flexibility with your budget.
Also Read: How to Give Your Kitchen a 5-Star Makeover on a Dime
Atmosphere
Consider the atmosphere you'd like to create in your kitchen. Are you looking for something different and dramatic? Cozy and conversational? Or light and bright? Countertop materials can make or break the atmosphere you want to create. 
For instance, granite is typically not a great choice if you want a light and bright kitchen with a minimalistic aesthetic. On the other hand, granite adds warmth and interesting texture to space, which can help create a classic and cozy design.
Beginning Your Kitchen Remodel: Choose the Countertop
We recommend choosing your countertop material at the beginning of your kitchen remodel. The reason for this is because your countertop is typically one of the largest surface areas in your kitchen besides the walls, floors, and backsplash. Since it's almost at eye level, it will make the most visual impact within the space. 
After you choose your countertop material, you'll also have a better idea of the backsplash, paint colors, cabinet hardware, and more. Simply put, you'll have an easier time designing a cohesive-looking kitchen after making a decision about your kitchen countertop material. 
Next, you'll also have an easier time finding a reliable remodeling company. This is because some specialize in certain countertop materials over others. You'll be provided with fairer prices and excellent remodeling service. 
Ready for more tips on how to decorate and design your small house? Keep reading our blog for more tips and tricks!