7 Tips For Buying Essential Kitchen Equipment
When you come to think of it, the kitchen is the place where you spend the most time, next to your bedroom. It's where you prepare your meals, spend time with the family, entertains guests and friends, and sometimes work remotely from home. 
One of the ways to make your kitchen well-prepared and comfortable to spend time in is to ensure you have all the appropriate kitchen equipment and tools.
Not only does it make your cooking time faster, but it also saves your energy, especially when you're already drained and tired from a long day at work.
There are several factors you need to consider when selecting suitable kitchen materials. To have a well-stocked kitchen is anybody's dream. So, start your journey to preparing a functional and productive kitchen by shopping for the most helpful kitchen tools.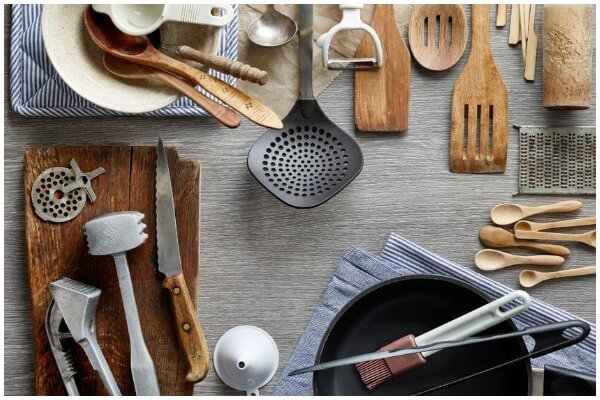 Here are some tips to apply when buying kitchen equipment:
Set A Budget And Follow Through 
It's essential to consider the budget you're willing to spend on an appliance. There are different price ranges, and the ultimate goal is to find the best deal. 
The pricing of these products is based on several factors such as size, material, style, and features. Check out cooking demonstrations so you can better decide if the kitchen appliance is essential in your own space.
According to kitchen enthusiasts, the key is to choose a device that is within your budget. When you have set a budget, you can better decide what equipment you need and can afford. 
Ensure High-Quality Materials 
The market has a wide variety of kitchen appliances in different durable materials like aluminum, copper, steel, or cast iron. The secret is to find durable ones. Whenever you make a purchase decision for a kitchen appliance, you need to consider the materials it is made of.
Do proper research, and see which materials are best for each kitchen equipment. You'll be surprised at how much help this will be. You don't have to replace malfunctioned appliances in the future. 
Consider The Size Of Appliances 
Before purchasing a kitchen appliance, you should think about its size. Beautifying your kitchen means making every detail work together. If you want to add some more kitchen appliances, think about how they would fit within the current layout. If you have a smaller kitchen, this is a crucial tip to consider. 
In a space-constrained setting, modular kitchen equipment can be a more brilliant choice. Furthermore, multi-functional appliances provide excellent space-saving solutions.
Try to explore your options. You need to match your cooking needs with any appliance. Try to match it with the usual dishes you're cooking. Buy equipment that you can use almost every day.
Buy A Future-Proof Kitchen Equipment 
You should also check for upcoming model releases once you've chosen your kitchen equipment. You wouldn't want to buy an old version when an upgraded one is already available. With a little price difference, you'll get more functions and features. 
Old models might become obsolete faster and sooner, and it would be more challenging to have them fixed if they get broken. So, go for the newest model if budget permits. 
Also Read: 6 Awesome Mini Kitchenette for Small Kitchen
Prioritize Functions 
The kitchen appliance you choose should be easy to use. Aside from its convenience, it should be easy to grip, handle, and even maintain.
These variables are essential to consider when shopping for reliable equipment. You can't maximize the benefits of the appliance if it consumes a lot of energy, effort, or time. Considering another brand would be a better idea. 
Go For Equipment That Offers Multiple Purposes 
Having a device that can do multiple tasks is a smart choice. Not only does it save costs, but it also saves space in your kitchen. Tools and appliances that can perform two or more functions are worth the price, especially if they're quality products. 
For example, try to look for a multi-functional steamer that can do multiple things, such as a rice cooker, pressure cooker, and steamer. 
Take Advantage Of Points And Gift Cards 
With so many apps and rewards programs, you can earn points in a certain rewards program. You can also get gift cards for free. You can check out kitchen appliance stores online, subscribe to their newsletters, or join their online sites. You may redeem points or be given free gift cards. 
Maximizing these opportunities will help you save a few bucks. You might end up enjoying some discounts by using the Internet. Just a few searches and clicks can do the trick. 
Conclusion 
Buying quality and reliable kitchen equipment are necessary to help you spend less time preparing meals every day. Hopefully, the tips mentioned above are enough to guide you when buying the right essential kitchen tool or equipment.
Aim for quality, stick within your budget, and take advantage of the offerings by kitchen equipment companies.