Here Are 5 Mattress Brands That You Need To Check Out
A new year has rolled around and that means it's time for you to give your home a well-deserved update.
But this time, instead of focusing on sprucing up the decor, or slapping on a new coat of paint, we suggest that you buy yourself a new mattress! A good night's sleep is extremely important and it is made possible only with the help of a mattress that suits your body and sleeping habits. 
However, you can find an enormous variety of mattresses in the market, all with different features, styles, and designs, and choosing amongst them all can be a hard task especially if you don't know where to start. 
So, in this article, we're talking about a few of the best mattress brands in the market that we know you'll love to sleep on.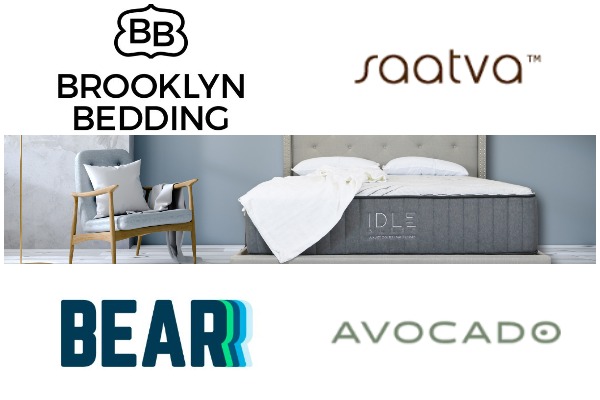 1. Idle Mattress 
Starting off our list, we have the Idle brand, one of the best-known brands which are loved for providing the perfect combination of value and comfort with their mattresses. Known for their flippable, double-sided mattresses that give you two varying kinds of firmness, they're one of the most unique "mattress-in-a-box" companies ever.
They come in both latex as well as hybrid varieties, so that you can find an option that suits you best, and have cooling foam options as well which are great for hot sleepers, as it allows for sufficient airflow and proper ventilation. They have an amazing price value with their products and give you great value for affordable payments. To find out more about Idle, take a look at this review – https://thesleepshopinc.com/idle-mattress-review/
2. Brooklyn Bedding
A US-based brand, Brooklyn Bedding, has managed to carve out an excellent niche for itself in the mattress market by offering some of the best quality mattresses at prices that are pocket-friendly. Their Signature Hybrid Mattress is excellent for combination sleepers and can be useful for all sleepers in fact.
The mattress has both foam as well as innerspring coils, thus providing you excellent support which prevents who from sinking into the mattress while you sleep, and great pressure relief as well, which keeps you from developing pains and aches. They offer a variety of firmnesses that is suitable for all kinds of sleepers too. All in all, Brooklyn Bedding is a mattress brand that you must check out if you want products that have customization as well as a "one-fits-all" element. 
3. Bear
Proper sleep for people who live athletic and highly active lifestyles is extremely important but finding the right kind of mattress can be quite complicated since you require more features that allow you to shed the tiredness of the day and wake up well-rested.
Bear mattresses curate mattresses especially for athletes and individuals with highly active lives, by offering excellent pressure relief. Their foam mattresses ensure spinal alignment, in a way that keeps your joints and back free from pressure. Furthermore, their mattresses also provide excellent cooling which ensures that you remain cool and comfortable throughout the night, making it a great option for hot sleepers. 
Also Read: Awe-Inspiring Murphy Bed Ideas That Blow Your Mind
4. Saatva
Luxury gets a new name under Saatva, as it brings to you a range of highly luxurious mattresses that will make you feel like you're sleeping in a five-star hotel every time you lie down on your bed.
Their Saatva Classic mattress boasts the presence of 800 individually wrapped coils that provide amazing pressure relief, all-around body support, and optimum minimization of motion transfer. The uniquely created foam casing gives you a large and highly comfortable surface to lay down on while ensuring a durable design that will last you a long while. You also get your share of high-quality, premium cushioning. 
5. Avocado
Last but not least, we have Avocado, a sustainable and green mattress brand that offers comfortable and affordable mattresses which are environmentally-friendly as well. Their mattresses, which provide premium comfort and pressure relief, along with unique back support that keeps your spinal alignment healthy, are created with all organic materials.
Also Read: Brilliant Space Saving Bed and Sofa ( Murphy Sofa Bed)
Their products are created with materials that are sourced from their own farms. Avocado uses Global Organic Latex Standard (GOLS) latex as well as Global Organic Textile Standard (GOTS) wool. Avocado is also one of the only three mattress brands in the world to have the "made safe" certification,