Did you know that less than 40% of Americans are comfortable going to movie theaters during the COVID-19 pandemic? That's why, now more than ever, it's nice to have your very own theater in your home to enjoy.
With that in mind, it's important to note that building a home theater takes a great deal of planning. Even if you're working with a smaller space, finding home theater room ideas, and bringing them to life, can be tricky.
That's where we come into play.
In this article, we'll give you 7 tips and tricks that you can use to create the perfect home theater. We'll tell you what to buy, as well as how to avoid common mistakes, so you can create a space that both your and your friends and family will love.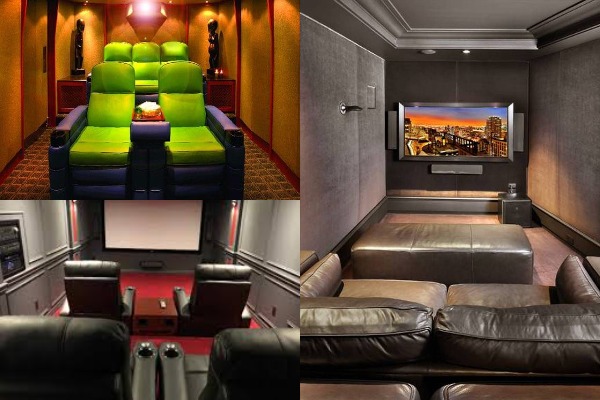 Invest in a Projector Screen
If you're looking for small home theater room ideas, you might not believe that you can use a projector screen in your space. Well, believe it or not, you can make a projector screen work, no matter how big your space is if you purchase the right kind of screen. 
A pull-down projector screen is easy to mount and can fit on almost any wall. Short-throw projectors don't need to be mounted and can help you make the setup work without having to deal with a complex installation process.
That means that you can get both items to work on almost any wall and get a projector setup that takes your home theater to the next level. 
Pick up a Soundbar
When it comes to home theater room tips, none are more important than those that have to do with sound. After all, too much sound in a small space can lead to your setup being too loud and not enjoyable.
Our advice? Pick up a small soundbar and call it a day. Don't waste time on an expensive or complex sound setup that is overkill for the size of your space.
Prioritize Comfy Seating
No matter how good your setup is, if you aren't comfortable, you aren't going to enjoy using it. The same can be said for your guest, who above all else, want to be comfy while sitting down to watch a show or a movie.
Because of this, we recommend that you prioritize comfy seating above other areas of your setup. Simply put, don't be afraid to spend more on seating, and less on something like a projector screen, to ensure that you and your guests can enjoy your home theater for hours. 
Be Smart With Food and Drinks
We get it. You want to maximize your space and create a theater room that everyone you know will love and enjoy. And one of the best ways to do that is to have a bar in your theater room, or at worst, a place you can store food and drinks.
But overcrowding your space is never a good idea, as it'll make your space less fun to use. That's why we recommend that you be smart with your food and drinks and don't try to do too much.
Something as simple as a snack drawer and a mini-fridge is more than enough to get the job done without taking up too much space. It'll also be more affordable, too, which can help if you're working with a tight budget.
Use Dark Paint Colors
Not sure what color you should paint your theater room? Make sure you stick with dark paint colors to help darken your room, creating a more theater-like experience.
Dark gray walls, or even black walls, will give you the best results. That, paired with dark carpet, will make it that much easier to make your theater dark enough to enjoy a projector setup.
Dealing with natural light via windows? Pick up some blackout curtains so you can block out the light during the daytime. That way you can use your theater room during the day when the sun is still out.
Also Read: How To Repaint A Wood Door
Use Plenty of LED Lights
You can't create a modern home theater room without LED lighting. Having tons of LEDs will make your room more fun to use, as well as help create a more movie-theater like atmosphere.
A pro tip? Line the sides of your projector screen, or even your TV, with LEDs. That way you can turn them on when you're using your screen to create a more immersive experience.
Have Fun With Wall Decor
Once you've got your space all set up, the last thing you need to do is decorate it with fun wall decor. Depending on your interests, there are tons of options out there to choose from that will allow you to add some personality to your space.
If you like movies, pick up a few of your favorite movie posters and hang them up on your walls. Video game posters also work well, if you're a big gamer and plan on gaming a lot in your home theater room.
Shelves that hold your favorite movies and shows are also a good idea. They're practical while also helping to add some flair to your theater room.
Also Read: 11 Space-Saving DIY Pallet Bar Ideas
Need More Help With Home Theater Room Ideas?
As you can see, a lot goes into building a home theater room. But if you stick with the ideas on this list, and don't overcrowd your space, you should be able to create your own theater that you can your friends and family can enjoy. 
Need more home theater room ideas? Or perhaps some more information on what kind of gear to purchase? Check back with our blog often!