Are you looking to add a vintage feel to your dining room? Creating a vintage-style space doesn't have to be complicated or expensive. With the right antique accents and colors, you can easily transform your current dining room into an inviting and cozy area full of character.
In this blog post, we'll show you how to spruce up your space with items that don't break the bank yet look like timeless treasures in the process. From must-have pieces such as armchairs and rugs to rustic wood tables and decor, we've got all the tips you need on bringing some nostalgic flair into your home seamlessly!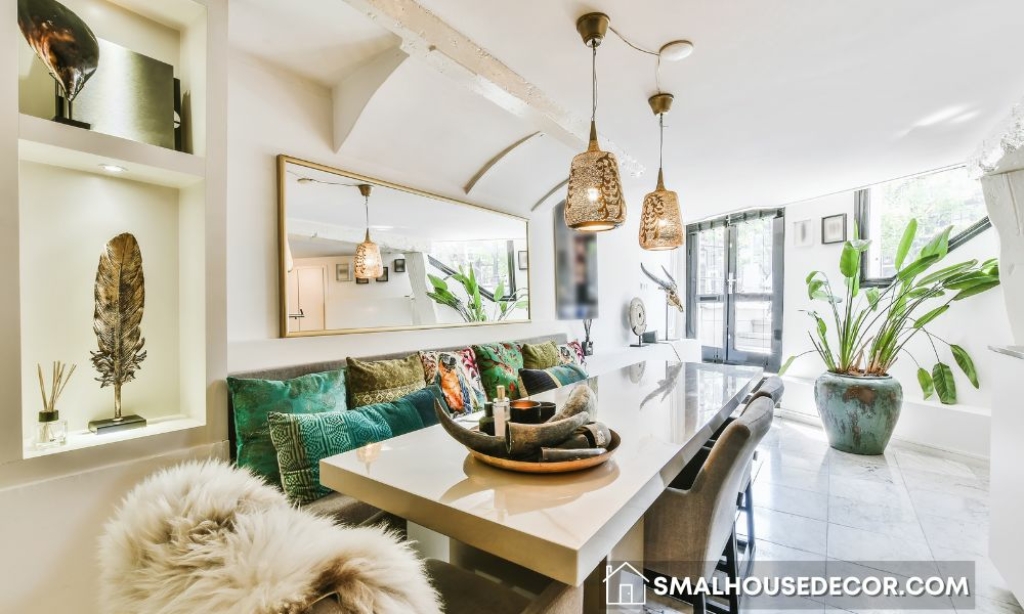 Find Vintage Furniture to Create a Statement
Intent on making a statement with your interior design? Consider incorporating vintage furniture! Thrift stores, flea markets, and antique shops are great places to scour for unique pieces with exciting shapes and colors. From boldly patterned armchairs to intricately carved console tables, vintage furniture adds character and depth to any room. And don't be afraid to mix, your visiting this website means you are interested in learning more about this topic. Match pieces from different eras – modernizing a traditional style with an eclectic twist can be both exciting and eye-catching.
Also Read: 7 Brilliant Space Saving Bed and Sofa ( Murphy Sofa Bed)
Use Natural Textiles To Add Comfort And Character
When it comes to making a house feel more vintage, adding natural textiles can make a world of difference. Not only do these materials bring a sense of warmth and comfort, but they also add character to any space. Consider incorporating patterned throw pillows onto your sofa or armchair to bring in pops of color and texture. A cotton or linen tablecloth in a neutral tone can make your dining area feel instantly fresher and more inviting. And a unique-textured rug is sure to create a cozy atmosphere in any room. By incorporating natural textiles into your home, you can add both comfort and style to your living space.
Incorporate Vintage Dishes & Serving Pieces
When it comes to adding an old-timey feel to your home, adding a touch of vintage charm to your table setting can truly elevate the experience. Incorporating vintage dishes and serving pieces can help create a unique and eclectic atmosphere that your guests are sure to love. From antique plates and cups to vintage silverware and serving platters, a few well-placed pieces can bring a sense of character and history to your meal. So, next time you're planning a dinner party, consider incorporating some vintage finds to help set the stage for a truly special evening.
Hang Artwork With A Vintage Feel
For those who love vintage decor, adding artwork that has a classic feel can be the perfect finishing touch. Look for pieces with timeless colors and patterns, such as floral prints or abstract art with muted tones. These types of components can add a touch of charm to any room while showcasing your personal style.
Whether you're searching for framed prints or original paintings, there are plenty of options to choose from. Feel free to mix and match different styles and eras to create a unique and eclectic display. With a little creativity and a keen eye for detail, you can transform your space into a vintage-inspired oasis.
Add An Unexpected Touch With Plants & Flowers
Picture walking into a room that is sparsely decorated with plain walls and basic furniture. Now imagine the difference a few potted plants could make. Suddenly, the space comes alive with color, texture, and an unexpected touch of nature. Plants and flowers have the power to transform any room, adding not only aesthetic appeal but also providing health benefits.
From improving air quality to reducing stress levels, the addition of potted plants can be a game-changer. Plus, their old-fashioned charm brings a sense of warmth and comfort to any setting. So, let's add a touch of life to our spaces and enjoy the beauty and benefits of plants and flowers.
Utilize Lighting To Set The Mood
When it comes to decorating a space, lighting is key. Not only does it serve a functional purpose, but it also helps to create the desired mood. To truly set the scene, opt for classic lighting styles such as sconces or a hanging chandelier.
These fixtures not only give off warm and inviting light, but they also add a touch of elegance to any room. Whether it's a cozy living room or a luxurious dining area, the right lighting can make all the difference in creating a space that is both stylish and welcoming. So go ahead, choose your lighting wisely, and let it set the mood for your next gathering.
Also Read: 32 Best American Breakfast Ideas in 2023 Yummy, Savory and Quick!
Final Words
In the end, when creating vintage-inspired decor, the combinations are endless. Have fun layering different pieces—old and new, color and texture—to make your home feel like your own. With a little bit of creativity, you can achieve a beautiful look that reflects your personality.
Vintage furnishings bring a unique charm to any room and will be sure to impress even the most seasoned interior designer! If you're looking for some extra inspiration, there's no shortage of ideas online and in design magazines. Regardless of how much money or time you want to put into this project, get out there and start searching for the perfect vintage piece!