Creating an outdoor oasis is a great way to enhance your home and enjoy the beauty of nature. An outdoor oasis can be a place to relax, entertain, and spend time with friends and family. With a little planning and creativity, you can transform your backyard, patio, or deck into a peaceful and inviting space.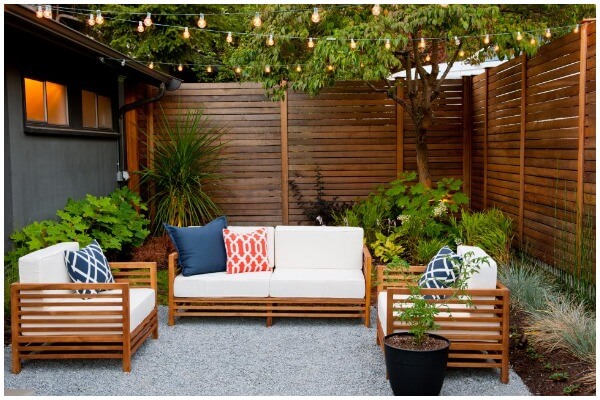 Below are some easy steps on how to create an outdoor oasis
Start with a plan: The first step in creating an outdoor oasis is to develop a plan for your space. Consider the size of your outdoor area, the amount of sunlight it receives, and the type of activities you want to use it for. Think about what you want to include in your outdoor oasis and list the elements you need.

Choose the right furniture: Outdoor furniture is essential in any outdoor oasis. Choose comfortable, durable, and stylish furniture that suits the size and style of your space. Consider recycled outdoor furniture for seating, dining, and lounging options, and make sure the furniture is weather-resistant.

Add greenery: Plants, flowers, and trees can add color, texture, and life to an outdoor oasis. Choose plants that are native to your area, and that can thrive in the amount of sunlight your space receives. Consider using potted plants to add variety and movement to your space.

Create separate areas: An outdoor oasis can be divided into different areas to provide different experiences. For example, you might have a dining area, a lounging area, and a garden area. This can be achieved using different furniture types, lighting, and landscaping.

Incorporate water features: Water features such as fountains, ponds, or a small pool can add a calming, soothing element to an outdoor oasis. These features can also attract wildlife and provide a pleasant sound to the outdoor space.

Light it up: Lighting is an important aspect of creating an outdoor oasis, and it can be used to highlight certain areas, add ambiance, and provide safety. Consider using solar, string, or lanterns to light your outdoor space.

Add some warmth: An outdoor oasis should be a place where you can enjoy the outdoors, even on cool evenings. Adding a fire pit or a chimney can provide warmth and create a focal point for your space.

Add some color and accessories: Colorful accents such as throw pillows, cushions, and rugs can add visual interest and personality to your outdoor oasis. Outdoor accessories such as birdhouses, sculptures, or wind chimes can add an element of fun and personality to your outdoor oasis.

Maintenance: Keep in mind that an outdoor oasis requires regular maintenance to keep it looking beautiful. Make sure to water plants and flowers, remove debris and keep the furniture clean.
Creating an outdoor oasis can be a lot of work, but the result is worth it. An outdoor oasis can be a place of peace, relaxation, and enjoyment, It can be a place where you can entertain friends and family or simply escape the stress of everyday life. With minimal preparation and creativity, you can turn your backyard, patio, or deck into a beautiful and inviting outdoor oasis.