4 Things to Consider When Buying Custom Made Metal Furniture
Getting the best furniture for your yard or garden would mean satisfying numerous standards and expecting the highest quality. This is because we are fully aware that the furniture will be utilized mainly for outdoor use, making it prone to unwanted situations such as rusting of furniture pieces, scratches from unknown elements, or marks that were caused by different factors.
There are several more instances that might deteriorate the quality of outdoor furniture. Although its longevity will highly depend on how it was used and the place where it is exposed, the good news is that there are now easy and effective ways that have been proven to protect your cherished furniture's condition and appearance. These methods are very much applicable to furniture made of steel or aluminum.
We will be enumerating below the steps you need to take in order to guarantee that your metal furniture is protected from any nuisances whether indoors or outdoors.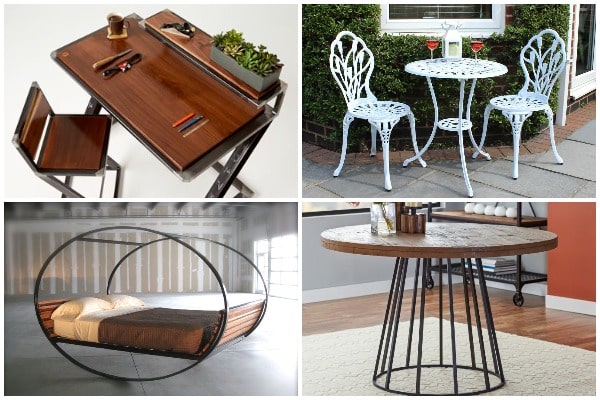 Unpacking the material carefully
Whether it is a metal table for your patio or yard, or a closet for your clothes, removing the protective layer that covers it must be done carefully. Even if the manufacturer says that the material for the outer cover is durable, this is not an excuse to be very careless because it may still affect the overall condition of the pieces inside the package.
his is the most important step especially for those DIY or self-installation pieces of furniture. Remember to empty the space where you intend to set your furniture up. Free the area from obstructions such as sharp items, other pieces of furniture, or children since they might be taking the furniture parts and screws and swallow or misplace them without your knowledge.
Furthermore, it is highly advised to read the manual that comes with it to ensure that you are on the right track upon the installation of your own furniture.
Keep the parts that add protection to the contents
Some packages of the furniture would contain protective pads or boards that add protection to the components to prevent them from being broken or damaged as well as keeping them in place so they won't fall off while being transported to the destination.
It is important to keep these in order to maintain the parts' original state and we highly recommend you to replace these once these are lost or destroyed. You may contact the manufacturers if they are able to offer replacements for these.
To keep those metal parts such as aluminum or steel clean and new, it is required for you to clean them regularly using a cloth and water with soap to remove any unnecessary dust particles and dirt. For hard-to-remove substances, we suggest that you use a cleaning solution that is safe for metals to effectively erase.
For those pieces of furniture integrated with different materials such as cloth, then soap and cloth are used to clean the surface. Remember to use the appropriate materials in cleaning so that it does not add any damage. In this case, do not use tools with abrasive properties and very strong chemicals to maintain the quality of the furniture.
Also Read: 5 Recommended Tips When Purchasing Metal Artworks Online
Dealing with wear-and-tear
If you notice some scratches have shown up on the surfaces of your furniture, then, we recommend you rely on correction tools such as pens that cover up the marks or sprays that have a similar color to your furniture. How about if a particular rusted? It can be applied by the corrective pen or spray.
If the rust is found on stainless steel, polish is a reliable remedy for covering the spot. It is best that you spot it early before the rust worsens. Bird droppings must be eliminated immediately, since they may result in corrosion or staining that could be impossible to be removed. It is best you look up the Internet to discover hacks in resolving various wear-and-tear issues in an efficient manner.

Recycle metal piece once it has reached its end
Just because the product has already reached the end of its lifespan does not mean it cannot be reused. You may search for other uses that provide another purpose for the furniture component. This could serve as another project that you can focus on and unleash your innovative and creative ideas.
Also Read: 15 Practical Space Saving Table and Chair Ideas
Moreover, this could be an avenue for you to invent something unique or create an upgraded version of an existing object or instrument. A defective piece of furniture can also be repaired so that it could be used again with its original function.
Depending on what you plan to do, it is better to lessen the wastes that do not decompose on the grounds if we train ourselves to recycle and create environmental-friendly products out of these metal parts. Who knows your new creation could help contribute to lessening the impact of a particular environmental issue or encourage users to switch to Earth-friendly practices or products.