Do Trundle Beds Need A Special Mattress?
Having a Trundle Bed in your home means it saves your space and gives you an extra bed. In a Trundle Bed, there are two kinds of bed; one is kept underneath the upper bed. You can use these two beds at the same time. 
Do Trundle Beds Need a Special Mattress? Yes, the Trundle mattress should be 6 to 8 inches thick in size and it must be thicker than the parent mattress. The size of Trundle mattress depends on the size of trundle frames and space between the floor and Trundle Beds. 
Since the comforts of Trundle Mattress depends on various little things you need to be aware of when purchasing. It is complex to pick out the right kind of mattress. Let's see which actual things you should know for choosing a special mattress for your Trundle Bed.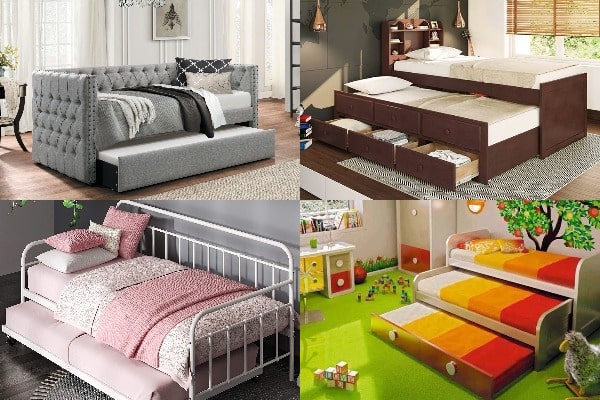 What Actually A Trundle Bed 
A Trundle is a 2 in 1 bed. There is a parent bed and a Trundle Bed. The Trundle bed can be folded under the parent bed. It has a Streamlight design. This type of bed is generally used in children's rooms and guest rooms. Trundle beds also fit in studio apartments and in other small spaces. This type of bed is perfect for children because it is low ground in stature and has a limited size. 
Trundle beds are very effective in saving space. This type of bed is made with a metal frame, wood, and other fabric. They come in different types of sizes like a king, queen, full, and twin size. You just need to be mindful when choosing a mattress for trundle bed. Because different trundle beds need different types of mattresses.
What Are The Benefits Of Having A Trundle Bed?
Having a Trundle bed can give you hundreds of benefits. We often rearrange the furniture of our home. The only purpose of this is to save space. Doing this kind of work costs too much time and requires a lot of complexity. A trundle bed is a space-saving piece of furniture you can rely on. This bed gives you more facility than any other furniture. Because the only function of this bed is to save space in your congested room. 
Also Read: Awe-Inspiring Murphy Bed Ideas That Blow Your Mind
The Trundle beds are mostly designed for people of all ages. It has the capability of extending the sleeping area in bed. Buying a trundle bed not only saves your space in your house but also can save your money. You will get two beds for the price of one. 
Different Trundle Bed Types
Trundle Bed comes in many types. You will find a number of designs and models. These types include:
DayBed:

This bed is encompassed by a headboard on it's 3-sides. A DayBed can be utilized as a Sofa sometimes. The body of the DayBed is made with metal. All you need are some pillows and metters to use it. 

Sleigh Bed:

As the name appears, Sleigh works as a Sleigh. This type of bed has a taller frame than any other Trundle Bed. It is best for congested places. Some Sleigh beds are found which have a pre-installed Trundle Bed. 

Panel Bed:

This type of bed has similarities with the

Bunk Bed

. The trundle bed can be placed inside the parent bed. This Panel Bed has great durability. In a Panel Bed, you will find the trundle bed in the lower part of the floor. 

Captain Bed:

A Captain Bed has more storage options than any other Trundle Bed. You can put different knick-knacks inside the parent bed. You will find three additional drawers in Captain Bed with a Trundle bed.

Bunk Bed: A bunk

bed is suitable for three people. This type of bed is mostly used for children. Before buying a Bunk Bed, make sure there is a ladder on it for easy climbing.
Different Trundle Mattress Sizes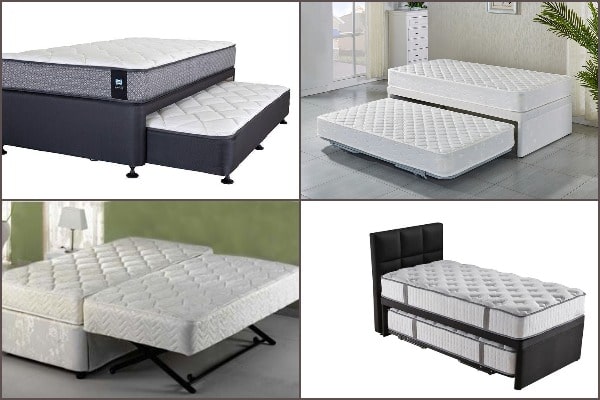 To pick the right kind of Mattress size, you need to figure out the height of the main bed. If the thickness of the Trundle frame is 8 inches and the main bed is 16 inches above then the Trundle mattress can easily suit. You need to know about the different sizes of mattress. Note down the below information for your better understanding.
| | |
| --- | --- |
| Trundle Bed Size | Dimensions (IN) |
| Full Size | 54 inches by 75 inches |
| Unique Full Size | 55 inches by 81.25 inches |
| Twin Size | 39 inches by 75 inches |
| Unique Twin Size | 41 inches by 77 inches |
Types Of Trundle Mattresses
On the basis of the comforts and many other things, you will find different kinds of Trundle Mattresses in the market. Some popular kind of mattress are: 
Antimicrobial Memory Foam:

It is a soft kind of foam. The Antimicrobial memory foam can hold the shape of the body for a long time. To turn into a natural shape takes a lot of time. Sometimes it is called hug foam for this quality. 

Latex Foam:

This type of mattress is made with rubber trees. A Latex Foam comes in three different types like natural, synthetic and blended. It takes less time to return to its original shape. 

Air-Chamber:

This type of mattress is suitable for those who have neck and back pain. The firmness level can change manually in this mattress. For the highest benefits, these types of mattresses are too expensive. 

Innerspring Foam:

This type of mattress is made with spring. Inside the mattress, there is a spring that seems very comfortable. It supports you to have a better sleep. 
Do Trundle Beds Need A Special Mattress
From the above discussion, you must get the answer. You see different mattresses are for different purposes. Picking a mattress randomly doesn't give you comfort in your Trundle Bed. Before you choose a mattress for you you must be concerned about the size of the Trundle Frame. Experts suggest 8 inches thickness mattress for Trundle Bed to get great comfort. 
You need a special Mattress for your Trundle bed because there is a little measurement. You must think about the difference between a parent bed and the Trundle bed. If the difference is up to 16 to 18 inches then you can easily fold the Trundle frame inside the main bed.
Also Read: Here Are 5 Guidelines To Remember When Buying A Mattress
5 Key Considerations When Choosing A Mattress For A Trundle Bed
A mattress should have some quality. Otherwise, it may cause back pain. Experts suggest five top things to consider when buying a Mattress for Trundle Bed. They are:
Comfort-

Choose your comfortness according to your sleeping position.

Support-

Choose a mattress that supports your body perfectly. 

Durability-

Pick a mattress that has eight-year durability. 

Edge Support-

The Edge should increase pressure. 

Size-

Consider the adjustable comparing the Trundle Frame. 
Conclusion 
In this time of the unbearable human growth rate, People need to live with their families in a congested area. With the lot of necessary furniture, the home is filled with. It is really a matter of happiness by saving some spaces by fulfilling the needs. From this concept, space-saving furniture like Trundle Bed comes and gets a lot of response.
Without a good mattress, a Trundle Bed is useless, a waste piece of material. So, choosing a perfect mattress is necessary for Trundle Bed. I hope by going through this write-up you have got a vivid concept about different mattresses. Thanks for reading with patience.
Visit this site for more options of beds and mattresses.