Here's your checklist for a hassle-free winter move
People who've had the experience of moving to or from places like Seattle, Chicago, and Detroit can understand the pain of moving during winter. Even though it's the most beautiful time of the year, moving is a pain. 
The hazardous conditions and bone-chilling weather can make it challenging for anyone to deal with moving issues. But, despite the gloom, there is a silver lining; because we're here to help make your move hassle-free with tried and tested tips.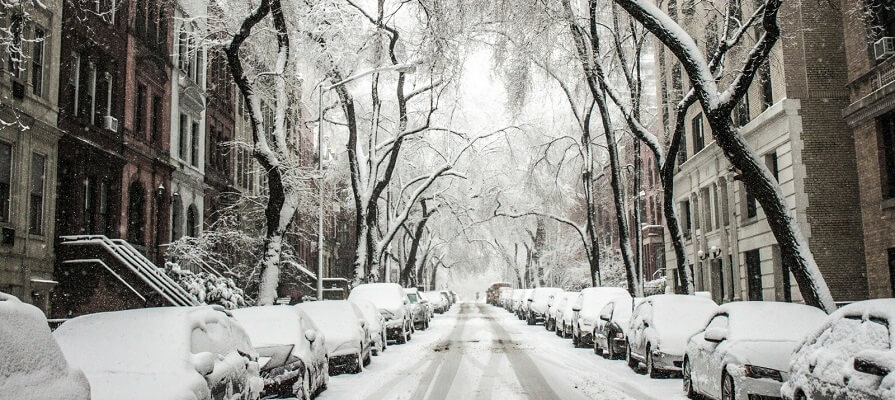 Following is a checklist designed to make moving easy and less irritable during winter. 
Watch the weather like a hawk: 
First things first, you must be vigilant about the weather. Keep an eye on the latest reports if you don't want to be stuck in a blizzard while moving. It's one thing to ride out a sudden increase in temperature, but the cold weather can be unpredictable, harsh, and damage your goods. 
Therefore, plan your moving dates according to the weather situation, mainly when the temperature is relatively low, and there's no chance of rain or snow. Subscribe to good resources and get updates on your phone while keeping track of road closures. \
Hire a moving company: 
Undoubtedly, the chilly weather can wreak havoc whenever it wants. It can be downright treacherous to deal with a move during winter, especially in a wet, cold place like Seattle on your own. 
Luckily, dedicated moving companies have significant experience dealing with the difficulties of a winter move. If you're looking for experienced movers near you, search for the term Seattle movers on Google for more information. 
Professional moving services have years of experience dealing with all sorts of weather-related issues and are more than willing to help you through this. You don't have to delay moving anymore; get in touch with the pros and let them handle everything. 
Clear a path for moving trucks: 
For your and your movers' safety, maintain a clear walkway, especially at the entrance of your home. Winters can be slippery, wet and pose various hazards for everyone involved in helping you move. 
There are chances of people slipping and hurting themselves due to snow and ice. Even you can sustain unrecoverable damage to your belongings if you're not careful. 
Therefore, clear your walkways and driveways before the moving day by removing the snow and adding sand to increase traction between the ground and the moving vehicles. If you can, place plywood sheets on the driveway to avoid slipping. 
Make warm arrangements for everyone: 
Since the heating in your house will be off, you should make necessary arrangements for your kids, pets, and even the movers to keep warm. It's best to relocate the kids and the pets to a warmer place for the time being, as packing and moving can take hours. 
If relocating isn't possible at the moment, you can move them to one room and make temporary heating arrangements there to make them comfortable. Keeping your kids and pets away from the movers is crucial as they carry stuff that could hurt anyone. 
For movers, hot coffee or chocolate is an excellent idea to keep them motivated and warm during the moving process. 
Also Read: Tips on Moving Out During Rainy Days 
Pack a bag of essentials: 
When it comes to a winter move, it's best to be prepared for anything. While all your clothes and gear would be packed and sorted in boxes, you should hold off a few things that can serve you as a winter survival kit. 
For instance, along with keeping a few warm clothes and extra blankets, you should also keep the following in your trunk: 
Window scrapper

Snow boots and scarves 

Tool kit 

Flashlights

Shovel and gravel 

Packing tape and jumper cables 

Toiletries 
Moreover, you ensure that you and the entire family are correctly dressed to deal with sudden temperature variations. It would help if you also kept a few snacks with you in the car, along with an emergency first aid kit. 
Plan for a safe route:  
Strategizing multiple traveling routes is essential for a quick and comfortable move. The cold weather is relentless and can cause commotions on the roads at any time. Plan for a worst-case scenario by deciding a course less impacted by weather or offers alternative routes in case of a closure. 
It would help if you took frequent updates on the condition of the road through the news. However, if you are adamant about sticking to a single route, you should go for the main roads instead of the deserted back ones, especially in winter.
Also Read: Here's a Checklist to Prepare Your Home for Winter
Protect your belongings with weatherproofing packing: 
Everything in winter gets wet quickly, and that's not good for your fragile and electronic items. It is recommended that you go for waterproof packing when transporting items during snowy weather. 
Wet weather is a call for disaster, especially for wooden items and electronics; keep them warm and dry through insulation and weatherproof packings such as a plastic wrap, plastic bags, mattress bags, plastic bins, bubble wraps, and more. 
Keep the electronic goods in sealed plastic pouches and their cables and chords before putting them inside moving boxes. 
Service your car for the move: 
You wouldn't want to know how it feels to have your car broken down in the middle of nowhere and during a snowstorm. So, before your big move, ensure that your vehicle is in top-notch condition and can make a long journey without mechanical issues. 
Service your car thoroughly before the moving date and have your mechanic check out everything in advance. Keep spare parts in case of emergencies, as well as extra tires. If you don't have tires with good traction, replacing them with winter tires is a good idea.  
Conclusion: 
Regardless of the weather, moving isn't always easy. However, it becomes particularly challenging when you're planning to move during the winters while putting up with the usual anxiety and stress of relocation. 
The unpredictable weather conditions increase the chances of road accidents and closures, so it is better to plan, prepare and hire professionals before you start packing if you want it to be a hassle-free, smooth experience. 
Fortunately, if you plan things out in detail and keep a checklist just like the one above, your winter move can be a smooth experience.