According to the national association of realtors, 58% of homeowners report feelings of happiness after completing a major home renovation.
So, if you're looking for an unmatched sense of satisfaction and achievement, why not get started with some refurbishments of your own? 
Whether you call it an attic or a loft, the space below your roof offers many opportunities for storage and even extra living space. That makes it a great choice for your first major home improvement project.
Here's how to convert your attic, improve the value of your home and make the most of your living space.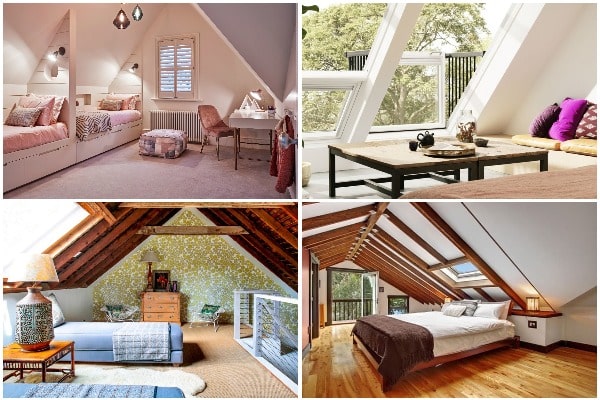 How to Convert Your Attic Legally
Before you get started on your attic refurbishment, check your local building regulations to make sure you're complying with the law. Usually, you'll need a permit if you're adding ventilation or electrical wiring.
Usually, an attic must meet all the usual building codes if you want to convert it to a living space. These are:
The majority of the room should have 7 ft of vertical clearance

It should be at least 7 ft wide

There should be 70 sq. ft of space available

Access via a full-size staircase

A second exit or easily accessible window
That means building a staircase is likely your first task if your attic's accessible only via a loft ladder. A dormer can help increase the total vertical space of your room but remember you'll need a building permit for this addition. 
Consider Your Heating and Ventilation Needs
If your attic doesn't have any ductwork, find out whether your current HVAC can support another room. A heating and cooling expert can advise you on this and also install any extra ductwork you need.
You could also install a mini-split system or baseboard heating if you don't want to add more ductwork. 
Get a contractor to check for rafter vents to ensure airflow behind your installation. These will help keep your roof cool even when your attic's toasty. 
Also Read: How to Renovate Your laundry Room to Become Highly Functional
Work Out Your Budget
Now that you know the costs involved in the legalities surrounding your attic conversion, you can enquire about quotes for the rest of the work.
You can budget for around $50,000 if you get a contractor to do all the work. If you opt to go the DIY route, you can count on spending about $5,000 for materials.
Bear in mind that you'll need to hire a contractor for some aspects like electrical wiring, building a dormer, or installing loft stairs. In this case, you can plan on spending at least $100 an hour on labor for these aspects. 
Steps Involved in Converting Your Attic
Before you go any further, you'll need to clear your attic space of all the clutter that's accumulated over the years. Get rid of items you no longer need and move keepsakes to your garage or other storage space. 
Next, clean your attic thoroughly and treat it for any pests that may have made themselves at home there. 
When you've received the go-ahead for your loft conversion and acquired all the relevant permits, you can start the work in earnest.
1. Wiring Your Attic
Unless you're a qualified electrical, get a professional to wire your attic. You'll only run into problems if you try this job yourself and run the risk of causing an electrical fire.
Ideally, you should aim for one outlet on each wall or one outlet every 12 feet. 
If you're planning to add a bathroom to your attic, you should consult a plumber at this point too. It's easier to get all the necessary pipes in place right at the outset. 
2. Installing a Subfloor
If the roof joists are visible on your attic floor, you need to put a subfloor in place. You can only get started with this task once you've completed the electrical and ventilation installations, but you should keep attic insulation in mind while you're doing it.
Sometimes, a thicker subfloor paneling works well instead of extra insulation. 
If you're installing a bathroom, you'll need to reinforce the joists in this area of your roof accordingly.
3. Attic Insulation
Insulating your attic's a relatively easy DIY job if you know how to insulate a loft correctly.
Batt insulation fitted with vapor-retardant facing works best if you want to place insulation yourself. It's flexible and you can layer or trim it according to your needs.
4. Install Drywall and Ceiling Boards
With all the basics in place, you can start shaping your attic to your whims.
You can hang drywall from exposed studs and secure it with screws and you should also install drywall directly to the ceiling too. If you have enough overhead space, you can also put a dropped ceiling in place.  
Finish off this task by covering the screws and seams with drywall mud and then paint your drywalling according to your preferences. 
5. Install Your Attic Flooring
You can install any kind of flooring in your attic but carpet's a good choice because it absorbs noise. Carpet also acts as extra insulation if you live in an area with a cold climate. 
High-quality engineered hardwood flooring offers many of the same benefits as carpet. 
Remember you'll need a lightweight, waterproof floor for your bathroom. 
Also Read: 7 Flooring Designs to Make Your Home Stand Out
6. Finish Off Your Loft Conversion 
The final step is adding the furniture and decor you've envisioned for your attic. If you're adding a bathroom, get your plumber to help you install your shower, toilet, and vanity too.
You can opt for a bath in your design but remember, you'll need to reinforce your joists accordingly first. 
Also Read: Creative And Functional Loft System For Small Condo
You Can Never Have Too Much Space
Now that you know more about how to convert your attic into a useful space, you can make an informed decision about what to do with this vacant roof space. 
If you install an exterior staircase, you could rent it out to a tenant, use it as a guest bedroom, or as accommodation for one of your older children. 
Do you want to find out more about how you can make the most of your home? Explore our website for some more options.