10 Impressive Benefits of Porcelain Floor Tiles
Porcelain floor tiles have gained more popularity globally and are used in almost all homes and businesses alike. These tiles are made of very dense but extremely fine clay and exposed to extremely high temperatures.
These flooring tiles are extremely resilient, resist scratches, and are highly resistant to stains. These are just a few benefits and reasons to consider using porcelain floors in your home.
Here is a comprehensive list of ten benefits of porcelain floor tiles and why they are the right choice for your home and business space: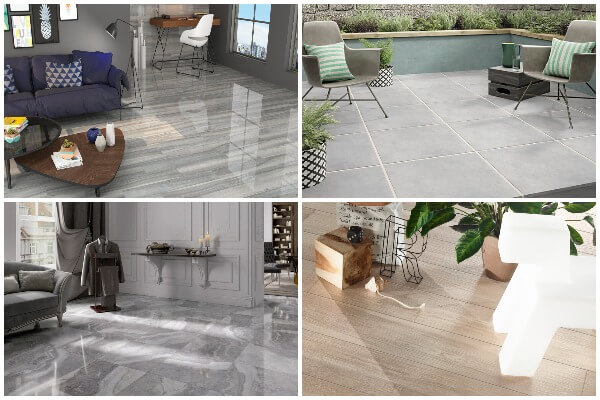 Aesthetic Value
These types of tiles are beautiful for use as flooring material. You can use them in the kitchen, bathrooms, bedroom, and even foyers. The tiles come from very high-quality material components that, when mixed together, provide a luxury product.
This makes them great tile solutions to use in your home and business. Porcelain also looks better and can transform any living or working space into something you love. These tiles also come in a wide range of appearances and textures that you can choose from.
Also Read: 7 Flooring Designs to Make Your Home Stand Out
Resistant to Wear
Unlike ceramic tiles, porcelain is highly resistant to wear and can last for extended periods with proper maintenance.
During the manufacturing process, the tiles have very few air pockets and feature uniformity, and very dense material. This makes them a lot harder than most flooring materials, allowing them to give you better and longer services of up to 50years.
These tiles can maintain their overall look and appearance over long periods, making them perfect options for homeowners looking to install more permanent flooring.
Also Read: The Benefits of Laminate Flooring for Your Small House
Durability
Porcelain is also denser than other ceramic materials and can withstand most harsh conditions well. Its finishing doesn't wear in high-traffic areas and can withstand exposure to harsh cleaning chemicals and other cleaning agents.
This tile doesn't chip or scratch easily. So, pets and kids can play on them without damaging the floor.
Its low water absorption rate prevents constant moisture on it, meaning mold and warp cannot grow on it. Porcelain floors and tiles are water-resistant, which protects them from spills, mud, or soap.
All these features make the floor tiles very durable and an excellent option for use in environments and sections of your home that are exposed to harsh conditions. These may include corridors, balconies, and bathrooms.
Effective on High Traffic Areas
Using porcelain tiles is a perfect solution for businesses because they are suitable and highly adaptive to high-traffic environments.
Porcelain is resistant to scratches that may occur due to high traffic and they are also easy to clean. The tiles can hold daily abuse but still maintain their amazing overall look with very little maintenance.
These advantages are what make porcelain the best tiles for high traffic environments. It is the perfect tile material for homeowners who enjoy throwing parties and have several people come over to their homes.
More Hygiene
Laminates and carpeting are popular flooring materials used by many homeowners and businesses. However, most people see them as being less hygienic and breeding grounds for germs and pests.
On the other hand, porcelain and stone tiles are more hygienic options because they're easier to clean and don't retain dirt or soak in moisture.
Porcelain is also highly resistant to household cleaning chemicals, unlike carpets or laminates. You can scrub your porcelain floor with even harsh cleaners without worrying about their conditions.
This makes them especially perfect for use in bathroom walls and floors because they look super-hygienic.
Slip-Resistant
You would think that porcelain floors are very slippery. However, their manufacturers include a glaze with a special gritty texture to make them slip-resistant.
You can also request to have more texture added to your tiles or special sealers to help make them less slippery.
This helps prevent accidental slips and falls that may result in injuries that can sometimes be fatal.
Fireproof
Porcelain tiles don't burn or produce toxic fumes when exposed to fires or high temperatures. They don't even produce smoke.
On the other hand, laminates and carpeting pose a bigger threat as they will light up like torches and emit noxious fumes that may also be very unhealthy when inhaled.
Stone is the only other fireproof material you can use for your flooring. They won't catch fire or produce toxic fumes or smoke either.
Less Staining
There being less absorbent than other flooring materials means that you won't experience any staining when you spill drinks, chemicals, or food on them.
With such a low absorption rate, property owners don't always have to worry about spills on their tiles and need not clean them up immediately.
Also Read: What Are The Advantages Of Stainless Steel Handrail Fittings?
Simple Cleaning and Maintenance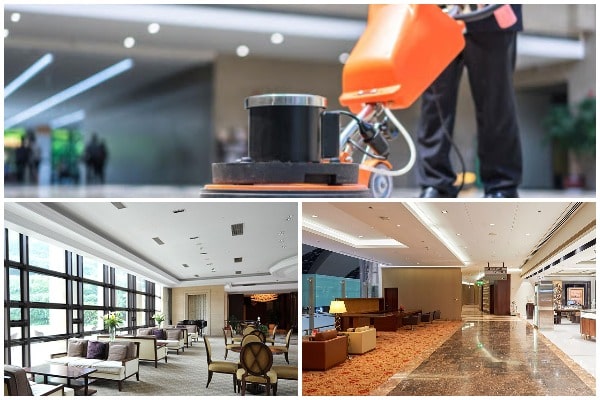 Every homeowner always wants their floors and tiles to be clean at all times. Porcelain floors are incredibly simple and easy to clean. You can use several different products to clean and maintain them without damaging them.
You can also just use a damp cloth and water to clean your tiles if you don't want to use chemical cleaners, and the result will be the same. Another great benefit of these tiles is that they don't require any polishing, sealing, or waxing. They require very little to no maintenance.
Also Read: Why Hiring a Professional Cleaning Service Is the Best Decision of the Day
Can Mimic Other Materials
These tiles can mimic almost any other type of material you want your floors or tiles to look like. If you want a stone or wood look-alike, simply look for a manufacturer that designs these mimics and buy your tiles.
You're not restricted to any style or design. You can make your room look more contemporary with different styles that bring life to your home or office space. You're literally spoilt for choice while not compromising on any of the other added benefits mentioned above.
In Sum
There's no question that porcelain floor tiles provide durable and beautiful tile designs that are impervious to water. They are also chemical- and stain-resistant and are fireproof.
These properties make these tiles the perfect option for home and office owners looking for efficient tiling and flooring designs that last.