Tiny box house on wheels that allows the owner to have a different morning place every day has enough dose of enjoyment for those who love to live and travel. Playful and minimalist, this modern mobile home is just 140 square. Currently located in Lake Forest, Illinois.
The designer said on their site that this Toy box Home merged modern design with an eco-friendly material palette to display a whimsical concept and also features some environmental conscious elements to will leave your conscious clean.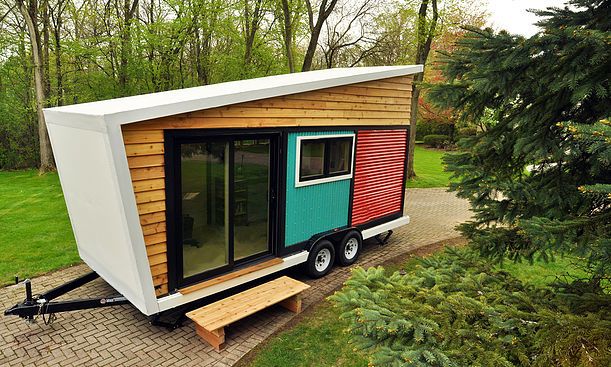 Look at white colored things on the roof that down to the side of the house. It made of thermoplastic materials which able to keeping the inside temperature regulated without extra power usage. Less power means less money spent on energy. A large sliding glass door accentuate the facade and also allowing abundant natural daylighting and ventilation.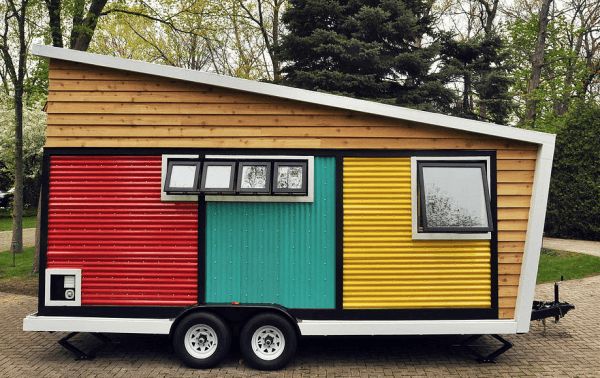 The bright colors exterior evokes the pop art artworks. This tiny box house feature a corrugated fiberglass siding and a natural cedar foundation to create the basic composition of the home. There is also a planter at the base of the home for your gardening needs. It recycles water from the sink to help save water consumption.
---
TINY BOX HOUSE INTERIORS
---
Come to the inside we can see a modern and sleek design fills the interior to make it visually bigger. The living room, measuring just 7'x9′, is a versatile space that takes many forms.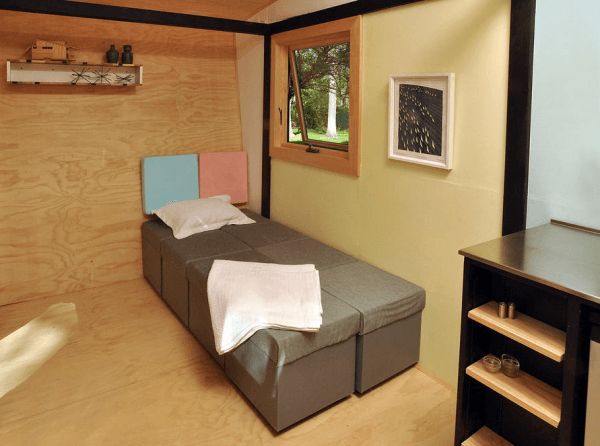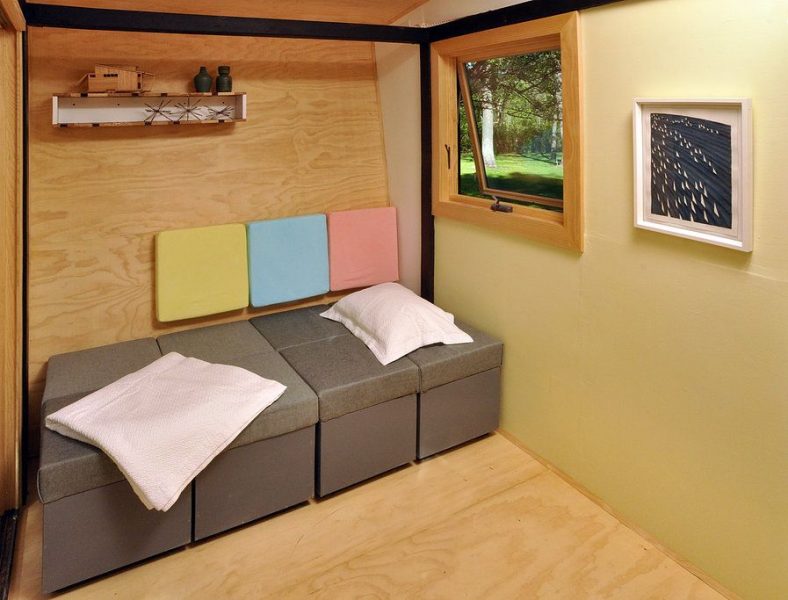 The living room can also transform into a dining room or additional sleeping quarters. Just slide the eight cube chair and puzzle them into your desired arrangement. The wall-mounted squares can also move to provide a headboard for snoozing guests.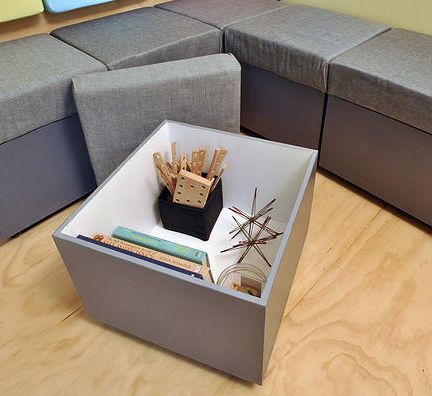 Storage under the cubes chairs provides smart functional spaces and can be easily rearranged.
Recommended For You: 

Impressive Bookcase Chairs Design

WELCOME TO THE KITCHEN
To the right of the living area, the kitchen showcases the home's beautiful balance of aesthetics and functionality. Gleaming cedar, heated floors and shining stainless steel fuse together to create a stunning cooking activity.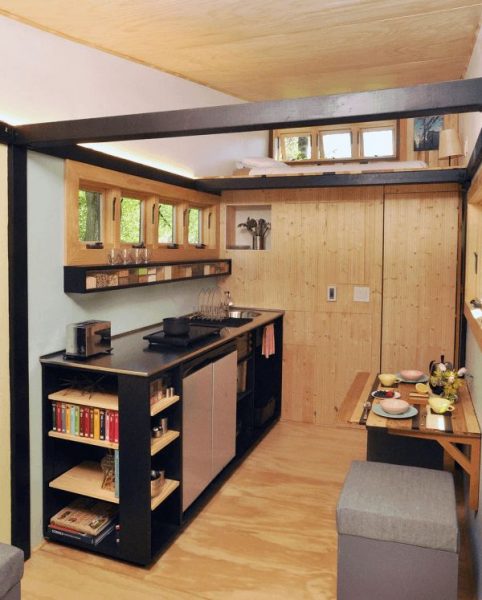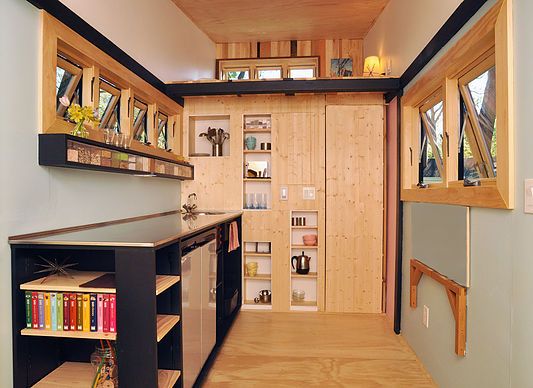 From the picture above you can find extra storage in the walls and the entry to the 20-sq-foot bathroom as well as the folded dining desk table. This is what we call "maximize every inch into functional spaces".
Also Read: 

Space saving table and chairs ideas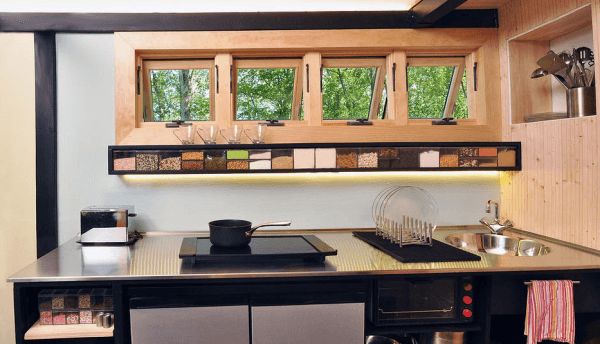 This pretty small kitchen is made up of a long stainless steel countertop with a stainless steel sink and low-flow marine faucet. The countertop sits above a painted base with storage cabinets, a 3.2-cubic-foot refrigerator, a 2.5-cubic-foot freezer, and toaster oven or microwave—all of which plug into one and allow for full cooking possibilities.
There also built-in storage cubes installed under the windows  allow for a colorful dry goods pantry while also providing extra shelf space.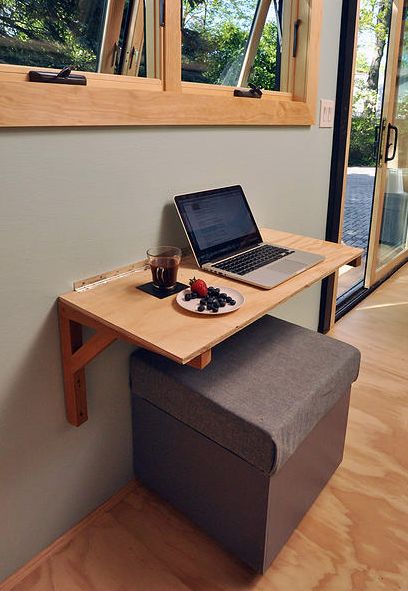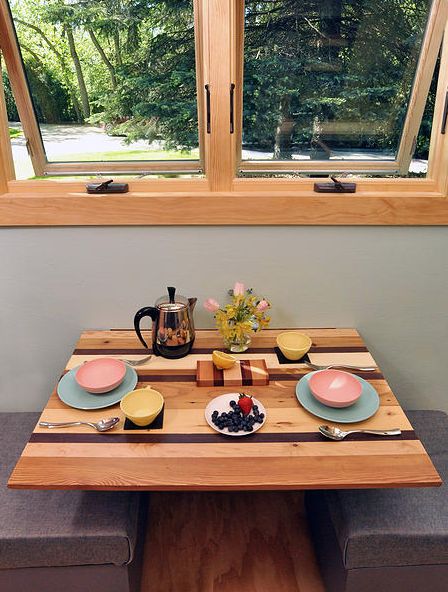 You can make this multi-functional dining desk quickly switches between the work spaces or cozy dining nook.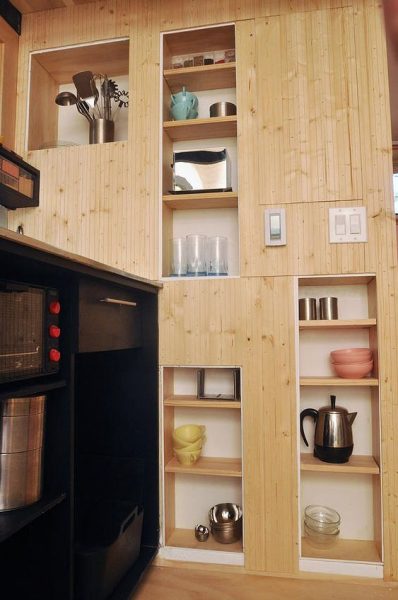 A hidden pantry on warm cedar wall offers additional storage space. The stored items can be neatly hidden from view to preserve the home's minimalist aesthetic. Just slide open to reveal many cabinets and cubbies.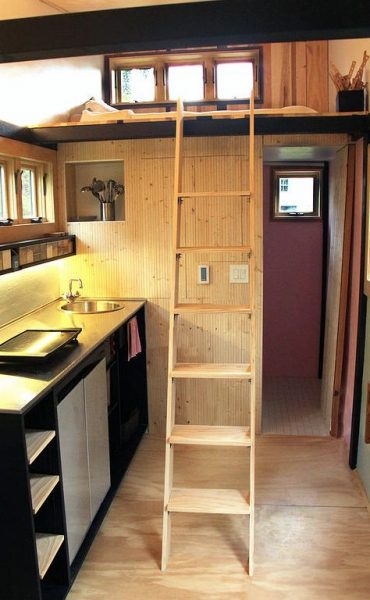 The sleeping area is located in a loft above the bathroom can be acceded through a ship's ladder.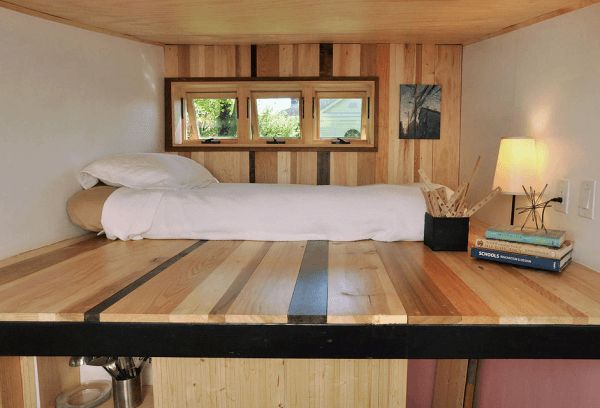 Light comes through the three picture windows illuminating the whole 42 sq.ft loft area. This sleeping loft wrapped with assorted woods and able to accommodates up to a king size bed. There also master switch that allows sleepers to turn off all house lights without leaving the loft.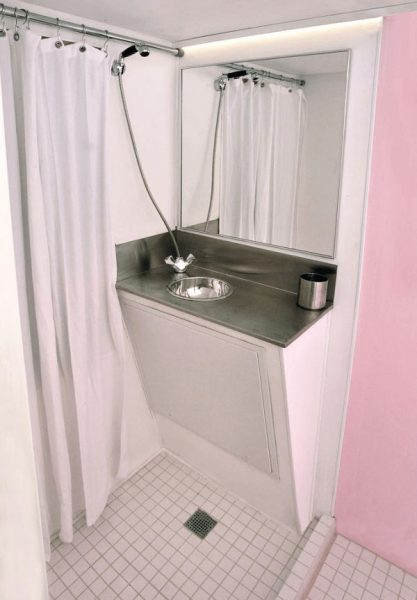 The (4×5) sq.ft bathroom located beyond the kitchen comprising a mirror, 2×4 closet with a 20-gallon water heater, sink, shower, and toilet (even not pictured but it's located to the left of the desk space). A low-flow marine faucet pulls out of the sink and can be clipped to the wall to double as a showerhead and  a bright LED strip lights this small bathroom.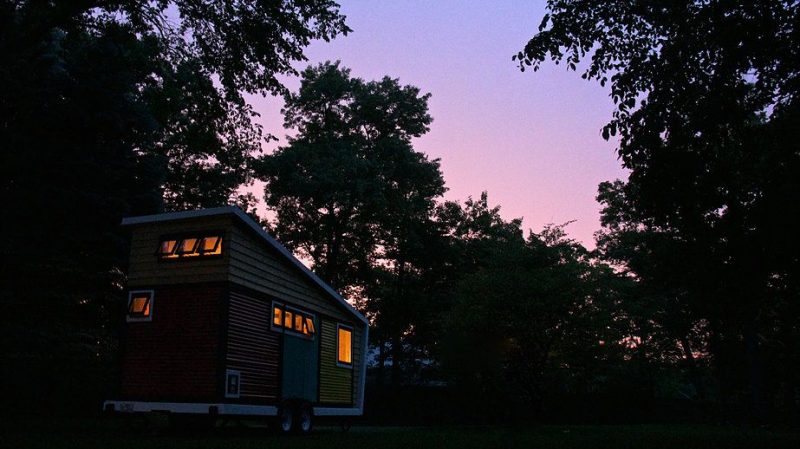 With its brilliant functionality design and playful colors, I could positively see myself living in this Tiny House Box — could you? Let us know your thoughts in the comments below!
---
---
TINY BOX HOUSE BUILDING DATA
Building Costs range from $48,000 to $60,000. USD depending on chosen facility and the level of finished work.
| | |
| --- | --- |
| Exterior dimensions | 8'4W x 21'L x 13'4″H |
| Interior dimensions | 7'2″W x20'L x11'H (147 SF) |
| Loft dimensions | 7'2″W x 6'8″L x 4'6″H at highest point (49 SF) |
| Trailer | Tandem wheel trailer engineered for tiny homes 10,500 lbs weight capacity Signal light, Brakes 2-5/16" standard ball hitch rated for 14,000 lbs |
You can read detailed building data here: HERE
---
---