The Ultimate Guide to Decorating a Bedroom
You spend at least one-third of your life in your bedroom, so it is one of the most important spaces in your home. It needs to be your sanctuary, your sensual love den, and your cozy, comfy cave.
So, when decorating a bedroom, you should put a lot of thought into every element. You do not want the expense and hassle of redecorating in a year because your next bedroom decor is not relaxing and you cannot sleep.
But if you follow this step-by-step guide full of great decorating tips, you will create the best bedroom for you. It will fit your style, your needs, and will last you years.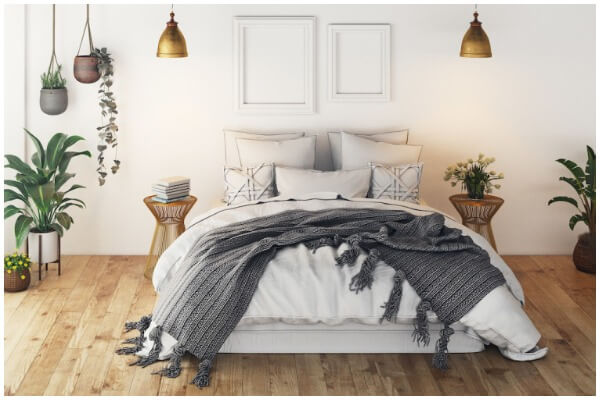 Step 1: Choose a Style, Texture, and Color Scheme
When decorating a bedroom or any room in your home, you need to start with a mood board. You can go old school and cut out photos from interior design magazines and stick them on a piece of cardboard. Or, you can start a board on Pinterest and find images through Google Search and online stores.
Find textures and color schemes you love and any furniture or styling choices that stand out to you. If the rest of your home has a signature style, you might want to stick to that when designing a bedroom too. 
Here are some bedroom style ideas for inspiration:
Light, minimalist, and monochrome color schemes for small rooms

Warm, mid-century styles for a laid back vibe

Industrial, New York-loft style for multi-functionality

Luxurious styles for a hotel-at-home feel

Bohemian styles for those that need to relax
Don't forget to consider texture. Think about whether you want textured wallpaper, printed bed sheets, or statement curtains, for example. Not thinking about your textures and patterns may lead to either a drab, plain bedroom or one where there's too much going on.
Step 2: Make a Floor Plan and Measure Everything
Next, put those decorating ideas into a plan. You likely have an idea of what furniture and accessories you want from your mood board exercise, but now it's time for the logistics.
Measure your walls, windows, and doors and draw a to-scale floor plan. Using the furniture you already have in your bedroom, work out how big your new furniture needs to be.
You may need to re-adjust your expectations and consider furniture with more storage options if you are short on space.
Also Read: How To Make Your Bedroom A Calming Space
Step 3: Consider the Floors, Walls, and Ceiling
Hold your horses! Before you start ordering wardrobes and mirrors, you need to deal with the bones of your bedroom first.
Hire a plasterer if your bedroom walls (and/or ceiling) are in a less-than-good condition. You may also want to hire a painter or tackle that job yourself. Crown molding, new electrical sockets, and new baseboards are all things you should consider at this point, too.
Carpet is a popular choice for bedrooms as it is soft and inviting. But hardwood floors will last for decades and are preferable if you have pets. Compromise by choosing a huge, statement rug that you can clean or change if you fancy something new in a few years.
Now is also a great time for small jobs like repainting your window ledge or fitting a new curtain pole. 
Also Read: Key Ways To Keep Your Bedroom Minimalistic
Step 4: Pick Out Your Bedroom Furniture
Use this list as a guide of all the bedroom furniture you may or may not need:
Bed frame, headboard, and mattress

Wardrobe or armoire

Chest of drawers, dressing table, nightstands

Extra shelving and bookshelves

Statement chair or chaise lounge

Desk and office chair (if your bedroom needs to be multi-functional)
Because you measured your space, everything you order should fit. Don't forget that drawers and wardrobe doors need to open and beds can be a little wider or longer than the average-sized mattress.
Consider trying out different mattresses (like Emma or Casper) that you can send back should they not be suitable for you.
Also Read: Awe-Inspiring Murphy Bed Ideas That Blow Your Mind
Step 5: Don't Forget About Mood Lighting
Lighting is very important in a bedroom. You want a lot of sunlight to flow through during the day, but you don't want harsh clinical lighting at night. 
If your bedroom light isn't already on a dimmer switch, now is the perfect time to install one.
You could also opt for one or two lamps to use instead of the main light when you want to relax. Or, choose a dark lampshade that blocks out most of the white light from your main light.
You might also consider buying a lot of tall, scentless, soy wax candles for the ultimate sensual bedroom mood. Many opt to hang fairy lights in their bedroom, but they tend to give off a college dorm or fairy princess bedroom vibe.
Also Read: Top 7 Fast Facts About LED Lightning
Step 6: Invest in Soft Furnishings, Artwork, and Embellishments
After all the heavy-lifting, it's time to put the finishing touches on your bedroom. These are all the extras and embellishments you should consider getting when decorating a bedroom:
Bedsheets (bottom sheet, comforter, pillows, and throw pillows)

Curtains and blinds

Mirrors

Lamps and lampshades

Personal photographs, prints, vases, and other decorations

Coat hooks

Houseplants
These plants make great bedroom plants as you can put them on top of your dresser or bookshelves. Choose throw pillows made of velvet, cotton, and corduroy to add different textures. 
Avoid installing a mirror that you can see from your bed as that might be distracting and/or terrifying if you wake up in the middle of the night. The same goes with artwork; only hang pleasant, pretty artwork that will improve your mood. 
Also, consider not putting a TV in the bedroom. Beds are for two things: sleeping, and reading of course. Limiting technology in this part of your house will help you sleep far better.
Decorating a Bedroom in Six Simple Steps
As long as you have the funds and the time to dedicate to the project, decorating a bedroom is a fun and rewarding task. Because after only a few weeks of work, you get to enjoy this relaxing space for years to come.
Check out other articles on our website for more helpful guides on home decor!